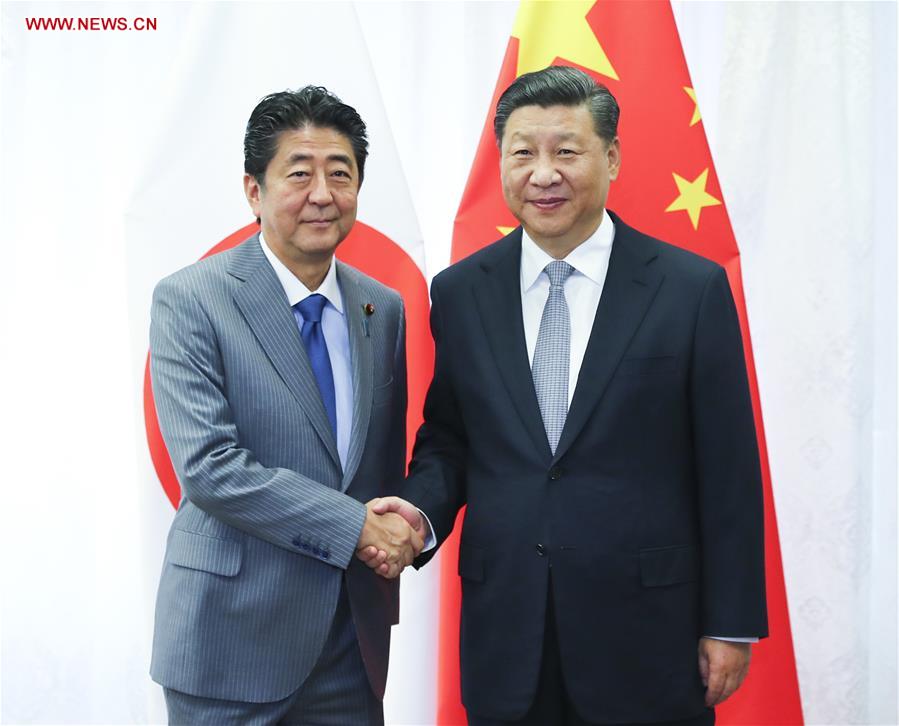 For the first time in seven years, Japan and China held a bilateral summit in Beijing. Following an invitation from Premier Li Keqiang, Abe recently visited Beijing to meet with Premier Li and President Xi Jinping to unveil new bilateral initiatives. Abe's diplomatic tour took place on its own and not on the fringes of a multilateral initiative, such as the 2014 APEC summit in Beijing or the March 2018 Japan-China-South Korea trilateral forum in Tokyo.
Following Japan's nationalization of three small islands in the disputed Senkaku/Diaoyu archipelago in 2012, Japan-China relations entered stormy waters. The entry of Abe and Xi, two proud nationalists, further cemented the two governments' rock-solid stances on territorial and maritime disputes and stoked Sino-Japanese geostrategic rivalry. Yet, as U.S. China policy has become more confrontational, Xi Jinping has taken advantage of his recent power consolidation to defuse a potential U.S.-led economic and military encirclement. A clear example of China's charm offensive is its attempt at mending relations with India and Japan. The diplomatic importance assigned to Abe's recent tour suggests that the two governments are now moving ahead to bring bilateral relations into a "new dimension."
By staging this timid détente, both China and Japan are sending a signal to the U.S. The Trump administration has prioritized targeting U.S.-China trade imbalances through a set of ad hoc tariffs and tighter screening of foreign investments. These measures seek to counter China's pursuit of high-end technology through its distorted market system and forced technology transfers. The White House is also pursuing an ambitious agenda to renegotiate free trade agreements with friendly countries, such as Canada, Mexico, and South Korea, and pursue new bilateral FTAs with the United Kingdom and Japan. For that purpose, Trump has not shied away from using U.S. security guarantees as ransom for economic concessions. U.S. tariffs on steel and aluminium and the looming threat of tariffs on automobiles and auto parts have forced Japan to negotiate a bilateral trade agreement with Washington (only a few months earlier, a top government official said Japan had no interest in entering a trade deal with the U.S.) Abe likely seeks to leverage a more stable China-Japan relationship in his country's dealings with Trump. Trump's surprise U-turn with North Korea, shifting from aggressive rhetoric to a historic bilateral summit, is further incentive to stabilize Japan-China relations.
The diplomatic tour produced a number of agreements on Japan-China economic cooperation in third party countries, such as Thailand. The big business delegation that escorted Abe to Beijing will underwrite a series of joint projects with Chinese counterparts and, in the process, prop up – even just symbolically – Xi's Belt and Road Initiative, which has been enshrined into the CCP constitution. However, this momentum in Japan-China relations will nonetheless be accompanied by ongoing competitive dynamics in the East and South China Seas and the rivalry between the Belt and Road Initiative and Japan and the U.S.' Indo-Pacific strategy. At the same time, the resumption of bilateral currency swaps and, especially, the promise that China will resume dialogue on the 2008 agreement on joint development of gas fields in the East China Sea, are promising signals. In all likelihood, the key deliverables of this Sino-Japanese timid spring will be announced during Xi's eventual state visit to Japan next year.
But how tenable will a Japan-China détente be? After all, competitive dynamics in the bilateral relationship abound: from strategic rivalry in the so-called Indo-Pacific to historical animosity and simmering territorial disputes. In the short run, much of this momentum rests on U.S.-China tensions and Xi's decision to mollify Japan through carrots rather than sticks. Translating the 2008 agreement on joint development of gas fields in the East China Sea into a treaty would be a key sign of China's more cooperative stance. Yet, China's territorial and maritime claims in the East and South China Sea will likely persist and, in the mid-to-long term, China will have the upper hand because it will likely continue its rapid economic and military growth. If the calculation in Beijing is that time is indeed on China's side, Xi will have incentives to make symbolic overtures rather than substantial ones. Japan, on the contrary, might prefer pursuing a more accommodating posture and this summit's symbolic pledges of cooperation will come in handy in the future.