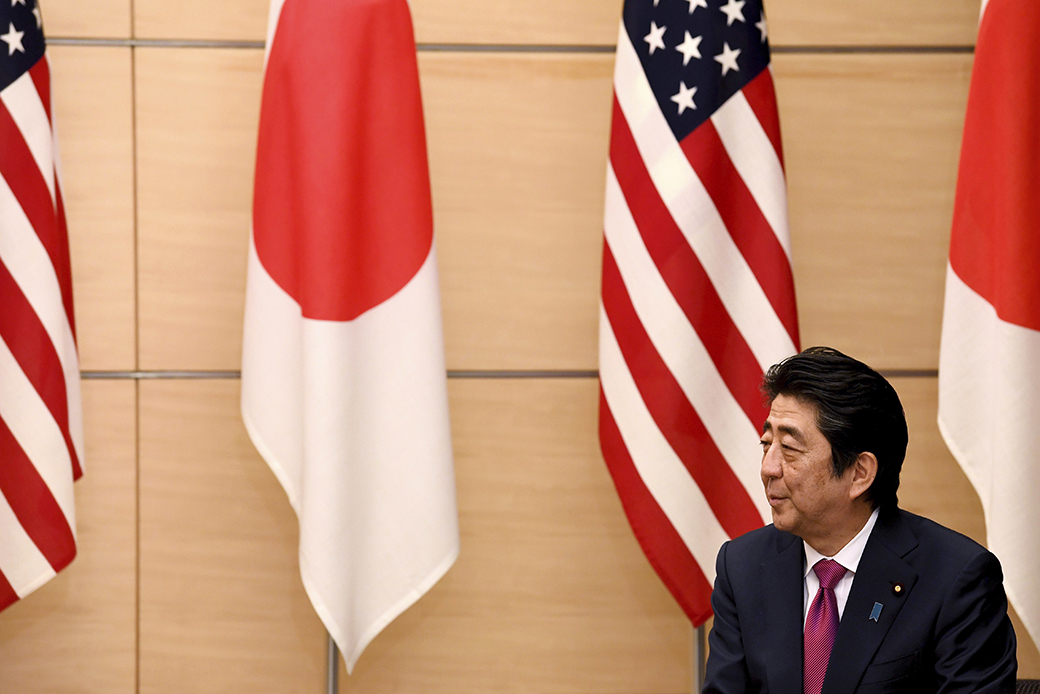 (AP)
In October 2017, China's 19th National Congress of the Chinese Communist Party and Japan's Lower House decreed Xi Jinping and Abe Shinzo's unmatched domestic political clout. A new set of institutional reforms, international and internal turbulence, the global comeback of charismatic leadership and a remarkable political longevity have translated into a less consensus-driven foreign policymaking process. In fact, Abe and Xi are by far Japan and China's most consequential post-Cold War leaders on foreign and security policy.
Interestingly, China's President and Japan's Premier have much in common. They are "princelings," who take pride in their familial role models for shaping both countries, often on opposing camps. Xi's father was a guerrilla fighter against Japanese aggression, while Abe's cherished maternal grandfather –Kishi Nobusuke– was responsible for devising economic policies in occupied Manchuria, including the use of forced labour. In the post-war years, Kishi contributed to the establishment of the Liberal Democratic Party and later became Prime Minister, the first to visit Taiwan and openly support Chiang Kai-shek's claims over the mainland. Abe inherited Kishi's pro-Taiwan sentiments, feeding into closer ties between Japan and the Tsai Ing-wen government and Chinese suspicions. On the contrary, Xi Zhongxun is remembered as one of the youngest Vice-Premiers in the history of the People's Republic of China, who would later play a pivotal role during the reform and opening period. Yet, Xi Jinping has burnished and used his father's credentials as a vanguard in the anti-Japanese war of resistance and oversaw the inauguration of new days of national remembrance, the Victory Day and the Nanjing Massacre Memorial Day, in turn cementing anti-Japanese sentiments at home. Finally, as thoroughbreds of their respective country's political establishment, they easily identify with ideas of national greatness, as exemplified by Xi's insistence on the "Rejuvenation of the Chinese Nation" and Abe's willingness to usher "Japan's Comeback." Xi and Abe are convinced nationalists, albeit to varying degrees.
The two leaders rose to power at roughly the same time in late 2012 and confronted the hottest crisis in fifty years of bilateral relations. Following Japan's nationalization of three disputed islets in the East China Sea, China more aggressively disputed its neighbour's effective control over the Senkaku/Diaoyu archipelago by sending official vessels and military aircraft. Yet, the bilateral standoff over a set of small, uninhabited islands of little economic and strategic value is symptomatic of broader structural trends in East Asia. As China re-emerges to regional hegemonic status, its policymakers have gradually abandoned the foreign policy of low profile to secure Chinese interests. Confident about Japan's staying regional power, the Abe administration has stood up to an assertive China and launched a set of new initiatives that aimed at balancing China's leverage. Thus, regional turbulence and a diffuse sense of crisis have allowed both leaders to overhaul Japan and China's security regimes, as evidenced by Abe's variegated security reforms, and Xi's double overhaul of China's military and constabulary forces, such as the establishment of a State Oceanic Administration in charge of safeguarding China's seas. As I demonstrate in a recent co-authored book, within the broader context of a regional power transition, the Xi and Abe administrations have been in the drivers' seat of China and Japan's muscle flexing.
Furthermore, the strong imprint of the Abe and Xi administrations on foreign and security policy has been made possible by a centralized decision-making process. The two governments inaugurated new centripetal institutions, such as Japan's new National Security Council and China's inauguration of an opaque Central National Security Commission. Following a succession of short-lived administrations, Abe has taken advantage of and expanded the leverage of the Kantei, the Prime Minister's Office. For instance, the recently-established Cabinet Bureau of Personnel Affairs has allowed Abe to cherry pick personnel for top bureaucratic positions. Given Abe's long-standing interest in international politics, the Kantei and the National Security Secretariat have turned into the key government agencies in charge of security matters. Similarly, Xi has made a more active use of the small leading groups to steer Chinese foreign policy in his desired direction. The consolidation of their powerbase and their political longevity will further add momentum to centralized policy-making.
Abe and Xi have also imbued their states' foreign policy with consistent strategic thinking. Surprisingly, Japan has met China's push into the China Seas with a mix of preoccupation and strategic gusto. More broadly, China and Japan have inaugurated new initiatives, such as the Belt and Road and the Indo-Pacific strategies, which more confidently tap into both states' economic leverage for political –if not geo-political– objectives. To meet the China challenge in its multiple dimensions, Japan's first-ever 2013 National Security Strategy is premised on a whole-of-government approach, where the Prime Minister's Office ought to function as a control tower. In short, the parallels between Xi and Abe are egregious: they are (to varying degrees) nationalist princelings, with a tight grip on foreign policymaking and a grand strategic outlook.
Yet, Japan's China strategy can work only in strong coordination with the United States and the rise of the potentially disruptive Donald Trump presidency has preoccupied Abe from the very beginning. For these reasons, Abe has invested heavily in a personal rapport with the mercurial U.S. president before his inauguration. The North Korean crisis has provided substantial room for U.S.-Japan coordination and has helped in maintaining a channel of communications at the very top. Abe has spoken with Trump a total of 20 times and has highlighted that as a major asset for the strengthening of the U.S.-Japan alliance, as he made clear, facing the Diet, in the January 22 Policy Speech. Interestingly, Xi also lavished Trump during his majestic state visit to China, which included a personal tour of the Forbidden City, and Trump reportedly has a good relationship with Xi.
Yet, President Trump has provided China with the benefit of the doubt because he has prioritized North Korea's nuclear and missile tests during his first year. Trump's instinctual concerns with China's trade and investment imbalances have now led him to espouse Abe's Indo-Pacific strategy and to revamp –along with India and Australia— the quadrilateral security dialogue. The recent U.S. National Security and Defence Strategies point at China, Russia and inter-state competition as Washington's primary concerns. Moreover, Trump's National Security Strategy points at a growing bipartisan consensus on China policy: nominally, U.S. policy of engagement has been largely a failure, from an American point of view. Following the opening salvos of U.S. tariffs on solar panels and washing machines, the Trump administration may now also push for a more muscular China policy, to the benefit of Japan's dealings with China. Make no mistake: while Japan and China relations show signs of a minor détente in the making, this year will witness continued strategic rivalry and the fleshing out of opposing visions of regional, if not global, order. Leaders and their personality have no small role in 21st Century power politics.