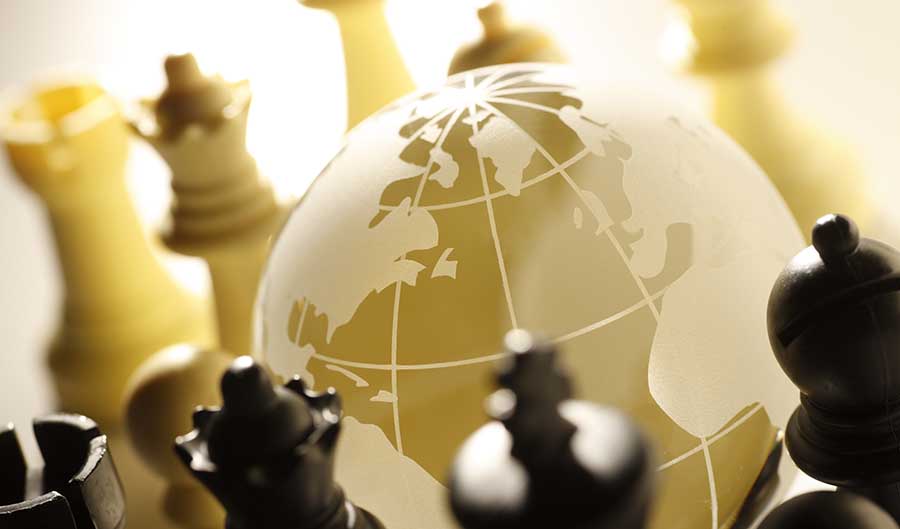 With the United States intensifying its strategic competition with China in recent years, the rivalry between the two in the Global South has become more prominent. The Global South, in brief, refers to developing countries in Asia, Africa and Latin America, while the Global North is synonymous with the developed world.
The concept of the Global South has gained increasing attention in international public opinion, especially since the outbreak of the Russia-Ukraine conflict. Now a buzzword in Western strategic circles, it has become more of a geopolitical term. During the Munich Security Conference in February, Western countries underlined the importance of strengthening ties with the Global South. Thereafter, G7 leaders at their Hiroshima Summit in May also highlighted the need to enhance strategic cooperation with the Global South.
Whether China belongs to the Global South or not involves the matter of China's "national identity," which is crucial to diplomacy. Although China is the world's second-largest economy, it remains a developing country in many ways. China also identifies itself as a member of the Global South family.
GDP per capita in China has just exceeded $12,000, ranking 60th in the world. It's equivalent to around one-fifth of per capita GDP in developed economies and 16.6 percent in the U.S. Moreover, China's UN Human Development Index ranking was 79th out of 191 countries in 2021. However, the U.S. has been seeking to end China's developing nation status while coordinating with its allies to exert more influence upon the Global South. It is attempting to distinguish China from the others.
There's no doubt that developing nation status comes with some preferential treatment, including getting loans from the World Bank, enjoying special and differential treatment in the World Trade Organization and acquiring funding from the Green Climate Fund. In March 2023, a measure called "The PRC is Not a Developing Country Act" cleared the U.S. House of Representatives. Three months later, the Senate passed similar legislation and required the Department of State to formulate policies to strip China of its status as a developing nation in a number of international organizations. If China is no longer taken as a developing country, its exports will be subject to higher tariffs, it will assume more obligations to cut carbon emissions and the low-interest loans it's been getting from multilateral development banks will be considerably curtailed.
Of course, the intent of U.S. politicians is not only to cancel China's preferential treatment but to distance it from the Global South and squelch cooperation in self-improvement. According to the Biden administration's National Security Strategy published in October, Washington does not seek to transform developing nations into a U.S. model. Rather, it wants to create an inclusive coalition to engage countries in the Middle East, Africa, Latin America more, and to underline the economic and developmental needs of its partner countries to make sure they can maintain their independence when facing China.
Washington expects India and South Africa, among other emerging economies, to play a leadership role in the Global South to counter China's impact on the developing world. In January, India invited more than 120 developing countries, excluding China, to participate in the Voice of Global South Summit. The new world order will be determined by a triangle of power oscillating between the Global West and Global East — which comprise China, Russia, Iran and around 20 countries that support them — and the Global South, according to the former prime minister of Finland, Alexander Stubb. Such opinions, which estrange China from the Global South, are representative in the Western strategic community.
The U.S. is adopting a multi-pronged approach to enhancing ties with the Global South, in particular with those resource-rich and geopolitically significant countries with big potential markets. For example, the Biden administration has established a Minerals Security Partnership (MSP), with many developing countries, aiming to reshape critical mineral supply chains and accelerate the transition to clean energy. The U.S. is using the MSP framework to coordinate more with Japan, Australia and the European Union, to deepen ties between the Western world and minerals-abundant countries such as the Democratic Republic of the Congo and Indonesia and to cripple China's position in the supply chains of key minerals — lithium, nickel and cobalt, for example. During a recent trip to Washington, Mongolian Prime Minister Luvsannamsrain Oyun-Erdene reached agreements in the mining of rare earths, copper and other critical mineral resources. Further, key minerals topped the agenda of the U.S.-Japan-Mongolia trilateral meeting.
Second, the U.S. is increasing its support of the Global South in the public health sector. Turning away from Donald Trump's negative practices in foreign aid for public health, the Biden administration pledged support for COVID-19 Vaccines Global Access, known as COVAX, which is backed by the World Health Organization and the Global Alliance for Vaccines and Immunization. The U.S. is currently the largest donor to COVAX.
To beef up the U.S. strategic partnership with the Association of Southeast Asian Nations, the Biden administration has donated more than 40 million vaccine doses to member countries. In addition, it is promoting vaccine diplomacy through the Quadrilateral Security Dialogue, commonly known as the Quad, to counterbalance China's influence in Southeast Asia. The U.S. has also supported several South Asian and African nations in establishing vaccine-manufacturing companies to improve accessibility and prepare for possible future pandemics.
Third, Washington is showcasing its leadership in tackling the global food crisis in the wake of the Ukraine conflict. The world population reached 8 billion in 2022, and many developing countries are confronted with an acute hunger challenge. UN Secretary-General Antonio Guterres has warned of "a raging food catastrophe." The COVID-19 pandemic, poverty, climate change, geopolitical conflicts and other factors are putting more pressure on food supplies, which will, in turn, likely lead to more severe humanitarian crises, political turmoil and domestic and international conflicts. According to the United Nations, an additional 75 million to 95 million people lived in extreme poverty in 2022, without sufficient food for healthy subsistence.
Under these circumstances, the Biden administration has attached great importance to the U.S. — one of the world's top exporters of agricultural products — playing a leading role in global food security governance. The U.S. Department of State issued its Roadmap for Global Food Security to mobilize more than 100 countries to act in concert to ensure that all UN member states keep their food and agricultural markets open, increase fertilizer production and invest more to develop climate-resilient agriculture. In addition, the Biden administration has formulated a new version of the Global Food Security Strategy that focuses on international cooperation for improving the nutritional status of women and children.
Fourth, Washington is intensifying competition with other major powers in the realm of infrastructure development.
In June 2021, Biden and other G7 leaders launched the Build Back Better World initiative, saying that democracies would provide more support for developing nations in building their infrastructure through developing "high-standard" and "values-driven" infrastructure projects. A year later, the Biden administration rebranded this initiative into a program called the Partnership for Global Infrastructure and Investment, with a pledge to spend $600 billion by 2027 on infrastructure investments in the developing world.
The partnership uses the carrot-and-stick approach adopted by Washington when it comes to infrastructure development, concentrating on four sectors — climate and energy security, digital connectivity, health and health security and gender equality and equity. It also highlights the importance of mobilizing private capital and resources as an alternative to government-dominated infrastructure projects. All in all, the Global South has become an important target for the United States in stepping up strategic competition with China.
Preserving China's influence in developing countries is crucial to Chinese diplomacy and serves as a solid pillar amid the tumultuous China-U.S. rivalry. This year, China will mark the 10th anniversary of its Belt and Road Initiative. It should take this opportunity to promote the quality and efficiency of cooperating with other developing countries and to bolster the overall interests of the Global South with such mechanisms as BRICS.