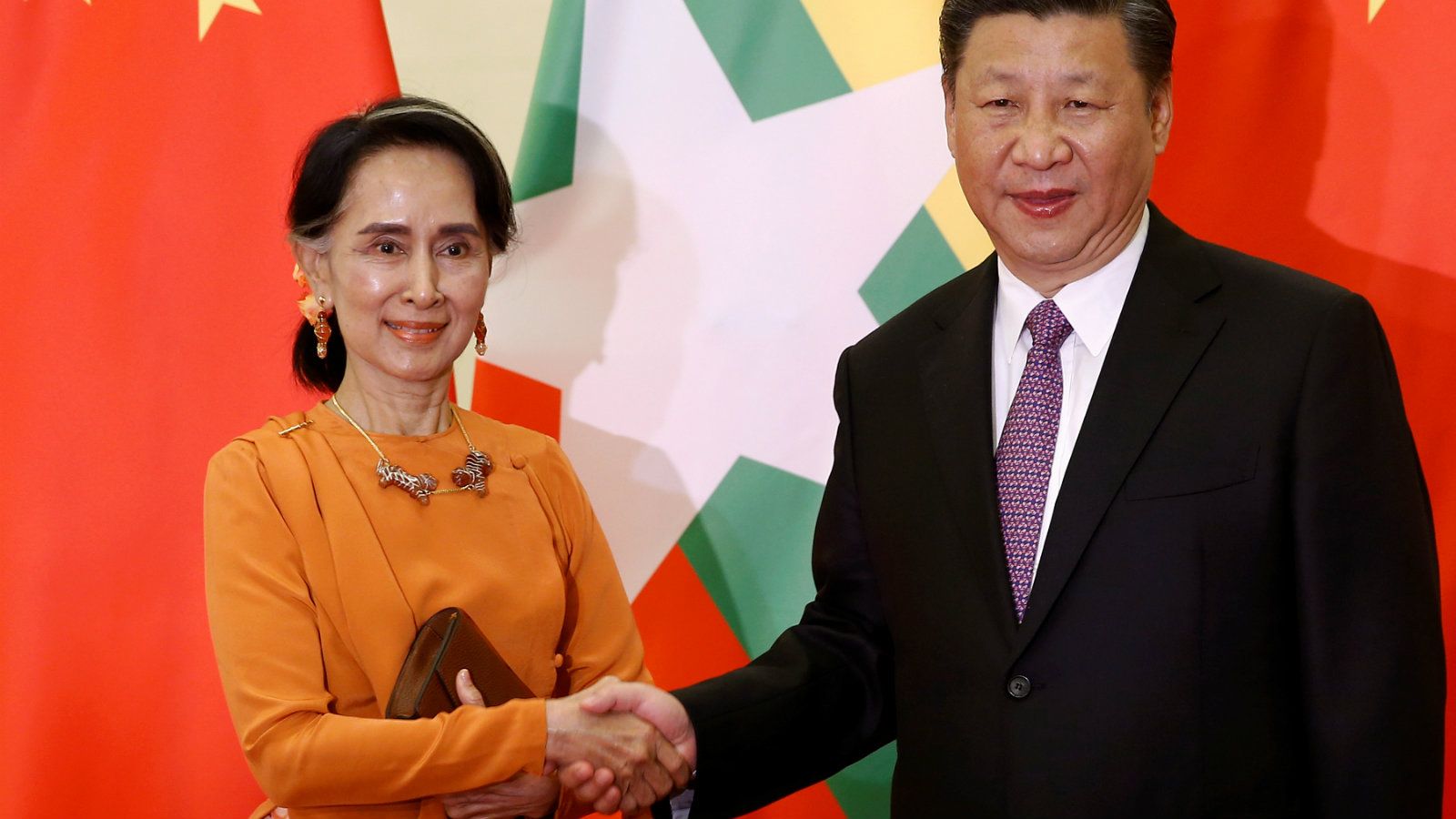 (Reuters)
Myanmar established diplomatic relations with China in 1949—one of the first non-socialist countries to do so—and has relied heavily on Chinese investment and support since 1988, when a military junta seized government control and Myanmar was consequently placed under severe Western sanctions.
Both regional and Western actors have long viewed Myanmar as a highly strategic country for China, whose interests in the country have historically been divided into four key categories: border security, energy protection, economic investment and geostrategic advantage.
China and Myanmar share a 2,200km border that has been unstable and plagued by ethnic conflict for decades. Myanmar is also vital to President Xi's "One Belt One Road" project, as access to the Indian Ocean through Myanmar would decrease Beijing's heavy reliance on the narrow and vulnerable Straits of Malacca for imports. More specifically, the land holds the key to meeting China's energy needs; massive Chinese infrastructure investments include the Sino-Myanmar oil pipeline, which began operating in 2013, and the $3.6 billion controversial Myitsone dam.
At the beginning of this year, Myanmar reported bilateral trade with China from just the first eight months of fiscal year 2017-18 as worth $7.42 billion. This number projects a strong uniformity with last fiscal year's trade ($10.8 billion) and demonstrates renewed ties between the two nations after an abrupt cooling off period since 2011, when Myanmar began the democratic reform process.
In 2016, Singapore was Myanmar's largest foreign investor for the year, a title that had consistently gone to China for more than two decades. Many analysts pointed to the growing rapprochement between Myanmar and the U.S. and investment troubles as substantial threats to the power and influence China long enjoyed in Myanmar, leaving a nervous Beijing to re-evaluate its strategy.
2010 arguably marked the beginning of the country's strides towards democracy, despite that fact that Aung San Suu Kyi's party, the National League for Democracy (NLD), boycotted the nationwide elections. Many analysts believe these changes allowed public anti-China sentiment, which had been stewing for years, to bubble to the top.
Myanmar was isolated from much of the global economy under military junta rule, making its government especially dependent on China. In response, China placed a strong emphasis on its powerful relationship with the national government—often at the expense of relations with local leadership and citizens.
Public perception has often been that Chinese investment projects take advantage of Myanmar's resources without giving much in return. For example, the pseudo-democratic government under President Thein Sein agreed to five major dam projects with China. If completed, almost 90 percent of the electricity generated would be exported to China and Thailand, while 70 percent of Myanmar's citizens are still waiting for access to the national electricity grid.
Since the political reforms, Myanmar has had no choice but to listen to public opinion. This has led the government to cancel a proposed $20 billion China-Myanmar railway line and face harsh criticism of the fifty-year development project in the Kyaukphyu Special Economic Zone. Perhaps most significantly, the $3.8 billion Myitsone hydropower project, which had already launched, was suspended without warning in 2011, prompting a sharp decrease in Chinese investment and trade.
Despite these setbacks and the increased presence of foreign competitors such as the U.S., Japan and India, China has shown flexibility and commitment to mending its image in Myanmar.
Chinese companies operating in the area have launched significant corporate social responsibility campaigns and sought to improve public relations; the state-owned China National Petroleum Company has pledged $6 million to build schools, clinics and a hospital in the Sino-Myanmar pipeline construction areas. Still, some analysts predict that China will never be able to regain the same level of influence unless it is able to completely set itself apart and holistically re-calibrate its strategy in Myanmar.
The Trump Administration's uncertain Southeast Asia approach and Myanmar's recent turbulent events—including the Rohingya crisis, called one of the most calamitous humanitarian emergencies of our times—may give China the way forward it was looking for.
In November, Chinese Foreign Minister Wang revealed a three-phase proposal to mediate between Myanmar and Bangladesh, which has received over 800,000 Rohingya peoples, now living as refugees in the wake of bloodshed and brutal violence. Minister Wang garnered support for the plan from top officials in Naypyidaw, including Aung San Suu Kyi, and the Bangladeshi government before announcing it.
In Chinese coverage of the announcement, a tone that is perhaps best characterized as 'smug' describes China's "pragmatic solution" to the crisis where the West's denunciations have yielded little progress. Indeed, in the face of U.S. sanctions and international accusations of military-led ethnic cleansing, Myanmar has shown no signs of changing their stance; they have continued to deny evidence and have prevented Yanghee Lee, the U.N. special rapporteur appointed to investigate human rights issues, entry into the country.
Here, perhaps, is an example of how China can regain its foothold in Myanmar. If Myanmar's current events reveal anything, it is how strongly the country's infant democracy is still shaped by the military, known as the Tatmadaw. Indeed, the 2008 constitution guarantees 25 percent of parliamentary seats as military, a fact that can only be amended by a more than 75 percent majority vote—a mathematical impossibility.
By capitalizing on its strong historical relationship with all sides of Myanmese power—as opposed to the fledgling relationship between the democratic government and the West—China may be able to carve out a niche and pursue its own interests in the process. There is little doubt that a stable and prosperous Myanmar is good for its 'pauk-phaw' (fraternal) neighbor China as well.