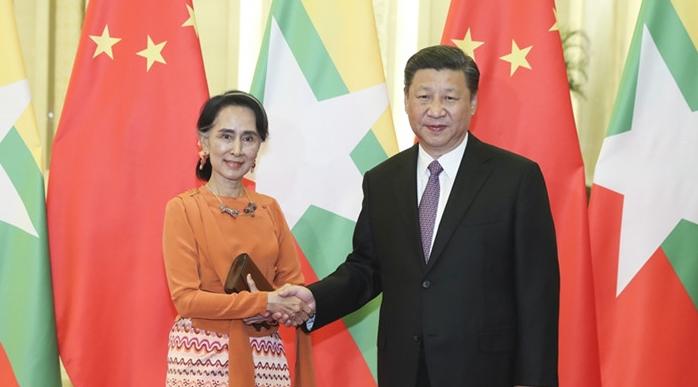 On May 16, 2017, President Xi Jinping met at the Great Hall of the People with State Counselor Aung San Suu Kyi of Myanmar, who was visiting China to attend the Belt and Road Forum for International Cooperation (BRF).
Bilateral ties between Myanmar and China, at least at top governing levels, appear to be improving following souring diplomatic and economic ties during the previous Thein Sein administration. China's efforts to establish ties with Aung San Suu Kyi's National League for Democracy (NLD) party are bearing fruit: the NLD has voiced support for the Belt and Road Initiative (BRI), both countries signed five Memoranda of Understanding (MoU) on the margins of the Belt and Road Forum for International Cooperation including the establishment a border economic cooperation zone, and the first crude oil delivered through its 1420 km-long pipeline starting in Rakhine State (at the site of their Kyaukphyu deep sea port) reached Yunnan Province. Despite these milestones, celebration of a new chapter may be premature. As China expands its investment footprint, it must heed the widespread wariness, and in some areas, strong anti-Chinese sentiment in Myanmar. Disregarding its past corporate and governing practices will only undermine its engagement and long term economic and political goals.
Friends Become Foes, Foes Become Friends
Due to decades of global sanctions and pariah nation labels, Myanmar has had few countries to turn to for diplomatic and military support and economic and trade ties. As the country's largest neighbor, China filled that role, engendering a lopsided relationship with the former military junta that fostered dependence. This relationship changed as Myanmar transitioned to civilian rule in 2011 and as the easing of sanctions programs took effect. Then-President Thein Sein took steps to limit ties to China and diversify Myanmar's relationships. Heeding to nationwide protests, Thein Sein in October 2011 followed the "will of the people" and suspended one of the region's largest Chinese-backed hydropower projects, the Myitsone Dam. Mass protests targeted other major Chinese-backed projects, including coal fired plants and the Letpadaung copper mine. Bilateral relations further deteriorated as skirmishes between the Myanmar military and the country's armed ethnic groups spilled over the border, sending tens of thousands fleeing the violence into China and stray bombs killing Chinese citizens in Yunnan province.
Hedging its bets, foreseeing a clear winner in the November 2015 election, or in the hopes to reestablish its influence with the government, China began an unprecedented outreach to Myanmar's opposition leader, Aung San Suu Kyi. At the invitation of the Chinese, Aung San Suu Kyi first met with Chinese President Xi Jinping in June 2015, as well as Premier Li Keqiang, Wang Jiarui, a senior official of the Chinese Communist Party. Aung San Suu Kyi and members of the NLD government made subsequent visits to China, cautiously welcomed the BRI, and became a founding member of the Asian Infrastructure Investment Bank (AIIB), contributing USD $264.5 million to the AIIB's capitalization, granting it 0.49 percent of voting shares.
The Myanmar government is also accepting Chinese assistance on national reconciliation efforts, Myanmar's defining issue. Beijing brought a letter to the 2016 Union Peace Conference signed by three armed ethnic groups that previously abstained from signing the 2015 Nationwide Ceasefire Agreement. The state-owned Agricultural Bank of China also recently suspended bank accounts used by armed ethnic groups, a move welcomed by the NLD government. Though it should be noted that while the NLD government sees a role for China in peace talks, many participants and observers remain wary and concerned.
Reshape the Strategy
Despite progress, China is wading directly into highly sensitive investment areas without any clear demonstration that the conduct of its investment is a break from the past. It will soon become readily apparent if State Owned Enterprises and private companies have learned any lessons from previous missteps and backlash seen following the Myitsone Dam and Letpadaung copper mine protests. Given that most of the BRI and AIIB projects will center on infrastructure, there are many important considerations China should incorporate into their investment strategies to not only mitigate criticism but ensure the long-term success of its engagement.
Fairness: Adhere to global standards of good corporate governance in contract negotiations and labor rights. Many junta-era contracts were extremely lopsided, allowing for the bulk of produced energy and revenue to go to China. Though China should recoup the amount invested in a project as well as see profit, the staggering inequity and benefits of past projects cannot be repeated. This view is shared by the government, military, and the people. Additionally, labor practices, both hiring locals and observing international standards, must be practiced. One of the most prominent complaints centers on China bringing in their own labor on projects versus hiring local talent. Those that do get hired, cite exploitive labor practices including low wages, long work hours, and unsafe working conditions. Myanmar not only has adopted labor practices, including the right to organize and other global standards, but its workers are mobilized to protests unfair practices.
Outreach: Villagers, mostly those in ethnic areas, too often are made aware of projects in their land when the bulldozers show up. A phased outreach to all stakeholders, including national and local governments as well as impacted villagers is key to explaining your engagement and either garnering early support or earning the eventual trust of those directly involved. Villagers have a right to voice their concerns and investors have a right to explain their work; this may result in disagreements but this certainly should not be a zero sum situation for either side. For example, views are mixed on the Kyaukphyu deep-sea port project. Some welcome the development and associated economic opportunities, especially for such a poor and underdeveloped Rakhine State, and draw parallels to the successful Japanese-backed Thilawa Special Economic Zone located outside of Yangon. However, these parallels are poorly drawn, especially if Kyaukphyu's execution is substandard. For one, Rakhine State is not Yangon; it is much more underdeveloped than Yangon and also suffers from frequent violence borne out of anti-Muslim and Rohingya sentiments. Additionally, initial stages of the Kyaukphyu project were not welcome by the local population. Recently, an estimated 800 people protested Chinese oil tankers operating in the area, highlighting the negative impact on the livelihoods of local fishermen. In contrast, Thilawa was executed fairly quickly and has been an economic boon for trade, foreign businesses, and locals seeking job opportunities and upward mobility.
Transparency and Standards: Complete transparency in each stage of a project is a must: from the tender or bidding process to the ribbon cutting. Location, corporate standards and ethics practices, scope, scale, timeline, impact should be available if requested or proactively published on websites. For example, the structure of AIIB-related projects is a welcome step however, AIIB has yet to settle on a policy of environmental standards for its project. Social and environmental impacts are the latest buzzwords both in the government and among the populace and was a focal point for the Myitsone Dam project and has extended, whether deserved or not, to all large hydropower projects and coal-fired power plants. Chinese projects must adhere to local laws and incorporate international standards.
Myanmar at a Crossroads
Myanmar stands at the crossroads of a multitude of grand geostrategic strategies: China's One Belt, one Road, India's Look East, Japan's East-West Economic Corridor, and, if revived, the US' Pivot to Asia. The country is working to carefully balance its position within these strategies to ensure embracing one foreign partner does not come to the detriment of another. Additionally, and most importantly, Myanmar must stand to gain as it continues to grapple with decades of exploitation and fears of further perceived unscrupulous, profit seeking investment. As all foreign governments and companies should note, approval and acceptance does not stand with just one person or the government, but with the many stakeholders directly impacted by a project. China has decades of anti-Chinese sentiment, exploitive corporate behavior, and perceived meddling in Myanmar's affairs to overcome but it can start to undo the damage by taking the right approach now.