Chinese President Xi Jinping and his wife Peng Liyuan welcome visiting U.S. President Donald Trump and his wife Melania Trump at the Palace Museum, or the Forbidden City, in Beijing. (CCTV)
U.S. President Donald Trump arrived in Beijing Wednesday afternoon, beginning his three-day state visit to China.
It is Trump's first visit to the country since he assumed the presidency in January. He is the first head of state to visit China since the landmark 19th National Congress of the Communist Party of China.
During his stay in Beijing, Trump will hold talks with Chinese President Xi Jinping and meet with other Chinese leaders.
Xi and Trump will hold strategic communications on significant issues of common concern to build new consensus, enhance mutual understanding and friendship, and promote bilateral relations in all spheres, according to Vice Foreign Minister Zheng Zeguang.
Apart from formal activities commensurate with a state visit, "informal interactions" will be arranged for the presidents of the two countries, Zheng said.
This is the third meeting between Xi and Trump following their first meeting at Mar-a-Lago, Florida in April and the second in Hamburg, Germany on the sidelines of the G20 summit in July.
This year marks the 45th anniversary of former U.S. President Richard Nixon's "ice-breaking" visit to China, which began the normalization of relations between the two countries.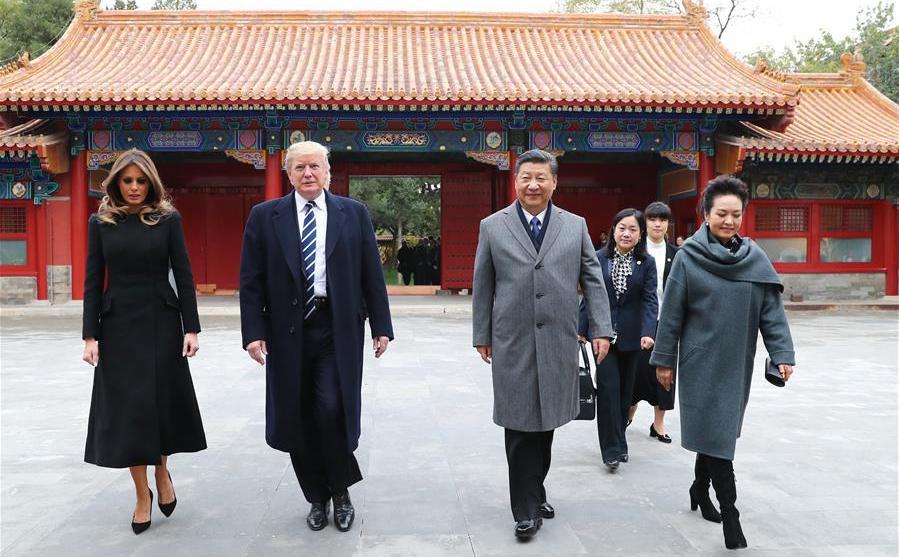 In the meantime, President Trump will ask China to cut its financial links with North Korea and to abide by U.N. sanctions when meeting with Chinese President Xi Jinping in Beijing, Reuters has reported.
Trump arrived in Beijing on Wednesday afternoon from South Korea for a two-night stop in the Chinese capital as part of his marathon Asia tour.
Embed from Getty Images
The U.S. president was undecided on whether to declare North Korea a state sponsor of terrorism by the end of his trip, the official said, speaking to reporters on-board Air Force One.
Trump believes any talks with the North would require reducing threats, ending provocations and movement toward denuclearization and that no deal can be achieved without denuclearisation, the official added.