WASHINGTON, Sept. 25 (Xinhua) — Chinese President Xi Jinping started talks with his U.S. counterpart Barack Obama on Friday, following a grand welcome ceremony held on the South Lawn of the White House.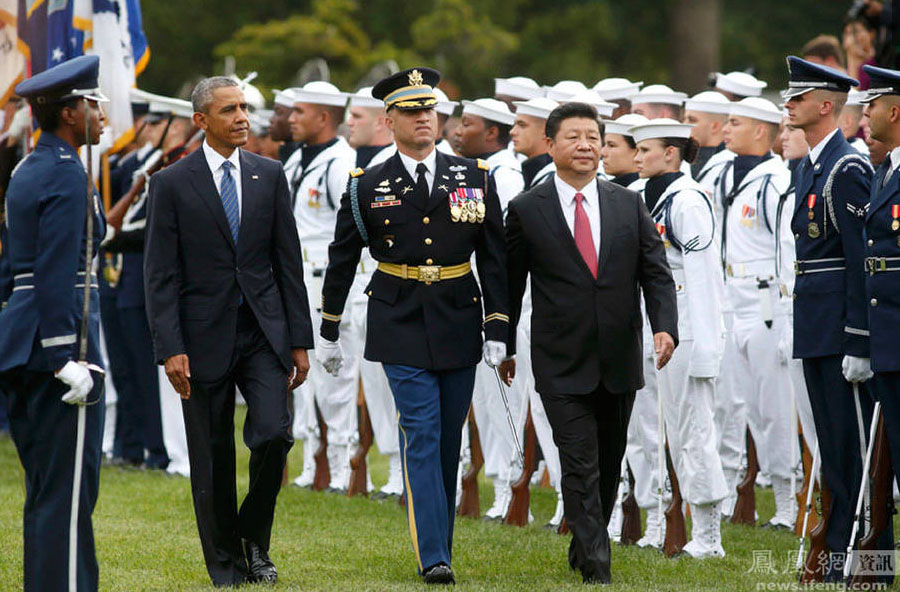 After their talks, the two leaders will jointly meet the press. Xi will also attend a luncheon hosted by U.S. Vice President Joe Biden and Secretary of State John Kerry, meet U.S. parliament leaders and attend a state dinner.
Xi and Obama had a three-hour-long talk on ties in Blair House Thursday night.
In June 2013, three months after Xi took over the Chinese presidency, he traveled to the U.S. state of California and held a no-necktie summit with Obama, during which they agreed to build a new model of major-country relationship between the two countries.
Obama paid a state visit to China in November, during which they enjoyed an exceptional night stroll in the Zhongnanhai compound in central Beijing. They also met in September 2013 and in March 2014 on the sidelines of two international summits.
Before flying to the U.S. capital, Xi concluded a busy two-and-a-half-day stay in the West Coast technology and aviation hub of Seattle, where he put forward a four-point proposal on the development of the new model of major-country relationship.
The Chinese president will be in New York from Sept. 26 to 28 for a series of summits and meetings marking the 70th anniversary of the founding of the United Nations.