Congratulatory Message by Tang Jiaxuan to the China-United States Exchange Foundation on the Launch of Its English Website
I am delighted to learn that the China-United States Exchange Foundation has launched its English website at the beginning of the Chinese lunar new year. Please accept my warm congratulations on the launch of the website.
The launch of the website follows President Hu Jintao's successful state visit to the United States. During the visit, the two presidents reached important consensus on committing to work together to build a cooperative partnership based on mutual respect and mutual benefit. The two sides also agreed that China and the United States need to develop a political relationship based on the principles of seeking common ground and reserving differences, equality and mutual trust, deepen an economic relationship of comprehensive cooperation and mutual benefit, engage in global cooperation as partners to meet common challenges, promote the worthy cause of China-US friendship that enjoys broad participation of the people, and build a pattern of high-level exchanges featuring in-depth communication and candid dialogue. We have every reason to believe that with the concerted efforts of China and the United States, the bilateral relations will achieve new depth and breadth in the new era and bring more benefits to the people of the two countries and the world at large.
The development of China-US relations ultimately depends on the wide support and active involvement of the people of our countries. Since the Foundation was established over three years ago, it has played an important role in promoting exchanges between various sectors in China and the United States and enhancing mutual understanding, friendship and cooperation between the two sides. I am convinced that the English website of the Foundation will serve as a new and helpful platform for people of vision in China, the United States and the whole world to get more updated, comprehensive, factual and in-depth knowledge of China and its relations with the United States.
To conclude, I sincerely wish your website every success and the Foundation even greater progress in its noble cause.
Tang Jiaxuan is former State Councillor of  the People's Republic of China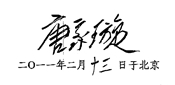 Congratulatory Message by Henry A. Kissinger
Congratulation and all good wishes to the China-US Exchange Foundation on the launch of its new website. With this website, the Foundation will be able to extend its reach to the greater world of new ideas and new solutions, for which the Foundation was established. China and America, working together, have a unique opportunity to identify and confront the major global challenges of the 21st Century, be they environmental, economic, energy, health, communications or security. The cooperative partnership of China and the US will play an important role in the future of both our countries and the world, and I am honored to take a small part as an Honorary Advisor in this vital initiative.
Dr. Henry Kissinger is former Secretary of States and National Security Advisor of  the Unites States