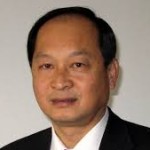 Ding Yifan
China Forum Expert and Deputy Director of China Development Research Center
Ding Yifan, a China Forum expert and Deputy Director of the Research Institute of World Development, China Development Research Center (DRC).
Nov 09, 2017

Whenever China is faced with a challenge or an obstacle, it overcomes it, and grows stronger in the process.

Sep 19, 2016

"Democracy" hasn't always meant free elections, and it's never meant nivana. China must cherish its traditional political wisdom and governance framework, and gradually improve its political institutions, in order to render them more appropriate to China's modernization. History tells us that blindly copying Western democracies is a path to disaster.

Nov 19, 2015

In the past, people measured China's contribution to global economic growth through China's GDP growth. But many factors in the GDP are the profits created by the foreign companies' investments in China, so new ways of looking at the impact of China's economy are in order.

May 08, 2015

To some extent, the structures of the Asian Development Bank, World Bank, and International Monetary Fund are obsolete: they can no longer meet the needs of new emerging economies and don't reflect today's global economy. The AIIB could serve to invigorate the other banks to become more competitive and efficient.

Apr 08, 2015

The withdrawal of a few enterprises from China does not necessarily mean that China's ability to attract foreign investment is declining. Rising labor costs, land costs, and a shrinking manufacturing sector are several structural indications of a changing economy. China will investigate and respond to foreign business concerns regarding the investment climate and safeguard the legitimate rights and interests of investors and enterprises.

Aug 13, 2014

While the global economic recovery is still weak and people are looking for a better market, the reform of Chinese SOEs and the opening of Chinese capital is positive news, writes Ding Yifan.

Jul 04, 2014

As the Chinese government has given up its large-scale economic stimulus, China's economy and demand will not grow rapidly, writes Ding Yifan.

May 03, 2014

In the future, Americans may not worry about the Yuan being undervalued, but will rather worry that a rapidly appreciated Yuan may erode the dollar's supremacy and thus share the benefits enjoyed by the traditional international reserve currency, writes Ding Yifan.

Mar 20, 2014

The reform of State-Owned Enterprises has become a major focus for the Chinese government. Ding Yifan explores what the reform may mean, and shows why the government is addressing the issue now.

Nov 07, 2013

The upcoming Third Plenum of the 18th Central Committee of the Communist Party of China, slated for November 9-12, has become a hot topic in the media. It is expected that future reforms will mainly focus on four aspects, writes Ding Yifan.