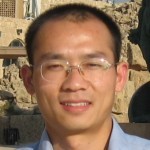 Wang Zhen
Research Professor, Shanghai Academy of Social Sciences
Wang Zhen is a research professor at the Shanghai Academy of Social Sciences. He holds a PhD in law.
Aug 28, 2020

A host of reasons suggest that there will be no turn for the better in China-U.S. relations, regardless who wins the White House in November. If China's restraint is perceived as a sign of weakness, the U.S. might adopt risker policies that will force Beijing into a head-on collision.

Nov 15, 2019

Since 9/11, domestic terrorism has been on the rise, supplemented by racial hatred and anti-Semitism. The Trump administration is heading in the wrong direction.

Jan 25, 2018

Cooperation needs to be based on common goals and interests, as well as mutual respect and understanding, rather than rude accusation and coercive pressure.

Aug 29, 2017

Threatening China in the Doklam region can only end badly for India. The Himalayas are big enough to accommodate both great powers.

May 19, 2017

Even after the city's anticipated retaking, jihadist ideas advocated by ISIS carry certain ideological appeal, which will not go away because of the group's military defeat in the region or the deaths of its leaders. The chaotic environments of Iraq and Syria offer a rich seedbed for continued instability, recruiting and violence.

Apr 19, 2017

China and the US have different positions on the Syria situation, but they share many common interests too, including restoring peace and stability in the region, cracking down on extremists and rebuilding regional order and the balance of power in the Middle East. The countries differ over how to achieve these goals.

Mar 09, 2017

America's biggest enemy today is neither China nor Russia, but its own identity crisis. Resorting to out-of-date thinking to seek a new "balancing" strategy of realigned alliances makes no sense in today's economically interdependent world. Turning potential friends into foes, on the other hand, could lead the country in a terrible direction.

Feb 27, 2017

Whether or not President Trump and his team are biased against China, as long as the fight against international terrorism remains one of the US government's priorities, China's cooperation and potential value in this area will be too significant to ignore.

Feb 22, 2017

Only when safety is guaranteed and every traveler can enjoy the pleasure of experiencing different societies and cultures can the tourism industry develop healthily, and social and economic prosperity be maintained. This will require effort by both China and the countries courting Chinese visitors for both business and leisure travel.

Jan 05, 2017

Western overconfidence cost President Obama and US allies the chance to shape the resolution of the Syrian crisis. Turkey's realignment with Russia and Iran on the issue is a game-changer, for no neighboring countries of Syria can replace the role of Turkey for the Western alliance.