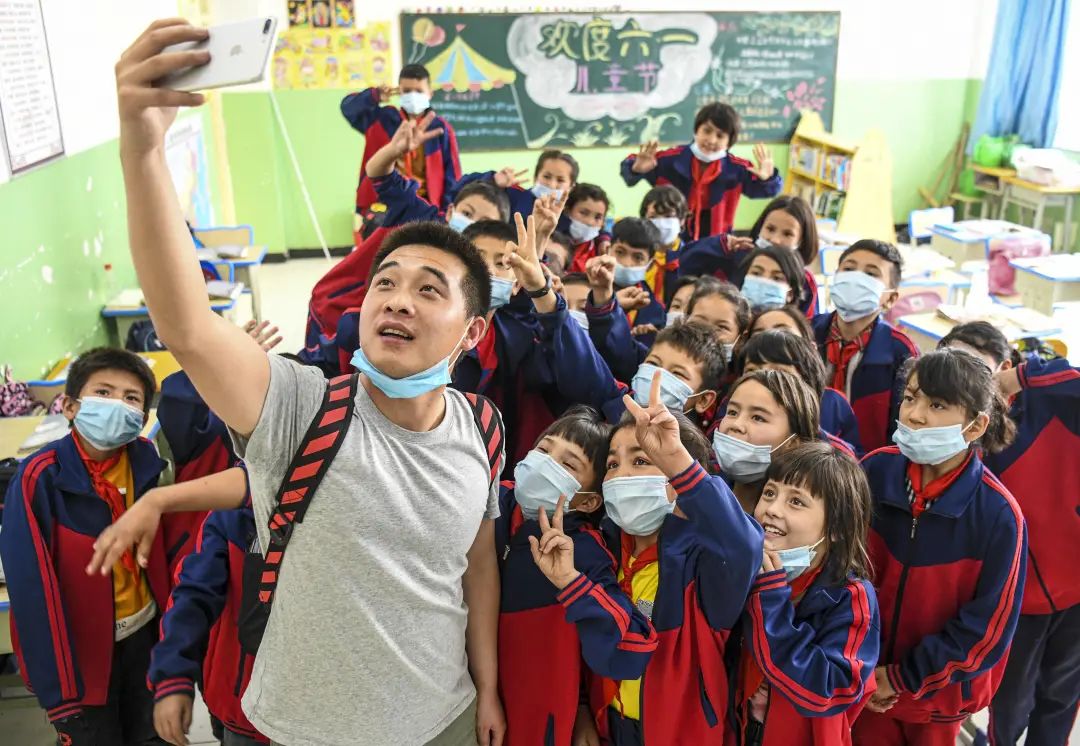 Ma Kun, a volunteer teacher, was together with students at Bakdun Primary School in Tawakkule township, Hotan county, Xinjiang province, May 2020. (Photo: Xinhua)
On July 25, in a speech to the aboriginal community of Maskwacis in Alberta, Canada, Pope Francis made a "historic apology" for the crimes committed by colonists in boarding schools.
Since May last year, the remains of more than 1,000 people, mostly aboriginal children, have been found in unmarked graves at the sites of former Catholic boarding schools. Anyone who has seen the movies "The Education of Little Tree" (1997) and "The Only Good Indian" (2009) will be saddened and shocked by the tragic fate of the protagonists, Little Tree and Charlie.
Historically, boarding school education was invariably accompanied by the killing of indigenous peoples and the theft of their land, the darkest and dirtiest page in Western colonialism.
However, at the moment the Pope apologized to the aboriginal people of Canada, some anti-China groups were attempting to graft the crimes of Western colonialist education onto China, trumpeting the malicious allegation that boarding education in China's Xinjiang and Tibet regions are a new tool for the genocide of ethnic minorities. The information spreading out in an online international academic community kindled indignation among Chinese scholars.
The blatant rumor-mongering defies the facts, breaking through the bottom line of the human conscience. It has nothing to do with academic discussions but constitutes outright political disinformation. The charge that the Chinese education system is a tool of genocide speaks for itself and exposes ulterior motives.
This so-called genocide in China was first fabricated by former U.S. Secretary of State Mike Pompeo to slander China on his last day in office. Taking the boarding schools as an excuse to denounce a nation's whole education system as genocide confounds the truth and disregards the facts. Although the education system in China, as in any nation, may not be perfect, boarding schools would be the last factor to blame. It is incorrect, and unfair, to view China's boarding education system in an alienated perspective — that is, without consideration of the entire educational history in China.
It should be noted, first of all, that contemporary boarding education in China is completely different from that practiced under Western colonialism. When they arrived in North America, the colonists assumed a superior stance and established boarding schools on the pretext of "civilizing" the natives of North America.
As a result, disguised as "education" and "religion," boarding schools naturally and smoothly became part of the cultural establishment that facilitated the plunder and oppression of aboriginal people. They took away land, property and resources from indigenous people and forced indigenous children into boarding schools.
It is reported that more than 150,000 aboriginal children in Canada were forcibly separated from their parents and sent to boarding schools for "Christian education." They were forbidden to speak their mother tongue or to practice their traditions. Sexual assaults, beatings and other abuses were their usual companions, leaving many a child with a lifetime nightmare.
What is saddest is that at thousands of children didn't get out of boarding schools alive. In just one place — a former playground at the Marieval residential school in Saskatchewan, Canada — 750 unmarked graves were found. The crimes of the Western colonialist boarding schools are unforgivable.
By contrast, the boarding education system established by the Chinese government in 1949 presents a different scenario. It has proved to be, in a sense, one of the greatest endeavors in human history. Education is a fundamental human right for every citizen. It's also a necessary condition that facilitates social progress. However, education is still a scarce resource in many third-world countries. For centuries, generations of children have been deprived of the opportunity of education in rural areas, and China was no exception before 1949, when the People's Republic of China was founded.
At that time, 80 percent of its 550 million people were illiterate. To provide educational opportunities for rural children in recent decades, the Chinese government has aimed to establish at least one (sometimes several) boarding middle schools in each administrative township. In the case of remote farms or ranches, even boarding elementary schools were established.
China's boarding schools have proved to be a huge success. They changed the lives of rural children by the millions, giving them the opportunity to receive a modern education. Thanks to these schools, rural children who otherwise would have remained illiterate all their lives were able to embark on a new path of life different from their parents. Many of my friends — and I myself — went to boarding junior high schools around the age of 12, and we could only go home on weekends during the school year.
Nevertheless, I knew, even as a rural kid, that it was an invaluable and hard-won opportunity. "Study hard and change your life." This must have been the same motto resonating in the hearts of countless scholars and professionals from rural areas as they studied at boarding schools. For those who have changed their fate — and I am one of them — the boarding school experience was a blessing.
In ethnic minority communities in China, opportunities for education have been scarcer and even more precious. For instance, in the vast and sparsely populated Tibet autonomous region, where serfdom was practiced until 1951, there were literally no schools for the general public except for one elementary school in Lhasa that only served officials and religious aristocrats such as the Dalai Lama. The vast majority of Tibetans, 95 percent of them serfs, were denied their right to an education. The illiteracy rate of young and middle-aged people in the region was as high as 95 percent.
From 1951 to 2020, the Chinese government has allocated 223.97 billion yuan ($33 billion) for Tibetan education. The government has implemented a 15-year free education plan from preschool to high school in the region. Currently, there are 3,195 schools in Tibet, including seven higher education institutes, 12 vocational schools, 143 high schools and 827 elementary schools. More than 60 percent of villages or communities have their own kindergartens. The net enrollment rate of primary schools in rural Tibet is 99.93 percent, and the gross enrollment rate of junior high school and higher education are 106.99 percent and 56.14 percent, respectively.
Apart from local education infrastructure within Tibet, China's central government also encourages the more developed provinces and municipalities to support Tibetan education. Tibet has long been confronted with teacher shortages, a situation worsened by rapid development in recent years. To solve the problem, the government has begun recruiting outstanding teachers from the more developed provinces or municipalities and dispatching them to join local volunteer teaching programs in Tibet. The central government also encourages one-to-one counterpart assistance from other provinces to help develop schools.
In 1985, the government launched the "Tibetan Class Program" in prestigious senior high schools in educationally advanced areas such as Shanghai and Jiangsu province. Such classes have been enrolling Tibetan students, who study with other local students in boarding schools; but they also have a counselor of their own ethnicity to look after life.
In the Xinjiang Uygur autonomous region, the education situation before 1949 was not much different from that of Tibet. There was only one higher education institute and only 379 college students. There were only 20 middle schools, including junior and senior high schools, with about 4,900 students. The enrollment rate of school-age children was only 19.8 percent.
But by 2015, the number of higher education institutions in Xinjiang had risen to 39, with 322,700 students. The number of secondary schools reached 1,690, with more than 1.68 million students, while the number of primary schools reached 3,501, with about 2.05 million students, bringing the enrollment rate of primary school-age children to 99.85 percent.
Like the Tibetan Class Program, since 2000 some outstanding high schools in educationally advanced regions of eastern China have also begun to enroll Xinjiang students, preparing them for future higher education. For these students, completion of the compulsory education is no guarantee they'll pass the college entrance exam, or "gaokao," which is still a huge challenge. The ability to enroll in a boarding senior high school can significantly improve their competitiveness. It is a fascinating opportunity that many children and parents in rural areas dream of.
In fact, boarding education itself is not the original sin. The key to assessing any means of education is whom it serves. Even today, there are still quite a number of renowned boarding schools serving wealthy elites in the United Kingdom and United States. However, the boarding schools in China play an essentially different role. They are the embodiment of the Chinese government's endeavor to guarantee public education services. They enable children in the country's vast rural areas to access educational resources in a fair way that is not inferior to the education available in other countries — and perhaps better.
We can safely conclude that the crimes of colonialist education cannot be laid on China in any case. It is sheer nonsense to insinuate that China is equivalent or to attack it educational approach in its ethnic regions by using the sinful or criminal discourse of Western colonialist education. If there were even a slight sense of guilt about the crimes they had committed in boarding education, people with colonialist mentality should at least respect history and facts and make an effort to contribute to the improvement of education in developing countries, and thus give boarding education in China a fair and just treatment.
The event that slandered China's boarding education was organized by some NGOs. Upon a closer look, they turn out to be political organizations, such as the Uyghur American Association, Campaign for Uyghurs, Uyghur Human Rights Project, Tibet Action Institute and other separatist groups outside of China. They have been receiving funds from the National Endowment for Democracy for years — an organization that claims to be an NGO but it is in fact funded primarily through annual appropriations by the U.S. Congress.
In May 2020, NED said on its website that it had provided about $8.8 million since 2004 to Xinjiang separatist organizations aiming to split and attack China. As the "sole institutional funder" to these separatist groups, NED has funded infamous entities, including the "World Uyghur Congress" and "Uyghur Human Rights Project," to name two. After these facts were disclosed, the website of NED ceased disclosing the specific fund recipients in a two-year span.
Given the credibility problem of such separatist groups and their proxy, the allegations about China's "genocide" in education are not worth a dime — or taking the time to refute. On the contrary, as a highlight of the Chinese government's feats, the topic of boarding education will prove their pitiable insanity and hypocrisy in slandering China.