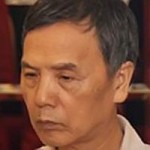 Wu Zurong
Research Fellow, China Foundation for Int'l Studies
Wu Zurong is a research fellow at the China Foundation for International Studies.
May 15 , 2014

In order for the United States to continue to play a role in the Asia-Pacific, it must listen to the desires and grievances of other Asian. This can be done by becoming an active listener at the upcoming CICA Summit and adjusting US policies according to the desires of Asian nations.

Apr 15 , 2014

Wu Zurong urges President Obama to encourage Japan to refrain from its path of reviving militarism and instead to seek solutions through peaceful negotiations.

Apr 07 , 2014

Secretary Hagel's visit will help remove obstacles and overcome difficulties, facilitate exchanges and cooperation, and build a new type of Sino-US military relationship, writes Wu Zurong.

Mar 14 , 2014

Could the current recovery of global financial markets be jeopardized by sanctions against Russia? As tensions between the West and Russia continue to heighten over the state of Crimea, Wu Zurong urges the United States to respect Russia's concerns and embrace a policy of non-intervention.

Feb 20 , 2014

Rather than issue empty statements about China's rise, the US should put its slogan into practice, writes Wu Zurong.

Jan 23 , 2014

Following Japanese Prime Minister Shinzo Abe's visit to the controversial Yasukuni Shrine in December, Wu Zurong lays out three reasons the United States should stop expressing disappointment towards Abe's actions and put an end to his obstinacy.

Dec 04 , 2013

Wu Zurong responds to Professor James Holmes' article on Taiwan, arguing that a win-win outcome for the Taiwan Strait should replace Holmes' strategy for "winning without fighting."

Oct 17 , 2013

NASA's ban on Chinese researchers and scientists at next month's meeting at the Ames Research Center has caused outcry far and wide. While the backlash against NASA has came mostly from big name research institutions, like Yale University, Wu Zurong writes that US politicians stuck in a Cold War-mindset are to blame.

Oct 08 , 2013

The US should help NATO countries work together with countries in the East for the benefit of world peace, writes Wu Zurong. Whether to sow discord and create new divisions between the East and the West, or to increase mutual understanding and cooperation between them is a serious test.

Sep 23 , 2013

Increased military exchanges and cooperation between China and the US can be regarded as a step towards building a new type of Sino-US military relationship, writes Wu Zurong.