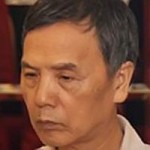 Wu Zurong
Research Fellow, China Foundation for Int'l Studies
Wu Zurong is a research fellow at the China Foundation for International Studies.
Mar 04 , 2015

China's rise has given life to assumptions about the intentions of China's influence. Wu Zurong dispels the notion of a Chinese "secret strategy" to replace the United States as the global superpower, and describes the complex historical relationship between China and the U.S. which has largely been based on cooperation.

Jan 22 , 2015

It is my hope that the Obama administration will leave a satisfactory legacy in promoting US-China relations by enhancing mutual strategic trust and pragmatic cooperation between the two nations.

Dec 17 , 2014

Internal causes in China are the basis of changes and developments in Asia, while external causes, such as relations with the other parts of the world, are secondary, and become operative through internal causes in Asia. Through this logic, Wu Zurong argues that the U.S. should consider its own development path before concerning itself with lost influence in Asia.

Nov 03 , 2014

AIIB will promote economic development and prosperity in Asia, and US worries about the AIIB are absolutely unnecessary, writes Wu Zurong.

Oct 18 , 2014

The US President Obama is scheduled to attend the annual APEC meeting and to visit China in early November. It gives the world an encouraging signal when Susan Rice said that Obama considers his visit as an important milestone in building important relations between China and the US, writes Wu Zurong.

Sep 18 , 2014

Only by getting to know China in an entirely new light, can the US formulate a sensible China policy and produce a win-win situation for both China and the US in the South China Sea, writes Wu Zurong.

Aug 09 , 2014

Can the United States and China continue to build mutual trust through increased military exchanges? According to Wu Zurong, recent developments have boosted military-to-military relations between the two countries, but more must be done to reaffirm US claims that it has no intention of containing China.

Jul 08 , 2014

The upcoming China-U.S. Strategic and Economic Dialogue provides the perfect opportunity for the United States and China to effectively and efficiently cooperate on various issues that concern both nations' interests individually, as well as collectively. Additionally, Wu Zurong believes that the U.S. should use the forum to scale back its seemingly hardline stance against China.

Jun 18 , 2014

The U.S. indictment of five PLA officers is a fabricated story with no credible evidence to support these accusations. The reality is that the U.S. conducts cyber surveillance programs all the time around the world and yet it continues to demonize China. The indictments should be rescinded in order to build political trust in the Sino-U.S. relationship.

May 26 , 2014

Having concluded the fourth summit on Confidence Building in Asia, CICA will play an increasingly important role in promoting peace, development and cooperation in Asia, writes Wu Zurong.