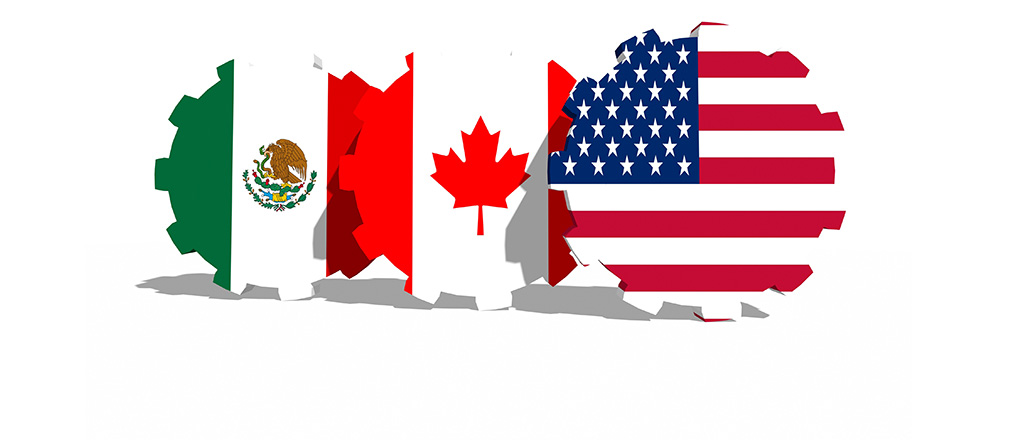 For many Canadians, it is time to start thinking what was once unthinkable: NAFTA is dead. Initially, many Canadians did not take Donald Trump's anti-NAFTA rhetoric all that seriously. True, he had shot U.S. interests in the foot by pulling out of the Trans-Pacific Partnership (TPP) on day two of his new Administration, but when he met Prime Minister Justin Trudeau back in February of this year, he talked only of "tweaking" NAFTA. Later, there was a lot of rhetoric about triggering the NAFTA withdrawal clause even before the start of negotiations. Now, after the fourth round of the NAFTA negotiations, a cloud of pessimism has descended. The U.S. demands are so extreme and non-reciprocal (five-year sunset clause, non-reciprocal procurement provisions, rules of origin in the auto sector that will be impossible to meet, tearing up the dispute resolution process) that many (both inside and outside the U.S.) are asking the question as to whether the Trump Administration is determined to deliberately scuttle the negotiations by inserting poison pills. Both Canada and Mexico have said they would prefer no deal to a bad deal, and if the talks collapse, that could give Mr. Trump the excuse he needs to say he tried but failed to secure a "good deal" for American workers, and lay the blame on Canada and Mexico.
What a post-NAFTA world would look like for Canada is now being openly discussed. President Trump has talked vaguely of replacing NAFTA with a bilateral agreement with Canada. In fact, the Canada-U.S. Free Trade Agreement preceded NAFTA and was subsumed within it, and legally it still exists (in suspension). However, if NAFTA is seen as being out of date, having been negotiated in the early 1990s, the Canada-U.S. Agreement is even more so, having been concluded in 1987. It does not offer the kind of comprehensive market access that is common in modern agreements. Failing that, WTO rules will apply, and many countries trade on WTO terms. However, for Canada and the U.S. with their integrated supply chains, disciplines beyond the minimum WTO standard would normally be expected.
It is still possible that some kind of a deal will be reached on NAFTA, and if not, there is still the possibility that the U.S. Congress will refuse to enact the legislation necessary to rescind it, no matter what the Administration decides. After all, the Administration so far has an abysmal record of getting its priorities accepted by Congress. In a non-NAFTA world, Canada and the U.S. will still continue to trade and the U.S. will continue to be Canada's largest trading partner, albeit under somewhat different rules. The real change will be psychological. In the eyes of many in Canada, the U.S. can no longer be trusted to play by the rules, and to assume its traditional role as a champion for liberalized trade.
Against this backdrop, Canada and China are going through the preliminary stages of launching their own trade negotiations. China has made it plain that is eager and willing to negotiate a bilateral FTA with Canada. Canada has been more reticent, in part because of an ambivalent view of China on the part of many Canadians. One of the concerns is with Chinese economic dominance, especially in the area of investment, and a feeling that China will benefit more than Canada because of trade restrictions in China. China's environmental and human rights records have also played a role in shaping public opinion.
For a number of years the Asia Pacific Foundation of Canada (APFC) has conducted a National Opinion Poll on the attitudes of Canadians toward Asia. One of the questions usually asked is whether Canadians support negotiation of a free trade agreement with China. Support has fluctuated with just 36% supporting the idea in 2014. This rose to 46% in 2016 and, after the election of Donald Trump, to 55% in the March 2017 poll. (The specific question of an FTA with China was not asked in 2015 as that poll focussed on attitudes toward foreign investment). Now the Institute of Asian Research at the University of British Columbia has just conducted a new poll to test attitudes toward China and the result is that a surprising 69% of respondents strongly or moderately support negotiation of an FTA with China. Nineteen percent were opposed and twelve percent were undecided.
In an op-ed in the national paper Globe and Mail in May of this year, APFC President Stewart Beck made the following observation: "Thank you President Donald Trump. Your hard talk and the consequent uncertainty in our trading relationships is motivating Canadians to reconsider how we view Asia, particularly China."
If there was a tidal shift of opinion back in May about the wisdom and necessity of negotiating with China, that seems to be turning into a flood as the Trump Administration continues to apparently sabotage the NAFTA talks. While Canada will continue to do the majority of its trade with the U.S., the need for greater trade diversification is becoming startlingly clear. Canada has just concluded an FTA with the EU (presumably soon minus the UK) and that is a good start. After an initial period of apparent reluctance it has wholeheartedly embraced the renegotiation of the TPP, after the precipitate U.S. withdrawal. The concept of a TPP 11 (i.e. minus the U.S.) was first championed by Japan; Canada soon came on board and studies have shown that the advantages for Canada of a TPP without the U.S. exceed those of the TPP12. This is especially true in the Japanese market where, if the TPP11 is concluded, Canadian products will enjoy an advantage over competing US exports. In addition to TPP11, Canada is exploring the possibility of free trade talks with ASEAN, and of course, there is China.
Despite the boost that Mr. Trump's antics are giving to a possible Canada-China agreement, there are still obstacles to be overcome. China has made it clear that it wants greater freedom to invest in Canada, reducing or removing investment limitations (e.g. in the oil exploration and production sector, where further majority investment by State Owned Enterprises (SOEs) has been put off limits). Canadians are nervous about the impact of Chinese investment, including by SOEs, but it is worth remembering that any investment by Chinese entities will still have to follow all domestic legislative requirements.
Thus concerns that have been expressed, such as Chinese investment weakening environmental standards or labour conditions in Canada, would seem to be misplaced as long as Canada requires Chinese investors to follow the same rules as others. Labor is another potentially tricky issue. Some Chinese investors and potential investors have mused publicly about the desirability of bringing in Chinese "specialized labor" to work on projects in Canada. While an FTA would almost certainly allow for inter-company transfers and work visas for managers and very specialized employees, the idea of bringing in Chinese labour on any scale is a complete non-starter in Canada.
In the area of market access, China maintains many more restrictions than Canada—but it is also a much larger market. Given that Canada is a largely open market, it can only but gain by bringing down barriers to Canadian products. The key question, however, is whether China will be prepared to make enough concessions in terms of market access to justify Canada giving China concessions on investment. One solution would be make the agreement less than fully comprehensive—on the grounds that China is unlikely to make meaningful concessions in many areas—but to focus on sectors of interest to both parties, perhaps asymmetrically. This would be cast as an "economic partnership agreement" rather than a full-fledged FTA.
The Trudeau government is expected to make an announcement this fall as to whether it will proceed with negotiating a trade agreement with China. These negotiations will not be quick or easy, but each time the U.S. rolls out its big cannons and takes aim at Canada, whether on softwood lumber or aircraft exports or NAFTA, the odds of an early launch of bilateral Canada-China talks increase. Whether or not NAFTA collapses, Canada and Canadians are realizing that diversification of trade relations is essential and the world's second largest economy—probably soon to be its largest—is a natural place to start.