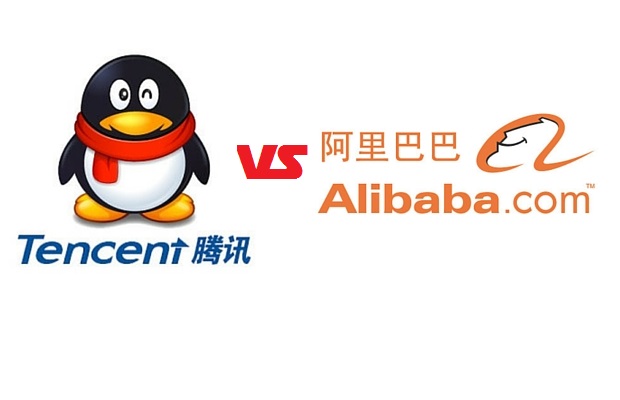 By now, we're used to thinking of tech companies as near monopolies. Google all but owns search, Facebook dominates social networking, Amazon has a lock on online retail— but there are monopolies and then there are monopolies. To describe the influence of Chinese tech firms Tencent and Alibaba, it's often necessary to invoke a combination of nearly all of the leading U.S.-based companies to convey the range of applications and services these two companies provide and the extent to which those services are embedded into the everyday life of millions of Chinese people. They are Amazon meets Apple meets Venmo meets Facebook, with their offerings of e-commerce and messaging and payment and social networking platforms, among many other applications.
For all the talk of tech companies as monopolies in the United States, this is not a kind of market dominance familiar to most U.S. consumers. The major U.S.-based tech firms enjoy considerable market power within their own particular niches, but they have often struggled to expand their reach beyond their primary focus. Google, for instance, has not enjoyed much success with its forays into social networking platforms, while Facebook has similarly struggled to claim a portion of the online search market.
Tencent and Alibaba offer a striking and sometimes cautionary example of what happens when companies are wildly successful at conquering not just one or two sectors of the tech industry, but all of them at once. The power these two companies wield was recently put on display when the Financial Times reported that the firms are requiring investment banks to pick which of the two they want to invest in and commit to not funding the other. That the banks are willing to go along with these demands indicates just how completely Tencent and Alibaba control the Chinese tech market and have managed to reshape the investment landscape to suit the terms of their rivalry.
These types of exclusive funding agreements are not without precedent, even in the U.S. tech markets. Uber and Lyft notably made similar demands of investors as far back as 2015. But while those agreements focused on a specific niche of the tech industry, such as ride-sharing services, the Tencent and Alibaba rivalry has much broader ramifications for investors that span essentially the entire range of tech services offered by both companies and the other, smaller firms they own, invest in, or partner with.
For instance, the Alibaba-affiliated payment company Ant Financial Services Group is in the process of closing a $10 billion round of fundraising for which investors had to commit to not investing in any companies owned by Alibaba rivals Tencent or JD.com, or, if they had already made such investments, not increasing their stakes in those firms, according to the Wall Street Journal. That commitment goes well beyond simply promising not to invest in other mobile and online payment applications that would compete with Ant's popular Alipay service. It also means investors must forego backing companies that provide completely different services, such as social networking, messaging, commerce, cloud computing, or food delivery, so long as those companies are owned by or affiliated with Alibaba's main rivals. In fact, investors in Ant are also specifically forbidden from providing funding to Meituan-Dianping, a Tencent-backed online platform for food reviews, restaurant reservations, and movie tickets, as well as an e-commerce firm called Pinduoduo because both companies compete with other Alibaba services.
That is the real risk to having tech firms that do everything — their ability to leverage their market power in one sector, such as mobile payments, to squeeze out competitors in every other corner of the market, from restaurant reservations to movie tickets, as well. It's exactly the kind of behavior that led to the landmark antitrust case against Microsoft in the 1990s and early 2000s, when the U.S. Department of Justice became concerned that the company was taking advantage of the dominance of its Windows operating system to try to control the market for web browsers as well.
But in China, the escalating rivalry between Alibaba and Tencent and the two firms' anti-competitive tactics appear to have drawn little regulatory scrutiny from the government. That may be in part because the Chinese government is so eager to grow its domestic tech sector that it is reluctant to interfere with two of its most successful firms. Regulators may also be counting on the fact that there are two sparring firms to ensure that Tencent keeps Alibaba's market power in check, and vice-versa. But as the two China-based firms work to grow beyond their domestic market and reach customers in other countries and continents, it's not clear how regulators in other regions will view the uniquely powerful perch these companies have occupied within the tech sector. In many ways, U.S.-based tech firms are less accustomed to direct competition of the sort that Alibaba and Tencent engage in— most of the major Western firms have carved out a portion of the market in which they are comfortably ahead of all their would-be competitors. But looking at how Alibaba and Tencent have leveraged their influence in the Chinese market to target each other, it's difficult to say whether their international expansion will be good for competition in their new host countries or, instead, prove to be exactly the opposite.