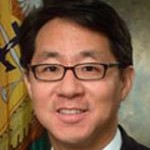 Curtis S. Chin
Former U.S. Ambassador to Asian Development Bank
Curtis S. Chin, a former U.S. Ambassador to the Asian Development Bank, is managing director of advisory firm RiverPeak Group, LLC. He is also a Senior Fellow at the Milken Institute. Follow him on Twitter at @CurtisSChin.
Jan 24, 2022

The winners and losers of the last year tell a story of turbulence and change in a year that saw the world make it through 12 more months of global pandemic and simmering geopolitical tensions, without resolving either issue.

Feb 25, 2021

2020 brought unpredictable twists to the world, and global leaders were put to the test. Though the challenges brought on by COVID-19 have yet to subside, some positive changes were brought forth by the obstacles presented in the past 12 months.

Aug 03, 2020

Tough economic times create difficult conditions to bring or adhere to strong ESG standards and commitments.But protecting the health and livelihoods of workers is all the more necessary with threats of recession looming.

May 14, 2020

Past crises and the people who led the world in fighting them can offer us words of wisdom in solving the COVID-19 pandemic today.

Feb 12, 2020

"We talked about China and the U.S. decoupling. The coronavirus more than the trade war has sped some of that decoupling as countries, as businesses think about their supply chain for the long run."

Sep 13, 2019

The United States and Thailand should welcome Chinese tourists, but be prepared lest China's economy weakens or Beijing turns off the tourism spigot.

Jan 31, 2019

From a dazzling Winter Olympics in South Korea to another devastating tsunami in Indonesia, the Year of the Dog was one of definite surprises. Take one last look at who was up and who was down in Asia in 2018, and get ready for what might well be an even more unsettling year ahead.

Jul 03, 2018

Blockbuster film Black Panther might offer up an unintentional message for China's urban leaders: there need not be a default setting for what urbanization looks and feels like. Cities everywhere, including in China, will continue to grow, but they can do so by embracing their rich pasts while building a vibrant, unique, and inclusive future.

May 02, 2018

The development and application of innovative new financial technology, or "fintech," is upending traditional ways of banking and financing, and beginning to transform how businesses, industries and individuals interact. But beyond the multi-million-dollar headline-grabbing investments and acquisitions, what does fintech actually mean for the people of China and the United States?

Mar 28, 2018

Forty years into a reform and opening process that helped unleash the power and potential of the Chinese people and that is most associated with Deng Xiaoping, the recent actions of the National People's Congress to abolish presidential term limits and adopt a "revolutionary" (in the words of Liu He, Xi's key economic advisor and Politburo member) government restructuring plan suggests that China under Xi Jinping will be more about "consolidation, centralization and closing down" than about reforms and opening up -- consolidation of Communist Party authority under the centralized rule of a strongman leader and the closing down of perceived threats to such rule, whether from home or abroad.