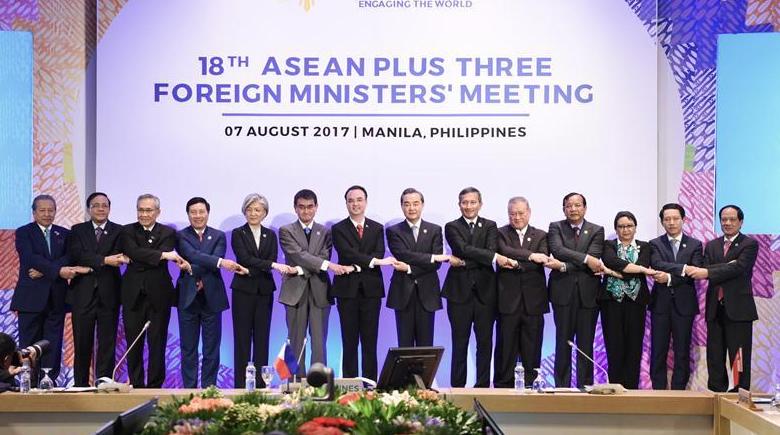 The recent meeting of Southeast Asian foreign ministers in the Philippines drew more attention than usual to its concluding communiqué. More so than in past versions, this year's Association of Southeast Asian Nations (ASEAN) concluding joint statement made clear the grouping of 10 nations' hopes for a demilitarized South China Sea.
In one paragraph, the communiqué also noted "the importance of maintaining and promoting peace, security, safety and freedom of navigation in and over-flight above the South China Sea." While not explicitly named, China was very clearly the focus of attention.
Garnering much less attention, was the single paragraph that "noted Timor-Leste's application for ASEAN membership and looked forward to the continued discussion" about reports and capacity building regarding that small Southeast Asian island nation's longstanding efforts to join the regional bloc.
That's unfortunate. As ASEAN celebrates five decades and engages with a range of countries, it is worth pausing to consider who's now in and who's out of this grouping of now 10 nations. The United States and China in their own engagement with ASEAN should encourage the group's welcoming of Timor-Leste.
Geographically, the country is very much part of Southeast Asia. Timor-Leste is located on the eastern half of an island that it shares with Indonesia and is located just north of Australia.
This July 2017, I had the privilege of serving as an election monitor for Timor-Leste's parliamentary election – its first done on its own without United Nations support. My trip was part of an International Republican Institute's (IRI) election observation mission that included representation from the United States and Australia.
The IRI is a non-partisan, Washington-based nongovernmental organization focused on advancing democracy.
Throughout my visit—my third to Timor-Leste—I was struck by the passionate commitment of the Timorese people to the democratic process, and inspired by their optimism about the future of their country of some 1.2 million people.
Timor-Leste is in a strong position to continue progressing in its own development and make a positive contribution to the development of Southeast Asia. In the past decade, through the use of oil and gas revenues, significant investments have been made to rebuild the country's road and power infrastructure.
Official development assistance from Australia, the United States, and others has also contributed to this poor nation's development. Chinese assistance has also been key in the building of key major government buildings in the capital of Dili.
But more can be done. This newest of Asian nations – having regained independence from Indonesia in 2002 – deserves ASEAN, U.S. and Chinese investment and support for its efforts to further integrate and engage with the wider region.
After regaining independence, Timor-Leste's government declared its desire to join ASEAN and applied for membership in 2011. While its ultimate accession is likely, there is a chance that the delays that have arisen over the past six years may persist indefinitely.
Such a development which would not only deprive the Timorese of a much-needed chance for further development; ASEAN would forgo an opportunity to bring a country further into the ASEAN community that can serve as a valuable example of a successful post-conflict democracy to fellow member states.
One of the important ways Timor-Leste has been able to deliver sustainable democratic reforms has been through its openness to regional and international support. To this end, organizations like IRI have worked with civil society, government bodies, and political parties to help them represent Timorese citizens responsively and effectively.
IRI has worked in the country since 2002, and its assistance has been an important contributor to the country's democratic consolidation.
Likewise, when I served as the U.S. Ambassador to the Asian Development Bank (ADB) and traveled to Timor-Leste in years past, I saw the importance of regional and international economic assistance to this and other developing countries first-hand.
The ADB has supported infrastructure expansion, macroeconomic capacity-building, and community-based development in Timor-Leste, and is well positioned to assist not just in improving the country's roads, but also its water supply and sanitation systems.
My experience travelling through this small yet vibrant nation has driven home the benefits for all of proceeding with Timor-Leste's accession. That is a position that both the United States and China should support.