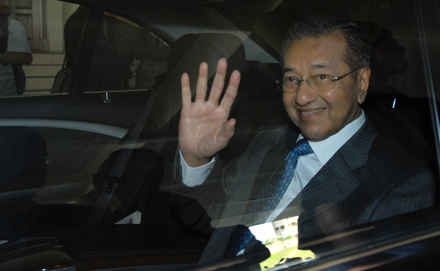 Mahathir Mohamad, the old-new prime minister of Malaysia
Southeast Asian politics have rarely been as interesting and consequential as in recent years. In one country after the other, electoral shocks have been accompanied by significant shifts in their respective foreign policy, particularly vis-à-vis China. Malaysia's electoral stunner, which ended the political party Barisan Nasyonal's six-decades-long hegemony, may set in motion a similar trend in the historically Beijing-friendly nation.
Throughout recent months, Malaysia's newly minted prime minster, Mahathir Mohamad, has signaled a tougher policy in the South China Sea as well as greater scrutiny of Chinese investments in the country. The shocking return of the former strongman (who was prime minister from 1981 to 2003) to power may also portend greater Malaysian assertiveness within the Association of Southeast Asian Nations (ASEAN).
A China Reset
As China expands its influence across its near neighborhood, its long shadow has made it an increasingly central factor in the domestic politics of regional states. In fact, it's becoming increasingly impossible for leaders of smaller nations to talk about national sovereignty and prosperity without mentioning bilateral relations with Beijing.
In the Philippines, the past two presidential elections, which elected Benigno Aquino and Rodrigo Duterte, saw new insurgent leaders who adopted diametrically opposed approaches towards China. Sri Lanka's 2015 electoral shock, which ended Mahinda Rajapaksa's long reign, also saw a reconfiguration in the country's bilateral relations with the Asian powerhouse.
China similarly dominated discussions during the latest Malaysian elections, which catapulted the opposition to power for the first time in history. Mahathir has repeatedly cast doubt on the viability of large-scale Chinese investments in Malaysia, both in the real estate and public infrastructure sector. Specifically, he has criticized the Guandong-based Country Garden Holdings Co. Ltd.'s plans to invest $100 billion for the construction of luxury apartments in the state of Johor. This could lead to, Mahathir warns, a massive influx of Chinese buyers and a spike in overall housing prices at the expense of locals.
The prime minister has also criticized terms of agreement under Chinese-led infrastructure projects, particularly the overreliance on Chinese capital, engineering and labor to the exclusion of Malaysian counterparts. "Here we gain nothing from the [Chinese] investment," the tough-talking Malaysian leader said ahead of the latest elections. "We don't welcome that."
As a result, big-ticket Chinese infrastructure projects such as the $13 billion East Coast Rail Link (ECRL) railway, which aims to connect Kuala Lumpur to less developed eastern regions of Malaysia, could face greater scrutiny under the new administration.
Along with other leaders within the newly-elected Pakatan Harapan coalition, Mahathir has also raised concerns over Malaysian national sovereignty. They contend that the former Najib Razak administration was too cozy with Beijing at the expense of the country's interests. To the new government, Najib era investment deals with China deserve scrutiny in respect to Malaysian national sovereignty as well as anti-corruption accountability, which was a rallying cry of the opposition during the latest elections.
As traditional partners in Europe and America threatened criminal probes amid the 1MDB corruption scandal, the Najib administration pivoted to China for strategic patronage and large-scale investments. The former Malaysian leader faces corruption charges for his management of the 1MDB sovereign investment fund. To critics, he was essentially bailed out by Beijing. His administration has been accused of failing to take a tougher stance against Chinese militarization and reclamation activities in the South China Sea in order to preserve bilateral trade and investment ties.
In fact, Najib was consistently unapologetic about his growing reliance on Chinese capital to boost the Malaysian economy. The new Malaysian leader, Mahathir, has cited the case of Sri Lanka, which was forced into debt-for-equity deals due to massive infrastructure debts to China, as a cautionary tale.
Foreign Policy Assertiveness
Mahathir sees China as increasingly more of a geopolitical threat than an economic opportunity. "With the changes in [its] leadership, we see more ambitious [Chinese] leaders coming in and maybe they like to flex their muscles a bit and that is very worrisome," the Malaysian leader told the Financial Times ahead of the elections. "Without actually conquering the countries they have managed to increase their influence over many countries in Southeast Asia."
Malaysia maintains a presence in several land features in the contested Spratly chain of islands, including the Swallow Reef, which hosts advanced naval and civilian facilities. The Mahathir administration has signaled a more assertive stance in the South China Sea, while ensuring Najib-era China deals don't compromise national interests. "We have to ensure our voice is heard because Malaysia does have islands in the area and this we must uphold," he said in a pre-elections interview with Bloomberg.
Malaysia's current predicament echoes the experience of the Philippines earlier this decade, when former President Benigno Aquino launched an anti-corruption initiative that heavily targeted China-led projects begun under his predecessor, Gloria Macapagal Arroyo. Aquino's good governance reforms coupled with rising tensions in the South China Sea led to a new nadir in bilateral relations with China.
Guided by pragmatic advisers in the newly-created presidential council of elders, which includes luminaries and tycoons such as Robert Kuok, Mahathir will likely seek to maintain robust economic ties with China. But the tenor and dynamics of Malaysia's relations with China will likely involve greater hedging; Mahathir will likely switch to strategic non-alignment rather than Najib-style strategic leaning vis-à-vis Beijing. In short, Malaysia will likely be less quiescent towards the Asian powerhouse.
Just as in the past, Mahathir will likely leverage his stature and influence within the ASEAN to forward Malaysia's interests in the South China Sea. Together with the current ASEAN chairman (Singapore), he will likely advocate mutually satisfactory arrangements, which will preserve regional security as well as protect the interest of smaller claimant states in the area. After all, no contemporary regional leader relishes the same gravitas as Mahathir, who played a critical role in the ASEAN's evolution into a global force in past decades.
This puts Kuala Lumpur in a unique position to shape the regional agenda amid an era of dizzying geopolitical and humanitarian challenges. Mahathir's remarkable return to power couldn't be more timely and consequential, both for Malaysia and the ASEAN.