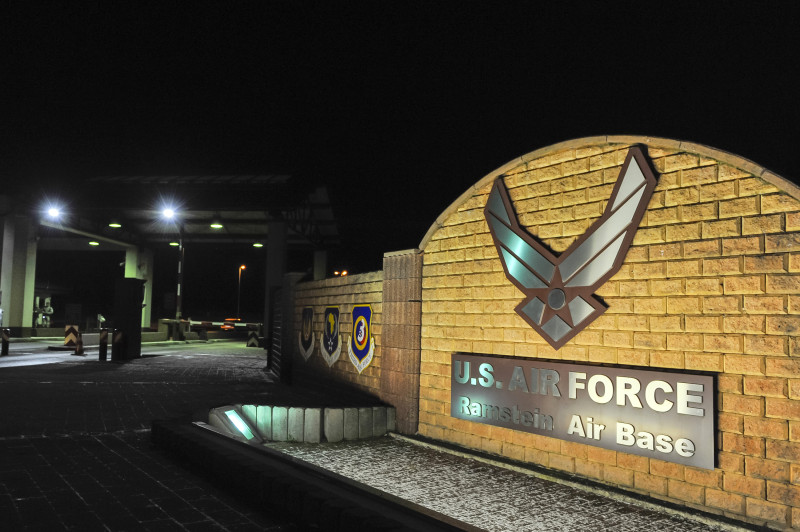 The U.S. Air Force logo is seen at the entrance of the U.S. air base in Ramstein, Germany on January 17, 2016. JEAN-CHRISTOPHE VERHAEGEN / AFP
The U.S.-Germany relationship has experienced a new wave of turbulence as U.S. President Donald Trump approved a Defense Department plan on June 30 to withdraw 9,500 troops from Germany.
German Chancellor Angela Merkel had warned that Europe would reassess the transatlantic relationship if the United States failed to shoulder its responsibilities as a global power. Since Germany took the chair of the EU on July 1, playing a key role in determining the direction of the EU and facilitating major decisions of the 27-nation bloc, the deterioration of the U.S.-Germany security relationship will inevitably undermine overall transatlantic relations.
The possible readjustment of U.S. military deployments in Europe is based on any strategic arrangement but only on political considerations — specifically, to send a warning message to Germany and facilitate the U.S.-Poland relationship at the expense of NATO defense capabilities. Under the notion of "America first," the contradiction between European strategic reliance on the U.S. and strategic autonomy is deepening, even as NATO, the enduring transatlantic military bond between, receives a major shock.
The Trump administration measures the value of NATO from a purely economic perspective and requires sharing military expenses as a key obligation that NATO allies must undertake. The U.S. spends about 3.4 percent of its GDP on defense, roughly 69 percent of overall defense spending by NATO member states. The alliance relies on the United States to provide some essential capabilities, including, for instance, intelligence, surveillance and reconnaissance; air-to-air refueling; ballistic missile defense; and airborne electronic warfare. Weakened U.S. support for NATO will have a major impact on European security.
Trump's attitude was once ambiguous on NATO's collective defense clause regarding Russia. This made European allies extremely nervous. Since Trump has always expressed strong interest and willingness to normalize U.S.-Russia relations, Europeans were vigilant about possible detente and worried that the U.S. might bypass Europe while reaching some sort of tacit consensus with Russia, regardless of Europe's interest. After the Ukrainian crisis, Europe, realizing the risks of traditional security challenges, is particularly concerned that the U.S. will not pay enough attention to NATO's collective commitments on Russia.
Meanwhile, Europe's geopolitical significance in U.S. foreign strategy has been downgraded, which is stimulating a strategic awakening. The Trump administration has put forward the Indo-Pacific Strategy inherited from his predecessor's Asia-Pacific "rebalancing," to shift its strategic priority toward Asia, while its commitment to Europe's security have been reduced. U.S. Secretary of Defense Mark Esper made it clear that in response to great power competition with China and Russia, the U.S. would attempt to transfer troops to the Indo-Pacific region. The Pentagon was also pushed to shift military resources to Asia, with support from Congress.
From a European perspective, although the impulse for strategic autonomy is becoming much stronger, strategic awakening is a more precise portrayal of Europe's reality. Especially on the security front, Europe's over-reliance on the U.S. means that Europe cannot step out of the comfort zone in the near future.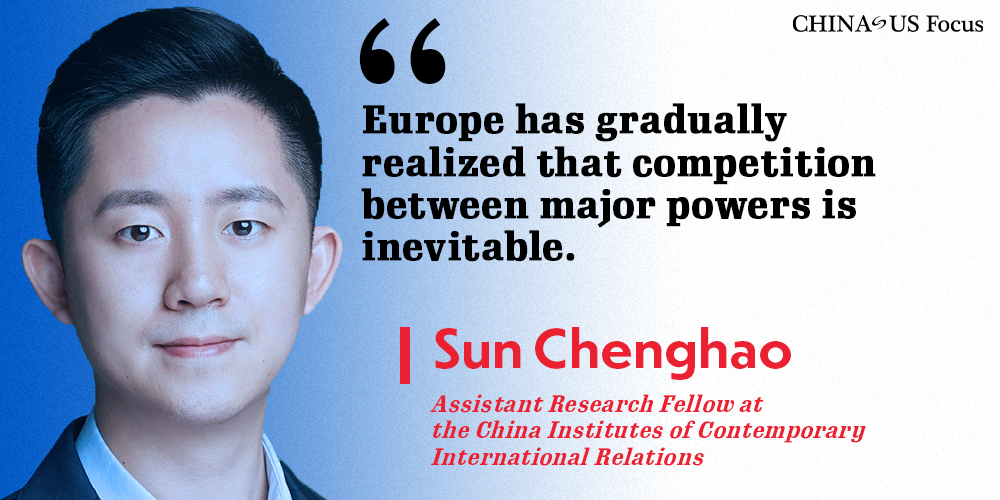 Facing a complex and fluctuating international environment, a group of 23 EU member states in November 2017 signed a joint notification regarding the launch of the Permanent Structured Cooperation (PESCO) on defense. Yet the EU continues to face numerous obstacles to promoting common defense. For instance, Brexit will weaken the EU's overall military strength, and some Central and Eastern European countries believe that "strategic autonomy" is merely France's anti-U.S. conspiracy.
In essence, the U.S.-Europe military alliance guarantees the stability and the hierarchical nature of transatlantic relations, limiting the intensity of the rifts between the two sides. The extent of European security dependence on the U.S. determines the amount of elbow room that Europe has to maneuver its policies toward America. Moreover, precisely because Europe relies on the U.S. for fundamental security, even if the U.S. were to initiate a tariff war in the trade zone, Europe appears unwilling to spread, or escalate, such frictions and carry them into the field of security.
The U.S.-Europe security relationship is undergoing subtle changes. In recent years, with changes in the international situation, especially changes in U.S. foreign policy, Europe has gradually realized that competition between major powers is inevitable. European politicians, such as French President Emmanuel Macron, are pushing for a Europe that has strategic autonomy —one that can act as a balancing power, rather than blindly following America and being entrapped by the great power competition. It is true that Trump is a wake-up call for Europe, but there is still a long way to go for Europe to step out of the security comfort zone.