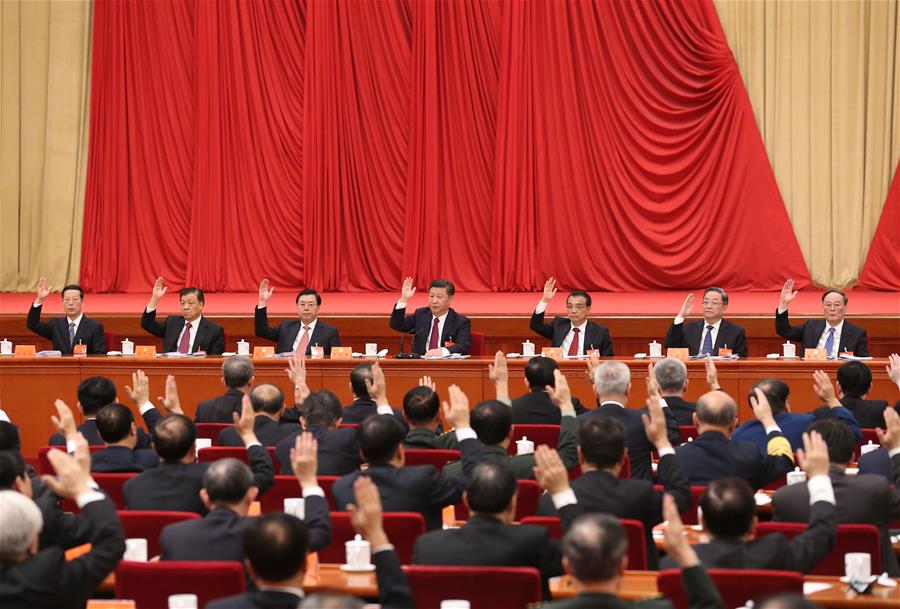 Top Communist Party of China (CPC) and state leaders Xi Jinping (C rear), Li Keqiang (3rd R, rear), Zhang Dejiang (3rd L, rear), Yu Zhengsheng (2nd R, rear), Liu Yunshan (2nd L, rear), Wang Qishan (1st R, rear ) and Zhang Gaoli (1st L, rear) attend the Sixth Plenary Session of the 18th CPC Central Committee, in Beijing, capital of China. The meeting was held from Oct. 24 to 27 in Beijing. (Xinhua/Pang Xinglei)
The peaceful transition of power is critical to the longevity of any political system. In post-Mao China, the Chinese Communist Party (CCP) has paid close attention to its generational leadership succession. Even against the occasional backdrop of political infighting, scandals, and purges, China has conducted peaceful, orderly, and institutionalized transfers of power twice in the recent past: from Jiang Zemin's "third generation" of leaders to Hu Jintao's "fourth generation" at the 16th National Party Congress in 2002, and then to Xi Jinping's "fifth generation" at the 18th National Party Congress in 2012.
To be sure, the upcoming 19th National Party Congress will not constitute a full-fledged transition. Not only will Xi Jinping and Li Keqiang remain in power, but observers can also expect the Politburo Standing Committee (PSC)—the country's supreme decision-making body—to maintain a majority of fifth-generation leaders. Likewise, it is unclear whether any sixth-generation leader (by definition, one born in the 1960s) will be identified as the heir apparent to Xi Jinping. Nor can China analysts meaningfully forecast how many sixth-generation leaders will enter the new PSC and the Politburo.
China's Leadership Patterns
Yet, one development deserves serious reflection. Patterns in leadership reshuffling in the lead-up to the 19th National Party Congress—especially at the provincial level—clearly reveal the coming-of-age of the CCP's sixth generation of leaders. As of August 2017, an impressive 298 of the 369 members of China's 31 province-level party standing committees were born in the 1960s, or 80.7% of the total. By contrast, in August 2015, only 40% (158 out of 395) of these standing committee members had been born in the 1960s. In other words, the proportion of sixth-generation representation in this important leadership group has doubled in only two years. This trend is even more pronounced in Heilongjiang and Chongqing, where all members of the respective provincial and municipal party committees, including party secretaries and deputy party secretaries, belong to the sixth generation. Similarly, the governors and vice-governors in Shandong and Jilin and the mayor and vice mayors in Chongqing all hail from the sixth-generation. At the 19th National Party Congress this fall, sixth-generation leaders will likely constitute a majority on the new Central Committee, whereas they accounted for only 18.6% of the current 18th Central Committee .
Because of their enormous size and socioeconomic diversity, China's provinces and major municipalities are often compared to countries in Europe. In terms of population, Chinese provinces surpass most countries in the European Union. And China's three largest provinces—Guangdong, Shandong, and Henan—are even more populous than Germany. In 2016, the GDP of Guangdong actually exceeded that of countries like Mexico (ranked 15th in the world), Indonesia (16th), Turkey (17th), and the Netherlands (18th). Among the 17 highest-ranked leaders in Guangdong—including the party secretary, governor, deputy party secretary, standing committee members, and vice-governors—all but one was born in the 1960s. (The only exception, Governor Ma Xingrui 马兴瑞, was born in 1959.)
Over the past 25 years, top provincial posts have served as the primary stepping-stones to national leadership positions. More than three-quarters of current Politburo members (19 out of 25) have served as provincial chiefs (i.e., party secretaries, governors, or mayors). Moreover, all seven of the current PSC members have served as top provincial leaders. Guangdong has proven to be a particularly important breeding ground for up-and-coming leaders. One member of the PSC (Zhang Dejiang 张德江) and two members of the Politburo (Wang Yang 汪洋 and Hu Chunhua 胡春华) have served as party bosses in that province. Two other PSC members (Wang Qishan 王岐山 and Zhang Gaoli 张高丽) also served as vice-governors of Guangdong earlier in their careers.
At present, 17 provincial chiefs, including three provincial party secretaries and 14 governors or mayors, belong to the sixth generation of leaders. These include Guangdong Party Secretary Hu Chunhua (born in 1963), Chongqing Party Secretary Chen Min'er 陈敏尔 (b. 1960), Heilongjiang Party Secretary Zhang Qingwei 张庆伟 (b. 1961), Beijing Mayor Chen Jining 陈吉宁 (b. 1964), Chongqing Mayor Zhang Guoqing 张国清 (b. 1964), Hebei Governor Xu Qin 许勤 (b. 1961), Zhejiang Governor Yuan Jiajun 袁家军 (b. 1962), Jiangsu Governor Wu Zhenglong 吴政隆 (b. 1964), Shandong Governor Gong Zheng 龚正 (b. 1960), Sichuan Governor Yin Li 尹力 (b. 1962), and Shaanxi Governor Hu Heping 胡和平 (b. 1962). Chen Min'er, Zhang Qingwei, Chen Jining, Zhang Guoqing, Xu Qin, Yuan Jiajun, Wu Zhenglong, and Gong Zheng were all appointed to their positions in 2017. These leaders, along with Jiangsu Party Secretary Li Qiang 李强 (b. 1959) and aforementioned Guangdong Governor Ma Xingrui, should be seen as leading candidates to succeed Xi Jinping, Li Keqiang, and other top leaders in the foreseeable future.
Sixth-generation leaders have also begun to emerge in the State Council. Four newly appointed or soon-to-be confirmed ministers were born in the 1960s: Housing and Urban-Rural Development Minister Wang Menghui 王蒙徽 (b. 1960), Environmental Protection Minister Li Ganjie 李干杰 (b. 1964), State Security Minister Chen Wenqing 陈文清 (b. 1960), and Land and Natural Resources Minister Sun Shaocheng孙绍骋 (b. 1960). As of August 2017, 86 of the 131 vice-ministers and assistant ministers in China's 26 ministries are sixth-generation leaders. In the Housing and Urban-Rural Development Ministry, all five top leaders, including the minister and four vice-ministers, were born in the 1960s.
In addition, some sixth-generation leaders have recently been promoted to top positions in the central bodies of the party and government. Examples include Deputy Secretary of the Central Commission for Discipline Inspection (CCDI) Li Shulei 李书磊 (b. 1964), Chairman of the China Securities Regulatory Commission Liu Shiyu 刘士余 (b. 1961), Director of the Cyberspace Administration of China Xu Lin 徐麟 (b. 1963), Deputy Secretary of the Work Committee for Departments Directly Under the CCP Central Committee Meng Xiangfeng 孟祥锋 (b. 1964), Director of the Central Rural Work Leading Group Office of the CCP Central Committee Han Jun 韩俊 (b. 1963), and Deputy Director of the Central Organization Department of the CCP Central Committee Qi Yu 齐玉 (b. 1961). None of these national-level rising stars are full or alternate members of the current Central Committee, hence they are known in Chinese as 双非官员—"double-not officials." Most, if not all, should join the Central Committee as first-time members this fall. Deputy Director of the General Office of the CCP Central Committee Ding Xuexiang 丁薛祥 (b. 1962), currently an alternate member of the CCP Central Committee, and Li Shulei, currently a CCDI member, are also candidates for the new Politburo and the new Secretariat.
Seniority in Military Promotion
The Chinese military has long prioritized seniority in determining officer promotions. Thus, senior-level officers typically belong to the same age cohort. None of the 41 military leaders with full membership on the 18th Central Committee belong to the sixth generation. In contrast to civilian leaders, the majority of military elites on the new Central Committee are still likely to belong to the fifth generation. Yet, Xi Jinping's recent large-scale military reforms have highlighted a number of sixth-generation "young guards"—少壮派 in Chinese—within the People's Liberation Army (PLA) and the People's Armed Police (PAP). These include Commissar of the Logistics Support Department of the Central Military Commission (CMC) Zhang Shuguo 张书国 (b. 1960), Deputy Director of the Logistics Support Department of the CMC Qian Yiping 钱毅平 (b. 1960), Director of the Science and Technology Commission of the CMC Liu Guozhi 刘国治 (b. 1960), Director of the Training Management Department of the CMC Li Huohui 黎火辉 (b. 1963), Army Chief of Staff Liu Zhenli 刘振立 (b. 1964), Air Force Chief of Staff Ma Zhenjun 麻振军 (b. 1962), Deputy Commander of the Rocket Force Zhang Zhenzhong 张振中 (b. 1961), Chief of Staff of the Rocket Force Li Chuanguang 李传广 (b. 1961), and Deputy Commander of the Strategic Support Force Rao Kaixun 饶开勋 (b. 1964).
These military leaders—all born in the 1960s—have been fast-tracked for promotion. For example, Zhang Shuguo was promoted from commissar of the 39th Group Army to deputy commissar of the Chengdu Military Region in January 2015. Six months later, he was appointed director of the Political Department of the Beijing Military Region. Five months after that, he was appointed director of the Political Department of the newly established PLA Army Headquarters. In March 2017, he assumed his current position. Thus, in a span of only two and a half years, he was promoted four times. Liu Zhenli experienced a similarly accelerated rise. In 2014, he was transferred from his post as commander of the 65th Group Army and became commander of the 38th Group Army, then the most elite group army in the PLA. A year later, Liu was appointed chief of staff of the PAP, where he served for only five months before being promoted to his current position in December 2015. Zhang and Liu are widely seen as Xi's protégés in the PLA.
All of the military leaders listed above each hold the military rank of lieutenant general and will likely join the new Central Committee. A few other sixth-generation military leaders serve as alternate members of the current Central Committee, including President of the Academy of Military Science Yang Xuejun 杨学军 (b. 1963) and Deputy Commander of the Easter Theater of Operation Yang Hui 杨晖 (b. 1963). After the 19th National Party Congress this fall, these officers will comprise a new cohort of military elite, second in prominence only to those in the new CMC.

Understanding the status of China's sixth generation of leaders is crucial to assessing the country's future trajectory. At a basic level, the rapid rise and strong presence of sixth-generation leaders in China's provincial, ministerial, and military leadership suggest that the Xi administration recognizes the importance of smooth political succession. Deng Xiaoping's warning, in the early 1980s, about the danger of "lacking an upcoming echelon in Chinese leadership" (青黄不接 in Chinese) seems not to apply for present-day China. Institutional regulations and norms, especially mandatory ages for retirement, have remained effective.

Although the new PSC and Politburo formed at the 19th National Party Congress will presumably still be dominated by fifth-generation leaders, several rising stars from the sixth generation will also join these prominent decision-making bodies. In all likelihood, the successors to Xi Jinping and Li Keqiang will ultimately be chosen from among these front-runners.

More significantly, each generation of leaders carries a distinct blend of experiences as it relates to political socialization, factional affiliation, career path, educational and professional credentials, and administrative background. Evaluating these broad traits offers clues as to how future leaders differ from the preceding generation in their worldviews and policy preferences, and therefore how China might be governed throughout the next decade and beyond.