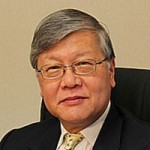 Andrew Sheng
Distinguished Fellow at the Asia Global Institute at the University of Hong Kong
Andrew Sheng is Distinguished Fellow at the Asia Global Institute at the University of Hong Kong and a member of the UNEP Advisory Council on Sustainable Finance. He is also a former President of the Fung Global Institute, former chairman of the Hong Kong Securities and Futures Commission, and a former adjunct professor at Tsinghua University in Beijing.
May 18, 2018

The rise of cryptocurrencies has created a unique opportunity for market forces to spearhead a shift toward a truly neutral reserve asset.

Mar 27, 2018

The test is whether the Chinese system adapts to long-term challenges and contributes to national and global wellbeing, not whether it adheres to Western standards.

Mar 02, 2018

40 years after Deng Xiaoping initiated the country's "reform and opening up," a "Beijing Consensus" has yet to be articulated.

Dec 27, 2017

China's digital economy is a force to be reckoned with. The country now accounts for 42% of global e-commerce, boasts one-third of the world's most successful tech startups, and conducts 11 times more mobile payments than the United States per year. But there are major challenges ahead.

Sep 29, 2017

Underlying US President Donald Trump's declarations was a clear message: the sovereign state still reigns supreme, with national interests overshadowing shared objectives. This does not bode well for the Sustainable Development Goals.

Sep 05, 2017

Financial markets today are thriving. The Dow Jones industrial average, the S&P 500, and the Nasdaq composite index have all reached record highs lately, with emerging-economy financial markets also performing strongly. But digital currencies could further destabilize an already-tenuous leverage- and liquidity-based system.

Aug 02, 2017

China's transformation into a knowledge-based economy occupying a central position in the global value chain will ultimately yield a "reform dividend." But as exciting as that transformation will be, it will also be dangerous. Never before has an economy so large undergone such far-reaching change so quickly

Jun 20, 2017

In the past, analysis of the evolution of humanity's worldview has tended to focus on the West. Now, however, this narrative is being revised. The global economic crisis that originated in the United States in 2007 exposed the fragility of the advanced-country model, giving rise to a new, more multipolar worldview, in which the emerging economies, led by China, India, and Russia, have increasingly challenged the status quo.

Jun 06, 2017

July 1, 2017, will mark the 20th anniversary of Hong Kong's return to China, after more than a century of British colonial rule. It comes at a moment when China's leaders are increasingly promoting Hong Kong's unique role in advancing the country's economic development.