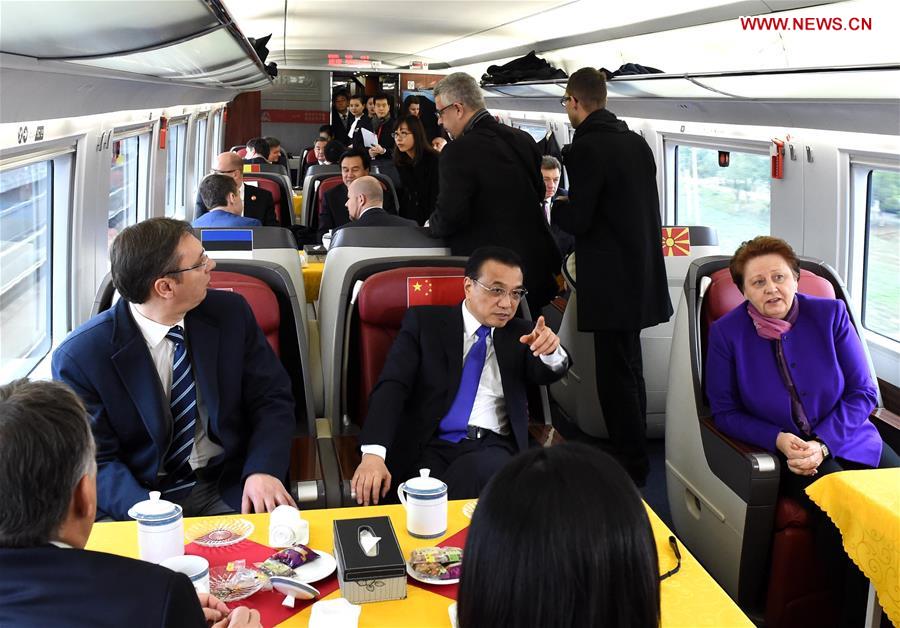 (Xinhua)
In the past decade, China has increasingly been perceived in Central and Eastern Europe (CEE) as a country which could bring economic benefits to the region through developing trade relations, growing inflow of Chinese investment and recently also through infrastructure projects carried out by Chinese companies, financed by Chinese loans. China is indeed pushing forward in the region: according to the Chinese Ministry of Commerce, China-CEE trade increased to $58.7 billion last year (from $43.9 billion in 2010), while its investment in CEE countries has accumulated to more than $8 billion, covering industries such as machinery, chemical, telecom and new energy. These trends, together with last week's 16+1 summit of the 16 Central and Eastern European countries and China, have drawn the attention of Western diplomats, scholars and the media to these intensifying efforts and the potential implications on the EU or even globally.
Enhanced cooperation between China and CEE is quite a new phenomenon, but not an unexpected one. On one hand, the transformation of the global economy and the restructuring of China's economy are responsible for growing Chinese interest in the developed world, including the European Union. Here, China can benefit a lot from the EU's core and peripheral type of division. CEE for China represents dynamic, largely developed, less saturated economies, new frontiers for export expansion, new entry points for Europe and cheap but qualified labor. This adds up to less political expectations, less economic complaints, less protectionist barriers and less national security concerns, compared to the Western European neighbors. On the other hand, CEE countries have become more open to Chinese business opportunities, especially after the global economic and financial crisis, with the intention of decreasing their economic dependency on Western (European) markets. Disappointment coming from the slower-than-expected catching-up processes to Western Europe has also resulted in these countries turning towards the East, which is further reinforced by the current trend of populism in the region.
The China-CEE relationship is certainly experiencing increased momentum, however, it should not be interpreted as a strategic and influential alliance that could affect world politics or the world economy, for several reasons.
First, when compared to China's economic presence globally or in the developed world, its economic impact on CEE countries is relatively small: CEE countries are highly dependent on both trade and investment relations with developed, mainly-EU member states, while China represents a minor (although increasing) share. From a Chinese point of view, as far as trade or investment statistics are concerned, the CEE region is also far from being among the most important partner of China. Within the EU, for example, Germany, the UK and France accounted for more than half of total Chinese investment value last year, while the CEE region received less than five percent.
Second, China still has a lot to learn on how to do business with Europe, even if it is Central and Eastern Europe. In its first infrastructure-building attempt in CEE, China tried to bring in the same package as in the developing world, Southeast Asia or Africa, not considering the different – and sometimes very strict – rules and regulations or standards of the EU. Therefore, an interesting distinction can be made between Chinese foreign direct investment (FDI) and infrastructure projects in the CEE region. While the majority of FDI goes to EU member state CEE countries (11 of the 16) in order to take advantage of the skilled but relatively cheap workforce and to obtain the 'made in EU' label for products assembled or produced there, infrastructure projects are more prevalent in the non-EU CEE countries (5 of the 16), where strict EU regulations are not applicable. The latter case is well illustrated by the long-running plan for the Budapest-Belgrade railway, which would be built by a Chinese constructor, mainly from Chinese credit. The Serbian side would gladly start the construction work, while the Hungarian side is still waiting for the European Commission's approval.
Third, the CEE region itself is the main obstacle to the deepening of the relations. There are competing interests among the countries of the region, with sometimes excessive expectations regarding what to expect from them. Moreover, they lack the proper knowledge of how to deal with China and Chinese companies. In addition, the 16+1 cooperation is also lacking proactive initiatives, plans or strategies from the CEE side, as well as consultations among the countries before such summits: these 16 countries would rather wait for the Chinese side to offer or suggest initiatives, instead of proposing common ideas and using the synergies of the region.
Some Western Europeans fear that China may use its influence in the CEE region to frustrate some aspects of the EU's common China policy, but in reality, China's influence is far from being decisive, yet. In its current stage, China-CEE cooperation is more like a new relationship: sympathy is there, even shared interests are there, and they have been dating for some time, but they still don't know what to expect from each other. However, they certainly feel the future potential. Exploiting such potential will require careful consideration from both sides. As indicated above, in economic terms, CEE's genuine interest is not to risk its relationship with the EU, which means that CEE countries' further engagement with China might come from political considerations.