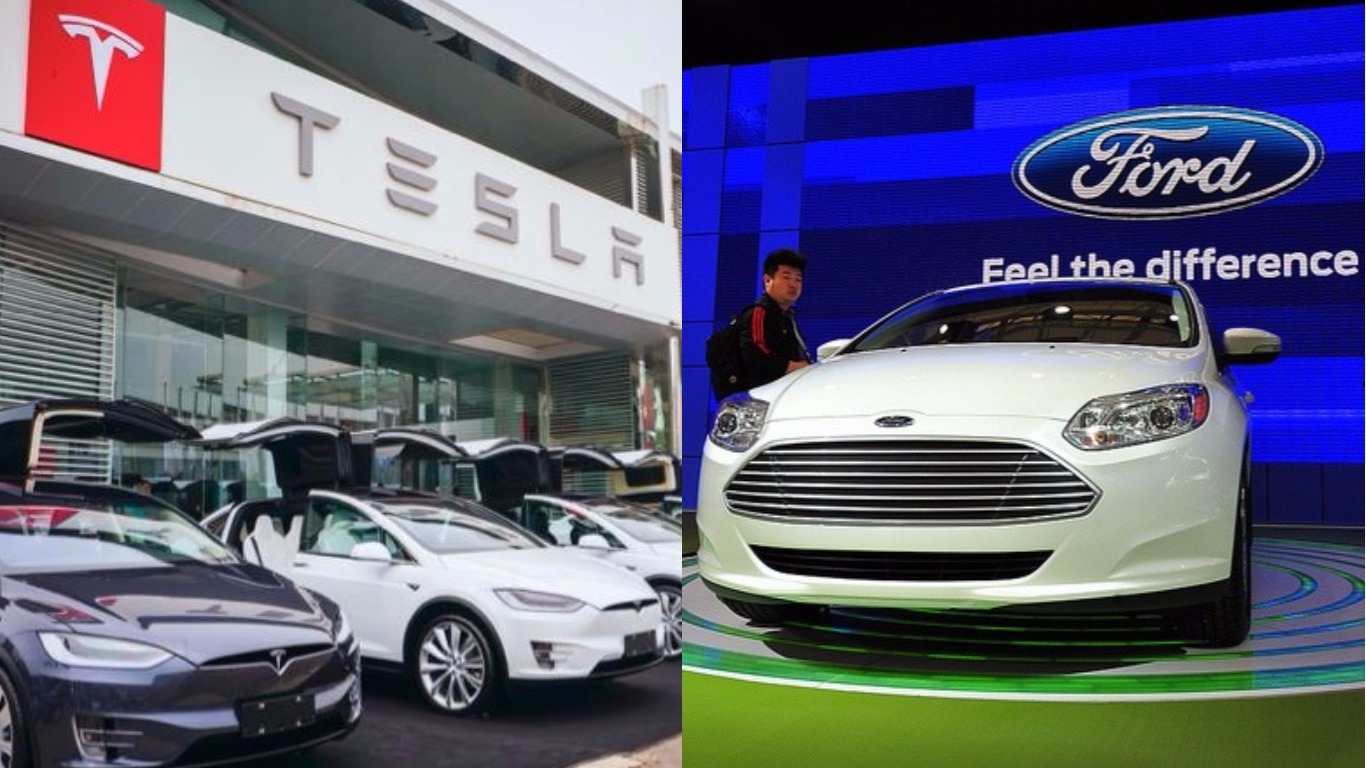 Two major American car manufacturers, Ford Motor Company and Tesla, are moving ahead with plans in China that seem a direct challenge to President Donald Trump's crusade to keep American manufacturing jobs in the U.S. Surprisingly, the companies seem to have met little resistance from the administration thus far.
During his campaign for office, Trump railed at American companies that manufactured abroad, complaining their moves were jeopardizing jobs at home. In September, he singled out Ford, calling their plan to shift small car production to Mexico "horrible." As for employment losses to China, Trump commented, "Our jobs are fleeing the country … you look at what China is doing to our country in terms of making our product."
Following Trump's victory, Ford seemed to pay some penance, cancelling in January plans for a $1.6 billion plant in Mexico that would have produced the small Ford Focus. At the same time, Ford pledged a $700 million investment to a facility in Michigan. A Trump tweet boasted: "Ford to scrap Mexico plant, invest in Michigan due to Trump policies." And another tweet: "Thank you to Ford for scrapping a new plant in Mexico and creating 700 new jobs in the U.S. This is just the beginning – much more to follow."
But what has followed may not be to the President's liking. Not only did Ford announce in February that it would expand production at an engine factory and a transmission plant in Mexico, but in June it dropped a potentially bigger bomb: it would import made-in-China Focus cars to the U.S.
Ford was a relative latecomer to China, creating its Changan Ford 50-50 joint venture vehicle manufacturing company in 2001. By this time, rivals Volkswagen, General Motors, and several Japanese auto makers had already put down stakes in the PRC. But in 2003, some 20,000 Ford Fiestas rolled off the joint venture's assembly lines, and two years later, the company announced it would begin building Focus vehicles at the company's plant in Chongqing.
As China's domestic auto market grew, so did Ford's sales. In 2009, China surpassed the United States to become the largest auto producer in the world, with nearly 14 million vehicles manufactured nationwide. By 2016, domestic sales had doubled to about 28 million vehicles. Changan Ford's share of the market had reached some 950,000 autos.
Ford Focus sales in the PRC have been uneven, rising and falling with the global price of oil. In 2013, Focus sales peaked at some 404,000 vehicles, but then fell to 226,000 in 2016 as oil prices plummeted and gas-guzzling vehicles became less unattractive. Last year, SUV sales in China took 37% of the market, and were set to outpace sedan sales. In the U.S., too, SUV sales grew, and lower-margin small cars, such as the Focus, saw reduced sales numbers.
From a financial viewpoint, it made some sense for Ford to announce on June 20 it would begin producing the next generation of Focus cars in China and export them to the United States. The company indicated that by manufacturing at its Chongqing factory, it would save $1 billion that would have been needed to retool its Mexican facility. Production of the new model is slated to begin in mid-2019. However, Ford admitted it is cheaper to build and ship cars from Mexico to the U.S. than from China. Moreover, as a 50-50 joint venture, Ford must share its profits with its Chinese partner.
Ford is not the first American car company to export cars from China to the U.S. In 2016, General Motors began importing its mid-size luxury SUV Buick Envision, as well as its Shanghai-made Cadillac plug-in hybrid. But the Focus is a more high profile vehicle, and it stands to make a deeper impression on the American popular and political consciousness.
Surprisingly, the move elicited no Twitter storm from the President. In fact, Commerce Secretary Wilbur Ross's reaction was mild: "The Ford decision shows how flexible multinational companies are in terms of geography." Then Press Secretary Sean Spicer, when asked in the wake of Ford's move whether Trump intends to take a harder line on China or on auto companies who leave the country, indicated that the President's policies on business taxes and the tax code would be incentives for companies to "come back to the United States, grow in the United States, manufacture more in the United States."
Another potential controversy emerged three days after Ford revealed its China plan for the Focus. On June 23, Tesla announced it was working with the Shanghai municipal government to explore establishing a manufacturing plant in the metropolis' region. The plan seemed reasonable for the all-electric vehicle maker, as China has the largest market in the world for electric cars.
In 2016, China registered as many as 352,000 electric vehicles, compared to only 159,000 in the U.S. With government incentives and encouragement, the PRC accounted for more than 40 percent of all electric vehicles sold worldwide. For Tesla, sales in China totaled 15 percent of the company's revenue last year, double the 2015 figure. In all, Tesla sold some 10,400 cars in China in 2016.
Tesla's plan is still in the preliminary stages. According to Chinese regulations, foreign car companies selling to the domestic market need a joint venture partner that has a government license to produce vehicles. For Tesla, the prospects of avoiding a 25 percent import duty on cars made outside China and the ability to tap a low-cost supply chain are appealing. But Tesla would need to assure protection for its electric vehicle technology and intellectual property.
As with the Ford China scheme, to date, President Trump has not commented on Tesla's plan. There may be two reasons for this silence. First, Trump has indicated he needs China's help to rein in North Korea's missile and nuclear programs. Criticizing American companies investing in the PRC would likely add a sour note to bilateral relations. Second, in the case of Tesla, the company's CEO Elon Musk has made major investments in U.S.-based production facilities for vehicles, electric batteries, and other products. Trump may be reluctant to take on a company that has created jobs within U.S. borders.
For now, the President has been silent on the U.S. carmakers' moves to China. But if China's assistance on East Asian security issues seems to lag, and the issues of job loss to the PRC becomes more salient, angry tweets from the White House may begin to target the American auto manufacturers. Ford and Tesla will likely continue with their China plans but will have to weather the storm of political blowback.