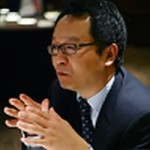 Zhang Jun
Dean, School of Economics, Fudan University
Zhang Jun is Dean of the School of Economics at Fudan University and Director of the China Center for Economic Studies, a Shanghai-based think-tank.
Apr 03 , 2019

For the West, the year 2008 marked the beginning of a difficult period of crisis, recession, and uneven recovery. For China, 2008 was also an important turning point, but one followed by a decade of rapid progress that few could have foreseen.

Oct 03 , 2018

In attempting to modernize its governance structure, China must reimagine its relationship between its central government and local authorities, despite the risks involved.

Aug 01 , 2018

In the West, many economists and observers now portray China as a fierce competitor for global technological supremacy. This is a serious misrepresentation, argues Zhang Jun.

May 29 , 2018

China's response – increasing imports and accelerating domestic structural reforms – will support high-quality long-term growth.

Sep 12 , 2017

Over the last decade, China has been working to shift from a manufacturing-led growth model fueled by low-cost labor to an innovation-led, higher-value-added model underpinned by strong productivity gains. Currently, though China is the world's most populous country and its second-largest economy, and the country's urbanization rate remains well below the global average.

Jun 08 , 2017

Weak demand is dragging down China's economic growth. While necessary to mitigate financial risk, will not resolve China's monetary conundrum, much less protect China's economy from the consequences of a financial crisis in the long run.

Mar 20 , 2017

Last month, China commemorated the 20th anniversary of the death of Deng Xiaoping, the chief architect of the economic reform and opening up that catapulted the country to the top rungs of the global economic ladder. The anniversary comes at a time when economic openness is under threat, as the United States is now being led by a president who believes that the way to "make America great again" is to close it off from the world.

Jul 04 , 2016

The accuracy of China's official GDP and growth rates has long been a hotly debated topic, with the detention in January of Wang Baoan, the director of the country's National Bureau of Statistics, on graft charges intensifying doubts about the agency's integrity.

Dec 17 , 2015

The International Monetary Fund's recent decision to add the Chinese renminbi to the basket of currencies that determine the value of its reserve asset, the Special Drawing Right, has captured headlines around the world. But the SDR itself has not exactly dominated discussions – much less transactions – since its creation in 1969. So does the decision really matter?