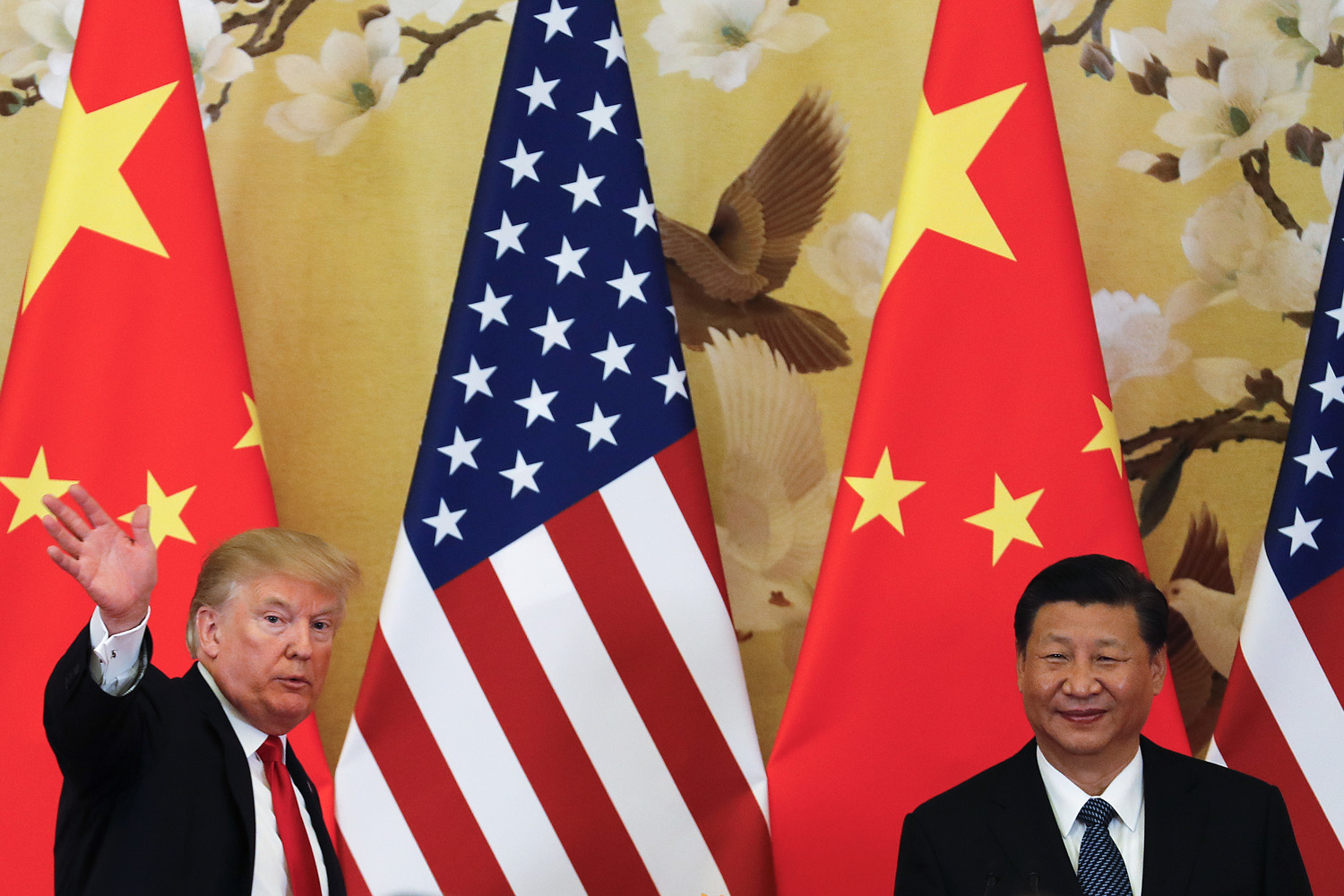 U.S. President Donald Trump waves next to Chinese President Xi Jinping in Beijing. (Andy Wong/AP)
Accompanying President Donald Trump to China was a luxurious trade delegation including 40 entrepreneurs representing 29 world famous names like General Motors, Goldman Sachs, and Alaska Gasline. Did they come to China to make war? Of course not. Out of all of his issues with China, Trump has rightly put trade at the top of his list. His two-day visit to China has yielded 34 big projects, including selling 300 Boeing jetliners and American beans worth of USD5 billions just for next year and a USD43 billion joint project developing Alaska LNG, which create at least 12,000 jobs for the US. All in all, his visit resulted in $153.5 billion worth of deals.
This result was not expected. Trump was expected to tout the notion of a "Free and Open Indo-Pacific." This would have raised questions about US strategy in the region even before his trip started. "How do you have a free and open Indo-Pacific if you don't have a concept for free and open trade in the Indo-Pacific?" asked Michael Green, who served as senior director for Asia on the National Security Council for George W. Bush, and is now senior vice president for Asia at CSIS, a top US think tank. "The administration's answer is they're going to push for an 'America First' approach to trade relations, an approach that prioritizes reducing bilateral trade deficits. It's a somewhat zero-sum view of economic relations," he said, and a step back from the venerable U.S. policy of integrating more countries into a free and open trading system by making them stakeholders. "And that," he concluded, "has friends and allies in the region a bit perplexed." This approach would have applied a zero-sum strategy to trade, something that is meant to be based on mutual benefit.
There are many thorny geo-political issues between China and the US, including the situation on the Korean Peninsula, issues in the South China Sea, and other "Indo-Pacific" issues. However, the mutual benefits from trade have overridden these military and political issues. This is a victory for both China and America.
At first glance, resolving the trade imbalance between the world's two biggest economies seems quite easy - either increase exports from the US side or increase Chinese imports of, say, high tech products, from the US. However, the reality is not that simple. In practice, each country records the balance of annual trade and capital flows with its trading partner in the Balance of Payments accounts, with trade and non-trade accounts on one side and the short- and long-term capital flows accounts on the other. Instead of trying to reduce the over $280 billion trade deficit from the US side, China can increase its investments in the US by the same amount. In fact, the biggest deal out of the 34 was an investment of $87 billion by China National Energy Company to develop US shale oil, clean energy, and chemical products. This investment will create thousands of American jobs. Investments like this will replace some of the conventional trade between the two.
In the press briefing after closed-door negotiations with President Xi, President Trump said that he blamed past administrations rather than China for the trade deficit, and said it had to be addressed. The US can indeed reduce its trade deficit with China without bothering it by depreciating the Dollar. Economic fundamentals tell us that exports can be made more competitive by depreciating a currency, but previous administrations did not dare do this. On the contrary, the US Dollar has appreciated against the RMB. Just five days before his Asia trip President Trump appointed Jerome Powell as his next Fed Chairman who is believed to be a "softer" monetarist. Trump may soften the US Dollar to boost exports to China. But Trump's erratic behavior makes almost everything uncertain.
The one thing that's certain is that Trump has adjusted his tune from "America First" to a commitment to trade. He may go down as the greatest dealmaker in history.