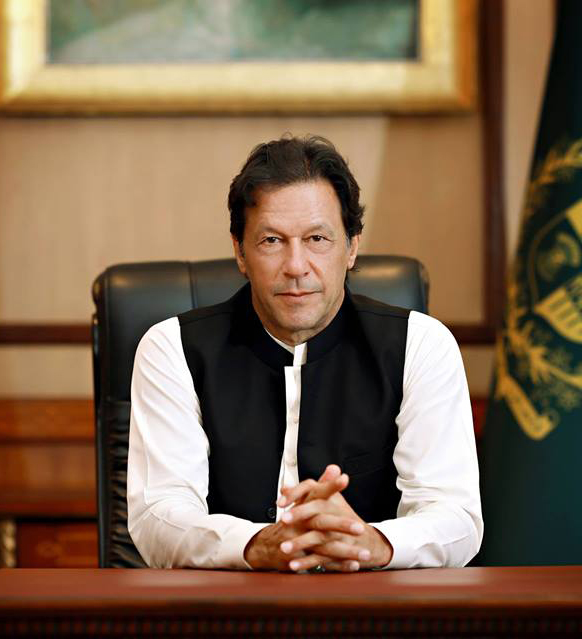 Imran Khan
Pakistan has struggled to maintain a healthy balance of payments throughout its history. 2018, however, has marked the 13th time in the last 30 years that the country has needed to reach out to the IMF – this time, requesting the largest bailout to date: a whopping $7 billion. Many in the country are wondering how much of the country's widening current account deficit is a consequence of China's landmark Belt & Road Initiative.
With 85 projects worth approximately $90 billion in various stages of completion, Pakistan's trade balance has steadily worsened as the country has had to import raw materials and borrow funds – both from China and others. Newly elected Prime Minister Imran Khan has called for the government to evaluate CPEC projects, the terms already agreed to, and the liabilities that come with them. According to Abdul Razak Dawood, government advisor for Commerce, Textile, Industry & Production, and Investment, "The previous government did a bad job negotiating with China on CPEC…they gave away a lot."
Pakistan is not alone is expressing these concerns. As a focal point for the Belt & Road Initiative, Pakistan stands to benefit in terms of modernized infrastructure and economic growth-related benefits that will actualize over long periods of time, but the country has no immediate plan for meeting debt payments associated with these projects. Earlier this year, Malaysian Prime Minister Mahathir Mohamad announced that he was bringing two Chinese projects in the country to a halt. His reasons were similar: the preceding government had agreed too quickly to unfavourable terms.
According to a New York Times article titled We Cannot Afford This, countries such as Sri Lanka, Djibouti, Myanmar, and Montenegro are also realizing that signing up to participate in the Belt & Road Initiative's huge infrastructure campaign also brings "inflated contracts and influxes of Chinese labor at the expense of local workers." Fears that one of the roles these projects are meant to play are those of debt traps, waiting for "local boys to overextend and then come in and take all that equity for China," as Khor Yu Leng, a Malaysian political economist said, are quickly becoming common in Pakistan as well. In a quote eerily reminiscent of Pakistan's current predicament, Mahathir said, "It's all about borrowing too much money, which we cannot afford and cannot repay."
Another example of these "China takes all" fears manifested in the form of Sri Lanka's granting the Chinese control of the Hambantota Port and 15,000 acres of land surrounding it for 99 years. This allowed China to have de-facto control of territory just a few hundred miles from strategic rival, India, and a foothold in a major commercial and military waterway. Owing more than $8 billion to Chinese firms, Sri Lanka was strong-armed into a move that critics say threatens its very sovereignty. It is important to note that the Hambantota deal is valued at $1.1 billion and represents only one effort to chip away at some of the Chinese debt, not wipe it clean. N. Sathya Moorthy, a senior fellow at the Observer Research Foundation, said "The price being paid for reducing the China debt could prove more costly than the debt burden Sri Lanka seeks to reduce."
So where does Pakistan stand in all of this? In the middle of its most recent financial crisis, the country's struggling currency – devalued five times this year so far – makes the idea of servicing foreign currency debt even more daunting. At the same time, the country must be careful not to offend Beijing, and Asad Umar, the new finance minister, has clearly said, "We don't intend to handle this process like Mahathir."
Recently, the $8.2 billion project to revamp a rail line from the Arabian Sea to the Hindu Kush mountains, essentially transforming a country-spanning line that has been in place since before the country's independence, has made the new government balk at the cost and financing terms agreed upon years ago. Minister for Planning, Development and Reforms, Khusro Bakhtyar, said "We are seeing how to develop a model so the government of Pakistan wouldn't have all the risk." The hiccup here is that while Chinese Foreign Minister Wang Yi indicated that Beijing could be open to renegotiating its 2006 trade deal with Pakistan in a recent visit, Beijing is in fact only willing to review the terms of the projects that have not yet begun, "to ensure those projects that are already built operate as normal, and those which are being built proceed smoothly."
While Khan's government may begin to move forward in negotiations with China, there is a need to look at other elements as well. A fickle friend, the United States has been distancing itself in recent years, with President Donald Trump's 1st January 1st tweet, "The United States has foolishly given Pakistan more than $33 billion in aid over the last 15 years and they have given us nothing but lies & deceit thinking of our leaders as fools." This weakens Pakistan's negotiating power with China, whom it has increasingly come to rely on. According to one Pakistani minister, "We have reservations, but no other country is investing in Pakistan. What can we do?" According to Tom Hussain, the United States has resorted to bullying Pakistan with empty threats – primarily threatening to influence the country's ability to attract IMF loans. Andrew Small, an expert on Pak-China relations, called this a "warning shot". Michael Kugelman from The Wilson Centre is disinclined to take the US' position very seriously, tweeting "This seems like a clumsy White House attempt to deploy a pressure tactic."
Struggling to attract non-Chinese investors may force Pakistan to choose between tying itself even further to Chinese debt, with many contracts promising annual profits of above 20% in dollar terms, or turning away large and potentially beneficial projects that are in line with Khan's social development agenda. Celebrating five years since he first unveiled his plan, Chinese leader Xi Jinping said, "the broad support for the BRI shows aspiration from countries involved…for peace and development, and affirms China's vision of a community of shared destiny for humanity." How Pakistan manages to balance its aspirations with this shared destiny remains to be seen. All eyes are on Imran Khan.