The 7th China-US Strategic and Economic Dialogue (S&ED) and the 6th High-Level Consultation on People-to-People Exchanges are to be held in Washington D.C. in late June. Chinese leaders will take a large delegation to the US. In his new book Dealing with China, former Treasury Secretary Henry Paulson described the Strategic Economic Dialogue (SED) President Bush and he himself developed with China in 2005 as an important platform to handle financial, trade, exchange rate, energy, environment and other issues between the two countries. The dialogues since then have become bricks with which a grand structure has been built, so that China and US are enabled to deal with possible tension and antagonism in the future. The SED became S&ED in 2009. Six rounds of dialogue have been conducted on bilateral, regional and global issues, with rich results.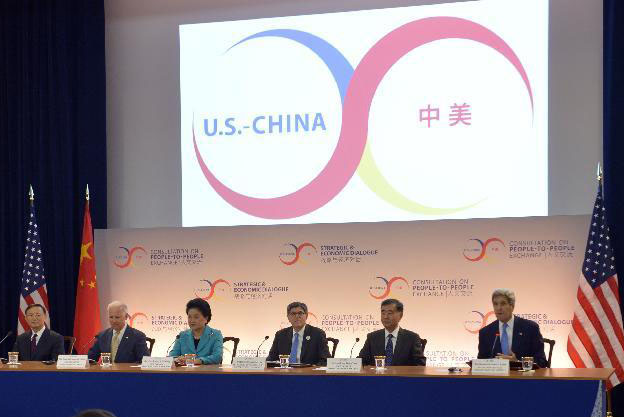 In September, Chinese President is paying his first state visit to the US while celebrating the 70th anniversary of the United Nations. At a time when the two competitors may become strategic adversaries, the visit will be of great significance to stabilizing China-US relations, relieving anxiety and expanding common interests. The keynote of the upcoming S&ED will be to warm up for the state visit, encourage trade and investment, cool down hotspot issues, cheer for people-to-people exchanges and compare notes on global issues. The dialogue will cover extensive topics. This author believes there will be three main focus areas.
The first is the bilateral investment treaty (BIT). China is comprehensively deepening reform and opening wider according to the strategic decision made at the 3rd Plenum of the 18th CPC Central Committee. The BIT negotiation, together with accelerated effort to develop free-trade zones in Shanghai, Tianjin, Fujian and Guangdong, marks a profound change of the investment and financing administration system in China, which will lead to more investment opportunities for foreign capital including from the US. According to the report published by the National Committee on US-China Relations and Rhodium Group in May, Chinese companies invested 46 billion dollars in the US from 2000 to 2014, creating over 80,000 jobs. It is argued that greater transparency in the national security review by the Committee on Foreign Investment in the United States (CFIUS) will boost Chinese companies' confidence in investing in the US. The two countries have completed negotiation on the main text and core clauses of BIT and are now focusing on the negative list. Messages from the dialogue in this regard are thus worth looking forward to.
The second is the South China Sea issue. The clash between China's rise and America's strategy to rebalance the Asia Pacific has led to the loss of tranquility in the seas surrounding China. The South China Sea issue is poised to take the overall China-US relationship hostage. The US has been pointing fingers at recent Chinese construction on some islands and reefs and openly challenged China with flights of military aircrafts and a media uproar. Such dangerous provocation and quarrels will not help resolve problems. For China, the construction work is conducted for maritime search and rescue, disaster prevention and relief, meteorological observation, navigation safety and fisheries. And the normal freedom of navigation and flight has never met interference. Meanwhile, the South China Sea is the maritime lifeline of China. Given the aggressive moves of the US to strengthen its alliance system and forward military presence plus the reality of military deployments by other claimants on islands and reefs they have taken from China and occupied, China has every reason to enhance its capability in island defense and marine monitoring. However, it remains hard to imagine that China will challenge America's maritime supremacy with just a few islands and reefs. In the face of China's effort to feel more secure, there is no need for the superpower to make a huge fuss. American attempts to achieve geopolitical goals by creating regional tension will only steer a thriving Asia into a new Cold War, in which the interests of all countries will be harmed.
The third highlight will be military-to-military dialogue. Mil-to-mil ties are an important component of the two countries' effort to develop a new model of major-power relationship. Last year, the two sides reached agreement on mutual notification mechanism for major military operations and standards of behavior for air and sea military safety at high seas. The two sides are now negotiating rules of behavior for air encounters. The S&ED will offer an opportunity to observe whether they will consult each other on nuclear issues, maritime affairs, space and polar regions and whether the cyber security working group dialogue that has been interrupted by the Department of Justice's cyber espionage charges against Chinese military officers will be resumed.
Ten years have passed like a short moment. Since the creation of this dialogue, huge changes have taken place in China-US relations. There are contacts in wider areas and converse on more extensive topics. At the same time, competition between them has become more fierce and the relationship more complex. It seems that how to treat each other or engage more effectively, and where China-US relations are going, have become difficult questions for both. There have been various new ideas proposed such as new Cold War, Thucydides trap, community of shared destiny and new model of major power relationship etc, involving all forms of interaction such as engagement, competition, containment, regulation and cooperation. Recently some renowned American China experts, including David Lampton and Orville Schell, have expressed concerns over China-US relations. As the 2016 general election gradually unfolds in the US, China may again become an election scapegoat. However, we still believe that so long as both countries still attach importance to this dialogue mechanism, the largest between them and at the highest level, and so long as the list of cooperation results grows longer as time passes by, leaders and people in both countries should have confidence in each other and China-US relations will stand the test of the times and push upward against setbacks and resistance.