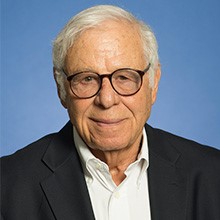 Amitai Etzioni
Professor, International Relations at The George Washington University
Amitai Etzioni is a University Professor and Professor of International Relations at The George Washington University. The University of Virginia just published his new book, Avoiding War with China. After receiving his Ph.D. in Sociology from the University of California, Berkeley in 1958, Dr. Amitai Etzioni served as a Professor of Sociology at Columbia University for 20 years; part of that time as the Chairman of the department. He was a guest scholar at the Brookings Institution in 1978 before serving as a Senior Advisor to the White House from 1979-1980. In 1980, Dr. Etzioni was named the first University Professor at The George Washington University, where he is the Director of the Institute for Communitarian Policy Studies.
Jul 14, 2017

It will take much more from the U.S. to sway China, such as promising to remove the anti-missile defenses from South Korea if North Korea gives up its nukes, and promising not to move U.S. troops north, among other such 'gives.' Instead, the impatient and impulsive Trump Administration seems ready to assume China will not cooperate and move on to dealing with North Korea some other way.

May 23, 2017

A less alarmed view of China's Belt and Road Initiative finds first of all that the whole project is much overhyped. Figures about investments include projects that had been previously launched. Although China is likely to increase its influence in the region, its growing influence should not be equated with aggression. In determining how to react to the Silk Road initiative, the West should draw on a major strategic consideration: Do the U.S. and its allies plan to block any and all increases in Chinese influence—or merely contain those moves that entails China's use of force to dominate other countries?

May 02, 2017

A salience-based bargain considers the salience each country considers as its core interest. When applied to China-U.S. relations, it could be helpful in making concessions on both sides in order to come to an agreement on dealing with North Korea.