The following are the excerpted remarks by C.H. Tung, Chairman of the China-United States Exchange Foundation at the Chinese New Year gala hosted by the China General Chamber of Commerce (CGCC) in New York on Jan 12, 2017. Tung is also CGCC's honorary chair.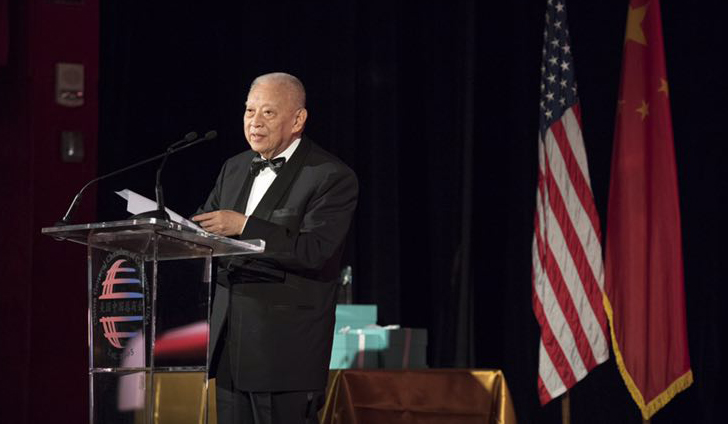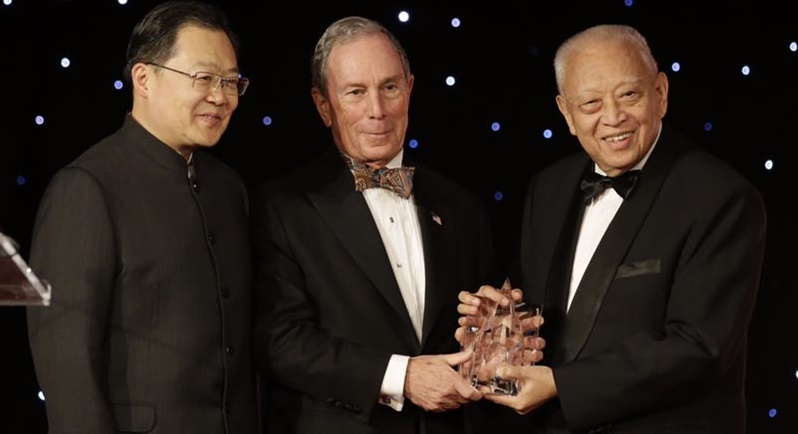 During the CGCC Chinese New Year Gala on Jan 12, C.H. Tung (right), honorary chairman of CGCC, presented a special CGCC award to Michael R. Bloomberg (middle), founder of Bloomberg LP and Bloomberg Philanthropies, former mayor of New York City and chair of the Working Group on U.S. RMB Trading and Clearing for his leadership in advancing the RMB internationalization. To Mr. Bloomberg's left is Xu Chen, CGCC chair. (photo courtesy of CGCC)
With the global economy full of uncertainties, the economic relationship between China and the US as the first and second largest economies in the world, will become increasingly important, not only for the US and China, but for the world at large.
Today the US and China are each other's largest trading partners. But there is the perception in America that, for years, China has taken undue advantage from the United States under the WTO regime and rising globalization. Indeed, an often-cited academic work by Autor, Dorn and Hanson claims that between 1999 and 2011, 2.4 million American jobs were lost because of imports from China.
But, upon further scrutiny, this claim is somewhat exaggerated. In fact many well-known US scholars have debunked the underlying assumptions of the argument. Furthermore, other scholars have pointed out that, although it is indisputable that jobs were indeed lost, 80% of these manufacturing job losses resulted from automation, and only about 20% can be attributed to imports.
Other studies point out that imports have in fact created a great many jobs in the United States in the service sector, in such areas as logistics and retail. In May of 2013, a US Chamber of Commerce sponsored study estimated that Chinese imports into the United States supported 2.7 million American jobs.
Other than imports from China, let's take a look at US exports to China and how that has affected American jobs. China is now the third largest export destination for US goods behind Canada and Mexico. According to the US International Trade Administration, in 2015, US exports of goods and services to China amounted to $165 billion, which is 300% higher than the figure in 2005. This export activity supported 910,000 jobs in 2015. Today, 25% of what comes off the Boeing assembly line, 50% of soybeans grown in the US, and 25% of cotton produced in the United States is destined for China.
US exports to China is growing and will continue to grow very rapidly. Other studies estimate that by 2022 US exports to China are expected to reach $530 billion, creating more than 2.5 million jobs in the United States. By that time China will have replaced Canada and Mexico as the largest export destination for American goods.
Foreign direct investments from China to the United States is also a big area of growth. From 1990 to 2015, cumulative Chinese FDI into the US was $64 billion, which is estimated to have created 100,000 American jobs. In 2016, Chinese FDI into the US reached $45 billion, which is triple the amount that was recorded for 2015. It is expected that such level of cross border investment activity will continue to grow at a rapid pace.
In partnership with the National Committee on US-China Relations, the Rhodium Group remarked that, "Assuming a similar labor intensity of investment as in recent years, Chinese investment of $100 - $200 billion would result in 200,000 to 400,000 US jobs through 2020." The trend is very clear: the United States is China's preferred destination for overseas investment. These meaningful cross-border investments will play an increasingly significant role in enhancing US-China economic relations and creating jobs in both countries.
I would now like to highlight the increasing level of people to people exchanges between the US and China.
According to the US Commerce Department, total arrivals of Chinese tourists and travelers numbered 2.6 million people in 2015, supporting 186,000 jobs in the United States. The Commerce Department also noted that China's share of tourism spending in the United States has grown almost five-fold in less than ten years, increasing from roughly 3 percent in 2005 to more than 13 percent in 2015. According to the White House, a competitive visa policy will translate to 7.3 million Chinese travelers to the US by 2021, supporting up to 440,000 US jobs.
China remains the leading country for students coming to the United States for the seventh year in a row in 2016, comprising 31.5% of all international students studying in the US. In 2015, there were more than 300,000 Chinese students studying in the United States, translating to 130,000 jobs being created in the US, according to the Association of International Educators. Chinese people feel a great deal of confidence in entrusting their children's education to American institutions. At the same time, their presence in the United States will enhance understanding and friendship among the younger generation.
These people to people exchanges foster greater friendship between our people and create a multitude of economic opportunities.
Unfortunately, it is true that, in the United States, there are those who have not benefited from globalization, and indeed we should all feel the pain inflicted on displaced factory workers. And in China too, because of the reduction of production capacity in steel, cement, aluminum, and etc., 7 million jobs may have to be lost over 5 years. The governments of our two countries, with the support of our people, must positively confront these challenges.
The Sino-US economic relationship started with practically nothing in 1971. Today, this relationship is one of the most relevant and important in the world. But what will the future bring?
In this respect, it is important to understand what is happening in China today. Recognizing that rapid growth at close to 10% per annum since 1971 is unsustainable, China has been shifting its economy into a "New Normal." Since 2013, the Chinese economy has been transforming, from one based on exports and investment, to one that is based on science, innovation and technology, on the service sector, and on domestic consumption. The economy has been growing at around 6.5% to 7%. Although this transformation is still full of challenges, there is reason to be optimistic that China will succeed in this effort.
At this rate of growth, China's middle class will continue to grow. China's new consumers will be interested in world-class consumer brands and products in such areas as cosmetics, apparel, appliances, and automobiles. Of all the car makers in China, General Motors has the distinction of having the largest market share. China's film box office receipts are the second largest in the world behind the US, and is rising very fast. China's consumers will also want to seek out modern health care services. With 20% of the world's population, but only 7% of the world's arable land, her consumers will increasingly rely on imports of farm products such as soybeans and corn, and livestock such as poultry, pork and beef. And because of China's energy needs, she will continue to import large quantities of oil and gas. All of these areas present a unique business opportunity for American enterprises and the people they employ.
China is a nation of savers. The Chinese will increasingly seek better investment opportunities at home and abroad. The United States could be one of the favorable destinations. For example, China will look forward to opportunities afforded by the heightened infrastructure development that the US will soon embark on.
The US is a great nation. Her economy is free, advanced and versatile. She holds an unassailable position in science, technology, and innovation, with some of the best universities in the world. The country is blessed with natural resources that others can only envy.
I'm not entirely current on what is happening in the United States today, but I believe that the proposed tax cuts, deregulation, massive infrastructure projects, and a policy of America First, can all boost US economic activity in the coming years. Currently, the US-China economic relationship is already broad and thriving, but given the trends that are occurring in both countries, you can see that the future of our relationship can be bigger, brighter, and much more consequential.
Over the past year or so, I have heard Americans complaining about trade with China, and saying how unfair it is. At the same time, I have heard complaints from Chinese people about how unfair the relationship is. The fact is, that in any big relationship like ours, there are bound to be disagreements and disputes. But the important thing is that we talk these things through. Taking the opportunity of Mr. Donald Trump's assumption to the White House, it is very important for our two countries' economic and trade officials to sit down and talk through not only the difficulties and disputes, which they must, but also more importantly, how we can exploit a great future together. I expect that the best is still to come. How can we exploit this great future together? It is important that we begin this journey with a right start.
As Americans, you have a dream. It is the American dream. The dream for life, liberty, and the pursuit of happiness. It is a dream deeply rooted in the American tradition. That dream has given rise to a great nation. The people in China today also have a dream. It is a dream for all of her citizens to rise above poverty, to live in dignity, to live in a society which is just and democratic, and to share in the growing economic prosperity. It is a dream of all its citizens to live in a country we can proudly call home, and a country that will be a force for peace and harmony for the world. It is a dream that was beyond anyone's imagination until only very recently, and now a dream within reach of all her people. Your dream, our dream, it is fundamentally one dream – the dream for a better life in a peaceful and prosperous world for this generation and for generations to come. Let's go for it!