Some likely trends within uncertainties
2016 was a year of politics: From Brexit to Trump, we have seen enough. Trump has challenged the status quo through his comments on many issues related to China, including declaring China as a currency manipulator, imposing a 45% tariffs on imports from China, and questioning the One China principle. While uncertainty on Trump's actions is huge, here are some likely trends regarding China-U.S. economic relations.
Trade protectionism in the air
While Trump will still face resistance in creating cohesiveness within the Republican-controlled congress, his team is likely to take a stronger stance in trade protectionism. This includes adopting a tougher China policy, a narrative that has called for labeling China as a currency manipulator and slapping 45% tariffs on China's exports.
What can the U.S. do in the short run? Firstly, the U.S. government will file more cases to World Trade Organization (WTO) on anti-dumping and subsidies. Ongoing cases on steel and aluminum exports have been filed along with a hesitation in granting China the Market Economy Status (MES), which would restrict anti-dumping measures. This will probably come with more warnings on more general measures related to currency manipulation. The latter, however, will not be easy to execute, but it serves well as a threatening tool. There is no solid consequence of China being labeled a currency manipulator on paper.
In addition, existing negotiations for bilateral agreements will enter a deadlock, if not fully abandoned. On foreign direct investment, the longstanding negotiations for a bilateral investment agreement between the U.S. and China are doomed to fail. A question mark will be put not only on NAFTA, but also on the Trans-Pacific Partnership (TPP) and the Transatlantic Trade and Investment Partnership (TTIP).
Potential investment in the U.S. from repatriation and tax reform
While the total amount of earnings that could be repatriated is uncertain, it is still significant. In this case, everything would depend on the amounts that have been reinvested by companies and the amounts still held in cash. As for China, it means it could worsen the capital outflow problem, which was already a major issue last year. On the other hand, large corporations have promised investment in the U.S. under Trump's "out-of-the box" approach, for example, Softbank, General Motors, and Hyundai.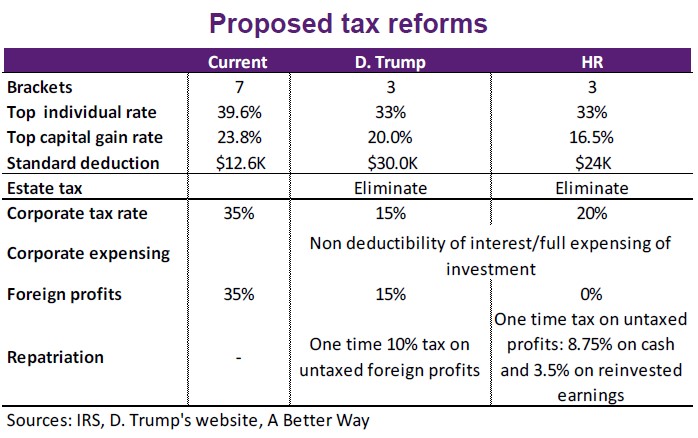 U.S. and China: interlaced and complicated
The relationship between the U.S. and China has so far been mutually beneficial despite disputes in some areas. The U.S. has been enjoying low cost products from China since 2001. However, labor cost has increased and discontent over patents and market openness in China has been a continued point of tension. At the same time, China has also become the largest consumer market in the world with a rising middle class, which is important to American corporates, especially semiconductor, aviation and agricultural products.
While the outcome is uncertain, it is clear that Trump's attempt to shake up current bilateral relations between the two superpowers will be a key theme for 2017 globally. We expect that China will take a wait-and-see approach, especially in front of the 19th National Congress of the CPC later this year. However, as the U.S. shies away from multilateral or regional trade agreements, such as TPP, China will quickly fill the space. Regional trade agreements within Asia, such as Regional Comprehensive Economic Partnerships (RCEP), will be the platform for China's trade vision.