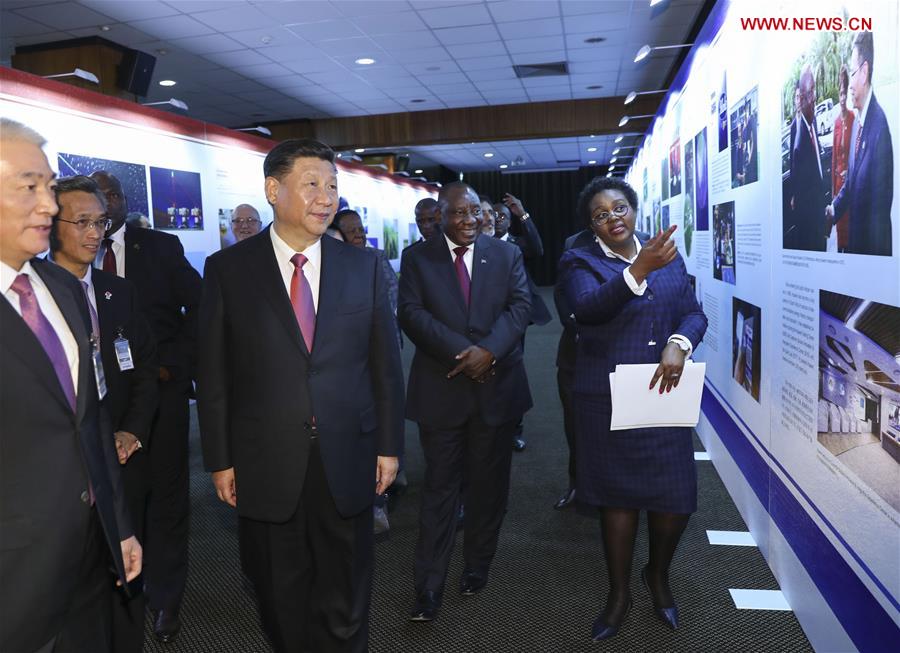 Chinese President Xi Jinping and his South African counterpart Cyril Ramaphosa view a photo exhibition of the achievements in China-South Africa science and technology innovative cooperation before the opening ceremony of the South Africa-China Scientists High Level Dialogue in Pretoria, South Africa, July 24, 2018. (Xinhua/Xie Huanchi)
It's no exaggeration to describe 2018 as China's "Year of Africa".
Between July 19 and 28, President Xi Jinping visited the United Arab Emirates, Senegal, Rwanda, and South Africa. He also attended the 10th BRICS Summit in Johannesburg, and made a stopover at Mauritius. This was Xi's fourth visit to the African continent since 2013, and was a prelude to the Beijing Summit of the Forum on China-Africa Cooperation in September.
Apart from Xi's visits, State Councilor and Foreign Minister, Wang Yi; special envoy of President Xi Jinping and a member of the Politburo, Yang Jiechi; chairman of the Standing Committee of the National People's Congress (NPC), Li Zhanshu; and chairman of the National Committee of the Chinese People's Political Consultative Conference (CPPCC), Wang Yang, have also visited Africa this year. Like Xi's visit, these visits served as warm-up activities to the Beijing Summit.
Leaders of African countries also made frequent visits to China in 2018. Within 15 days of the conclusion of the annual meetings of the NPC and CPPCC, presidents from Cameroon, Namibia and Zimbabwe visited China. The leaders of the three nations all expressed their strong desire to integrate their national development strategies with China's Belt and Road Initiative, which aims to promote global economic cooperation and trade. During the visits, China also established comprehensive strategic cooperative partnerships with Namibia and Zimbabwe.
Africa is the continent with the highest number of developing countries, and has always been the "foundation of foundations" of China's diplomacy. To consolidate its diplomatic relations with Africa, and to integrate the Belt and Road Initiative with African development, China has themed the Beijing Summit of the Forum on China-Africa Cooperation "Win-Win Cooperation and Join Hands to Build a Closer Community with a Shared Future for China and Africa". Foreign Minister Wang Yi has already said that, to open up new prospects for win-win common development, both China and Africa will integrate its goals as outlined in the Beijing Summit's theme with the joint construction of the Belt and Road Initiative, the UN's 2030 Agenda for Sustainable Development, the African Union's 2063 Agenda, and African countries' development strategies. Furthermore, discussions with leaders of African nations about the Belt and Road Initiative were an important part of Xi's visits.
Of the four nations Xi visited, Senegal and Mauritius are important links in the 21st Century Maritime Silk Road, and each country hopes that this will enable it to speed up its development. Rwanda, an inland nation connecting central and eastern Africa, made outstanding achievements in the past two decades under the leadership of President Paul Kagame. Rwanda's policy of "looking East" and its innovations in governance and development are unique and though-provoking. South Africa is a leader in implementing cooperation between the African continent and China. In recent years, South Africa's African National Congress Party and the Communist Party of China have conducted exchanges to explore strategies in governance and party-building.
In terms of economic development, South Africa has a relatively mature economy, and has benefitted from globalization and free trade. Senegal and Rwanda are all relative latecomers in economic development and are resource-poor. However, due to Senegal and Rwanda's stable political situations, their economic development has gained much steam in recent years. Senegal initiated the Africa Recovery program. Furthermore, Dakar, the capital of Senegal, is home to the Economic Community of West African States and is a major trade hub. Rwanda, which recently hosted the World Economic Forum on Africa, aims to become the "Singapore of Africa," and is becoming an internet and information center. African nations, as represented by the four, all have the strong desire to actively seize the historic opportunities that the Belt and Road Initiative presents and enhance connectivity with China.
Xi's visit to Africa achieved led to tangible results. Indeed, Senegal became the first Western African country to sign the Belt and Road cooperation document with China. Likewise, China signed agreements with Senegal and Rwanda to assist with the implementation of the Belt and Road Initiative, and to strengthen cooperation in infrastructure, human resources, and technology. Xi's pledge during his visit to invest $14.7 billion in South African infrastructure construction and give loans to its state power utility company drove up the value of Rand by as much as 1.2%. The Beijing Summit in September help China spearhead the Belt and Road Initiative in Africa, and will also be the climax in the "Year of Africa".