Track II diplomacy has been credited with creating openings for improving relations when official state-to-state interactions are frozen or constrained. As unofficial and private representatives, Track II participants are freer to discuss and explore various issues, scenarios, and options that are important in assessing the interests, priorities, and preferred solutions of both sides. These discussions may then be passed on to official channels for appropriate scrutiny and consideration. States seeking to relieve tensions or establish resolutions to disputes may resort to this approach and its outcome may shape the next steps that both sides can undertake. Track II diplomacy's results remain mixed, but it takes only one successful attempt to provide concrete and specific agenda items for formal talks. It is within this lens that the Ramos-Fu August 2016 meeting in Hong Kong could be appreciated.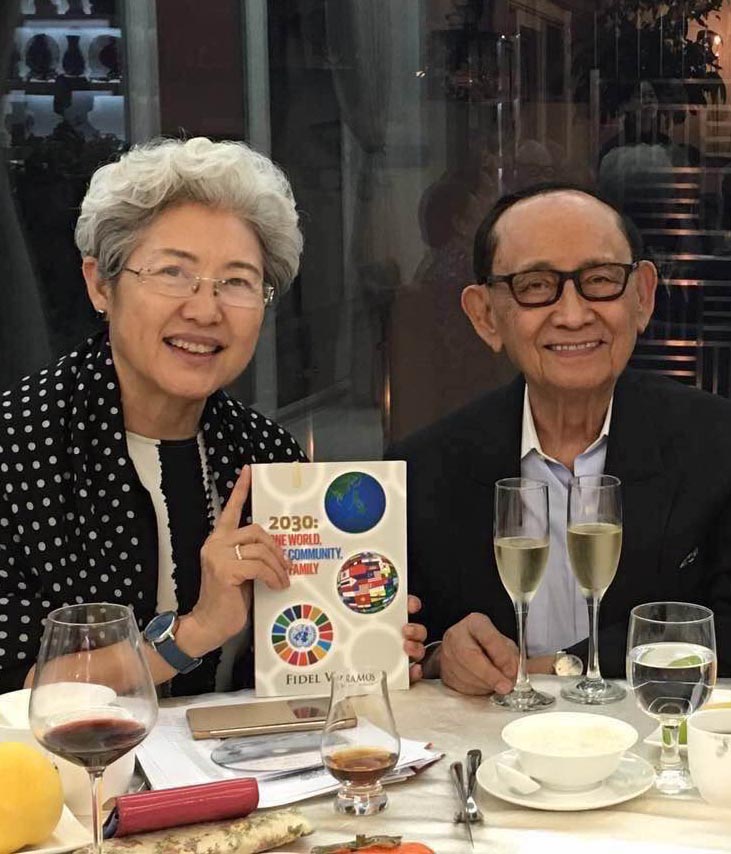 On August 10-11, 2016, Philippine Former President and Special Envoy Fidel V. Ramos met in Hong Kong with his old friends - Madam Fu Ying (Chairwoman, Foreign Affairs Committee of China's National People's Congress) and Professor Wu Shicun (President, China's National Institute for South China Sea Studies) - in a friendly atmosphere.
In an effort to improve relations, manage disputes, and explore areas open for cooperation, the new Philippine (PH) government dispatched a delegation in August 2016 led by former PH President Fidel Ramos to meet with their Chinese counterparts in Hong Kong. The informal meeting is important for several reasons: 1) it was the first major PH step to signal intentions to engage China (PRC) post-arbitration award; 2) PH sent a balanced delegation representing a diverse viewpoints regarding the PRC; 3) The PRC delegation consisted of high level members who had prior experience/continuing linkages with PH; 4) Hong Kong's (HK) choice of venue reflected the informality of the meeting while promoting mid-way compromise, and; 5) focused on pragmatic, non-controversial issues indicating an interest to work on matters of mutual concern and benefit.
PH delegation was led by a respected statesman, who is one of the leading proponents for the establishment of the Boao Forum. Other members include: 1) an award-winning, journalist, and former ABC Beijing Bureau Chief Chito Sta Romana, who worked and lived in China for 3 decades, and who is one of the country's foremost China experts and; 2) former Secretary of Tourism and Interior & Local Government under Ramos Rafael Alunan III, who is a lead convenor of the West Philippine Sea (WPS) Coalition and a vocal critic of China's assertive actions on WPS. The PRC delegation, meanwhile, was led by Standing Committee and National People's Congress Foreign Affairs Committee Chairperson Fu Ying, who previously served as PRC Ambassador to PH (1998-2000) and; 3) National Institute for South China Sea Studies President Wu Shicun, who has gone to Manila in the past for some academic exchanges.
After the meeting, both sides released a joint statement outlining 7 proposed areas for cooperation: 1) encouraging marine preservation; 2) avoiding tension and promoting fishing cooperation; 3) anti-drug and anti-smuggling cooperation; 4) anti-crime and anti-corruption cooperation; 5) improving tourism opportunities; 6) encouraging trade and investment facilitation; 7) encouraging Track II (via Think Tank) exchanges on relevant issues of mutual concern and interest. These areas enjoy strong shared interest and affinity, reflect local needs and conditions in PH and PRC, and comprise of agreeable platforms from which higher level cooperation in the future can be anchored upon. The areas outlined will not only promote domestic support but hopefully allow for regional spillover.
These proposals can anchor on international, regional and bilateral legal instruments and state practice. Marine preservation and fishery cooperation in SCS can stem from several pertinent Law of the Sea (UNCLOS) provisions and existing regional state practice (e.g. PRC-Vietnam Fisheries Cooperation in Beibu/Tonkin Gulf, shared membership in regional fisheries management organization like the Western and Central Pacific Fisheries Commission, and the 2010 ASEAN-PRC MoU on Maritime Consultation Mechanism, 2007 ASEAN-China Maritime Transport Agreement). UNCLOS encourages states bordering semi-enclosed seas, like SCS, to cooperate in the conservation of straddling and highly migratory fisheries stocks (Art 63 (1-2) & Art 64 (1) Part V). Cooperation in addressing non-traditional security challenges can also be hinged on salient UNCLOS provisions, such as those pertaining to suppression of maritime piracy (Art 100 Part V), drug trafficking (Art 108 Part V), and search and rescue assistance (Art 98 (2) Part V). From such cooperation, valuable lessons can be drawn, mechanisms like the Indonesia-Malaysia-Singapore Malacca Strait joint patrols, and the Regional Cooperation Agreement on Combating Piracy and Armed Robbery against Ships in Asia. Moreover, PH and PRC also signed numerous bilateral instruments (e.g. 2007 MoU on Broadening and Deepening Agriculture and Fisheries Cooperation, 2005 MoU on Maritime Cooperation, 2001 MoU on Cooperation in the Crackdown on Transnational Crimes, 2001 Pact on Cooperation Against Illicit Traffic and Abuse of Narcotic Drugs) that can be elaborated upon for implementation or reactivation.
Late last month, news came out that Ramos will pay a visit to Beijing but the trip was cancelled without notice. Several speculations can be made with respect to this. Scheduling challenges may have posed difficulties for attending the meeting, or it could be that, after careful assessment, it became apparent that the first trip was already able to achieve its aim; therefore, further talks can now be elevated to an official level. Regardless, it is highly likely that some of the consensus agreements proposed in the August Ramos-Fu meeting may shape part of the talking points for the planned first state visit of PH President Rodrigo Duterte to China before the year ends. Interestingly, President Duterte had appointed Mr. Chito Sta Romana, a member of the PH delegation in the Ramos-Fu Hong Kong Meeting, as PH's new ambassador to PRC.
Philippines-China relations has a long history, is broad and comprehensive and offers a lot of opportunities for mutual gain. In recent years, the SCS issue constrain relations, but the presence of such disputes need not prevent the two sides from cultivating other aspects of their multi-faceted relations. Although it remains a big hurdle, PH-PRC relations need not be defined or get fixated to territorial and maritime disputes. The experience of other SCS littoral states, such as Malaysia and Vietnam, demonstrates that the unresolved disputes need not impede the development and expansion of commercial/economic ties and while this may not necessarily spillover to political/security aspect, it may encourage states to better manage tensions/disputes so they would not adversely affect mutually beneficial ties. The 7 proposed items represent the breadth of economic, environmental and non-traditional areas for cooperation that both sides can pursue to address mistrust and develop habits of dialogue and collaboration. Success in these areas may invite cooperation in other dimensions and may prepare both sides in resolving more complicated issues in the future. PH and PRC are neighbors, and conflict will not play in either party's favor. It is imperative for both sides to continue knowing one another's interests and concerns, find ways to improve relations, deepen trust, and maintain open lines of communication especially when relations are being strained/challenged. Implementing the Ramos-Fu proposals is a step in the right direction. It can help translate inputs from the symbolic meeting to actionable policy suggestions that can contribute in building momentum for positive PH-PRC overall relations.