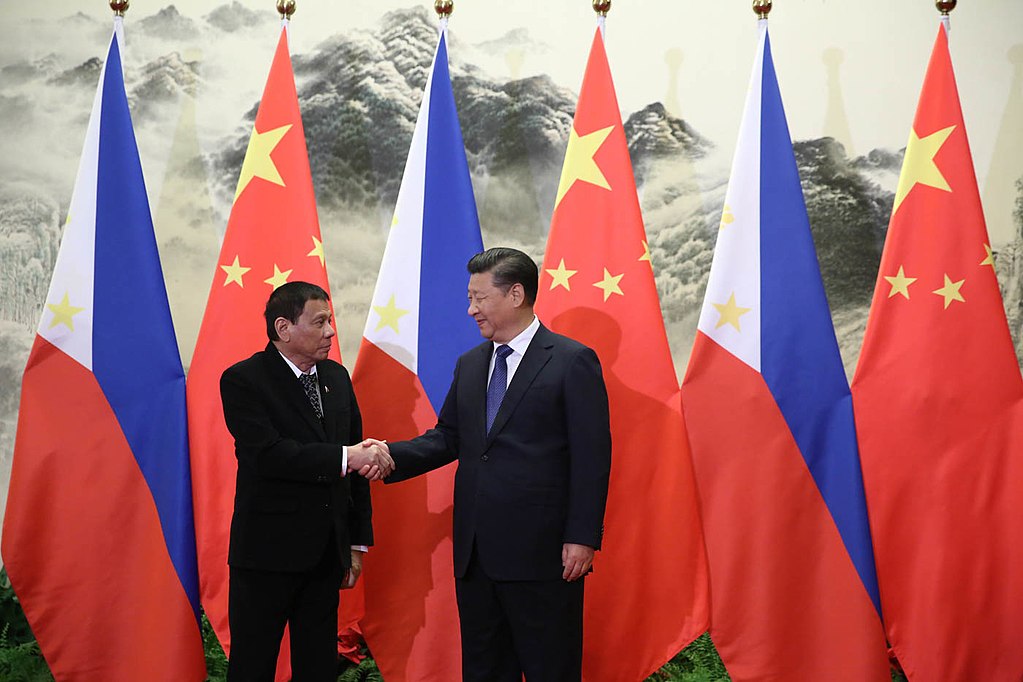 Philippine Secretary of Foreign Affairs Alan Peter Cayetano arrived in Beijing for a visit on March 20. During the meeting with his Chinese counterpart Wang Yi, Cayetano delivered a congratulatory letter from President Rodrigo Duterte to President Xi Jinping. His visit, the first by a foreign minister to China after "Two Sessions", was a manifestation of close relations between China and the Philippines.
In the past few years, thanks to strategic adjustments by the Duterte administration, bilateral ties warmed. First, the Duterte government discarded the Western-influenced mentality of power politics. Under Western influence, former president Benigno Aquino III and some of his high-ranking officials considered international relations as an arena for power and benefits, and sought to balance between major powers. They attempted to gain rights and interests in the South China Sea by taking advantage of America's pivot to Asia, but failed to cash in on the American strategy, and instead suffered setbacks and the deterioration of the China-Philippine relationship and an escalation in regional tensions. After Duterte came to power, while acknowledging the disputes between China and the Philippines, he realized that there are huge common interests between the two. So, he chose the approach of dialogue, not confrontation, and cooperation rather than conflict, to improve relations with China and to achieve the goal of win-win cooperation. Second, the new government focused on social and economic development. In recent years, the Philippine economy developed remarkably fast, but its chronic problems were still haunting it. Infrastructure was lacking and backward, public security was worsening, and corruption among officials was rampant, and all these seriously hindered its social and economic development. Many from the Philippines had to go abroad to bring home the bacon. They, through hard work, sent huge amountw of hard currency back home, which helped support and drive up domestic consumption. President Duterte realized that it was imperative to shift from political struggle to economic development so as to put an end to the backward economic situation. Duterte pursued an independent foreign policy, fought against drug trafficking, and focused on building infrastructure, in an attempt to create a favorable business environment to attract foreign investment and create more job opportunities. In the past two years, public security has improved, and the "Build, Build, Build" infrastructure construction program also made steady progress. Philippine scholar Richard Javad Heydarian wrote: "The 'Build, Build, Build' program will no doubt become a political heritage of President Duterte and will be written into the annals of the history."
The Philippines, after ridding itself of the conflict-oriented mentality, adjusted its foreign policy to make it possible to improve its relations with China. In the past two years, China-Philippine ties improved, evidenced by frequent exchanges of high-level officials, growing political mutual trust, and full recovery and development of cooperation in all fields. In 2017, China-Philippine trade exceeded $50 billion, and China became Philippines' biggest trading partner, and Chinese investment in the Philippines registered a 67% increase year-on-year. That year, China imported 1 million tons of tropical fruits from the Philippines and Chinese tourists made 1 million trips to the country, bringing real benefits to Filipinos. When the Philippines shifted its focus to its economy and its development it helped open new horizons for cooperation. On the one hand, the colossal social and economic demand in the Philippines means unprecedented opportunities for China-Philippine cooperation. For example, the Philippines plans to invest $180 billion in the coming 10 years in infrastructure construction, and is now studying and making plans for 75 flagship projects, including six airports, nine railways, three BRT routes, 32 highways and bridges, and four ports, which could translate into enormous benefits for China-Philippine cooperation in infrastructure construction. The Chinese market and its opening-up policy also offer important opportunities for the fast development of the Philippine economy. Totally different from the "America First" and trade protectionism advocated by US President Donald Trump, China preaches a new concept for economic cooperation featuring "wide consultation, joint contribution and shared benefits", and stresses that all countries are equal participants, contributors and beneficiaries in economic cooperation. As a Chinese saying goes, "a single flower does not make spring, while one hundred flowers in full blossom bring spring to the garden". President Xi also expressed clearly, "you can take a ride on our express train or just…hitchhike, all are welcome", and Chinese ambassador to Manila Zhao Jianhua also encouraged the Philippines to expand its exports to China.
Dialogue, cooperation, development and win-win outcomes have become the main features of the Chinese-Philippine relations. In the Philippines, however, some people, either out of ignorance or due to ulterior political motives, are trying to smear Duterte's China policy by cooking up disputes relating to Benham Rise and by exerting public pressure on the joint development of the South China Sea. In fact, as far as Benham Rise is concerned, they should not have made a fuss out of it at all. China's Foreign Ministry has repeatedly stated that "China respects the Philippines' rights and interests over the area of Benham Rise" and "there has never been and will not be any dispute over this region between China and the Philippines". As for joint development in the South China Sea, it's a matter for further discussions, and will have important and practical significance for achieving regional peace and prosperity. Philippine scholar Lucio Blanco Pitlo III wrote recently that among Southeast Asian nations involved in sea disputes, the Philippines is the only one that has not started joint development with neighboring countries. He stressed that joint development is a pragmatic approach, and after analyzing the feasibility for joint development in terms of Philippine domestic and international laws, he said he believed joint development should not have caused any controversy or debates. Citing the joint development between Timor-Leste and its big neighbor Australia as an example, he wondered why some in the Philippines still oppose joint development with China.
It is China and the Philippines' common dream to make their countries stronger and their people richer. In the past 50 years, the ASEAN countries, through the approach of shelving disputes, equal consultations, and joint development, have created the "ASEAN miracle". China and the Philippines, through such approaches full of Oriental wisdom, have also deftly resolved disputes and are working together for development and win-win cooperation.