On May 19, 11 months after President Rodrigo Duterte took office and 10 months after the award was issued in the South China Sea Arbitration Case unilaterally initiated by the Philippines' previous administration against China, the first meeting of the China-Philippines Bilateral Consultation Mechanism on the South China Sea was held in Guiyang, China. Both countries agreed to meet regularly on current and other issues of concern relating to the sea and to explore areas of co-operation. The establishment of the mechanism opens a new chapter for China and the Philippines to manage their maritime dispute and demonstrates a concrete step made in such a direction.
How both countries have interacted to deal with their SCS issues during the past 11 months has brought bilateral relations to the current positive stage. The recent experience not only sheds light on the overall management of the sea issues among claimant States, but is also conducive to peace and stability in the region.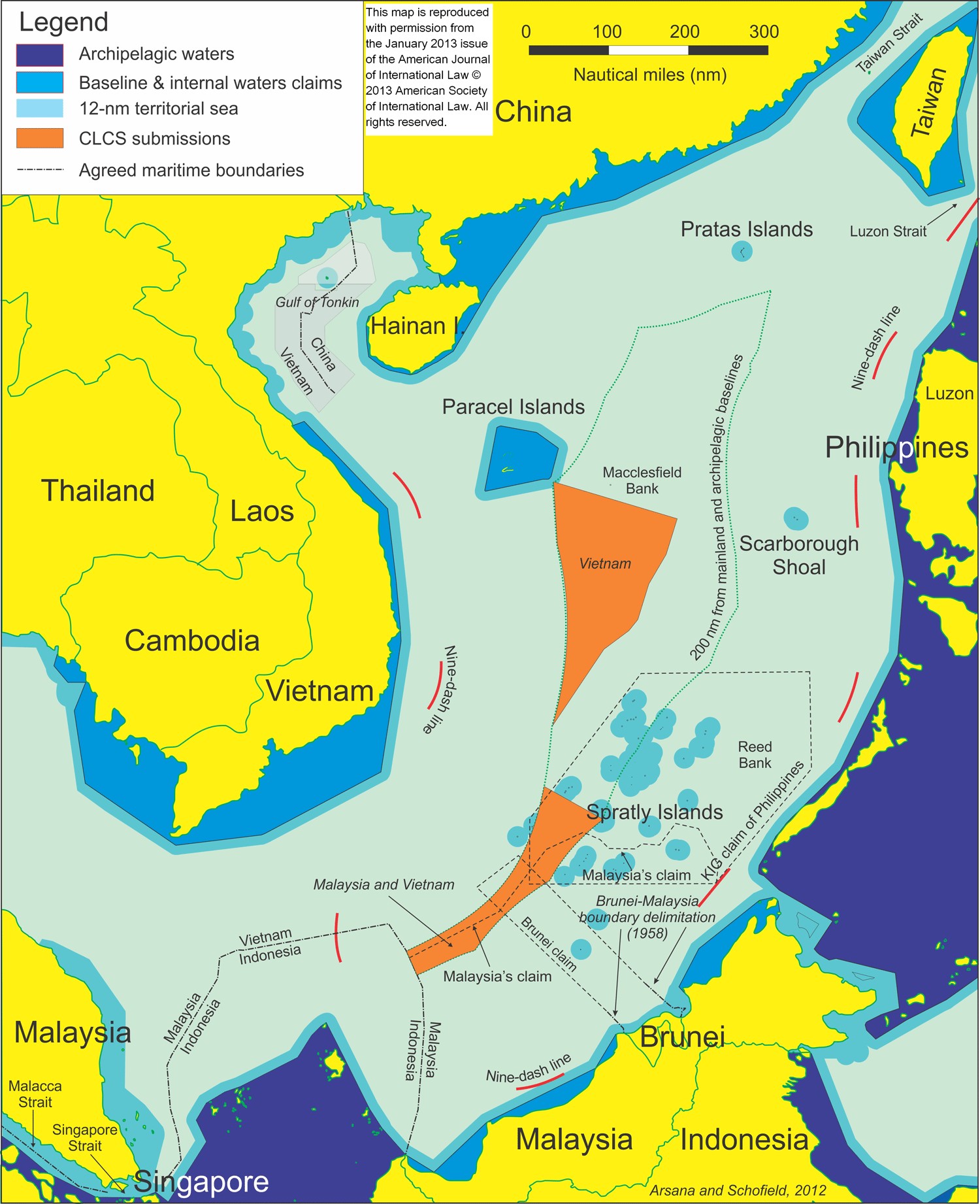 Source: From Disputed Waters to Seas of Opportunity, NBR Special Report 30, July 2011, p.5.
Duterte and the China-Philippine sea issues
Duterte plays a key role in shaping the Philippines' South China Sea policy towards China. Pragmatism is the rationale and he is open about itboth in his public remarks as well as his administration's ways of handling specific issues.
In the early days of his administration, Duterte expressed his willingness to take a "gentle attitude" towards bilateral discussions over the sea issues aiming for soft landing and saying that "war" was not his choice. Meanwhile he emphasized setting up "solid business and trade relations" with China. His reasoning is "(w)e do not have armaments" and "(b)ecause it (war) will just be a massacre". His then foreign minister Yasay reasoned along the same line, "the stark reality is that even in protecting our territorial boundaries and the exclusive use of our maritime entitlements in the South China Sea, our defensive forces remain grossly incapable in meeting the security threats" and that "our only ally (the US) could not give us the assurance in taking a hard line towards the enforcement of our sovereignty rights under international law."
The arbitration case dragged down China-Philippine relations to the lowest point ever and the first challenge for Duterte's administration was how to handle the award issued on July, 12 2016. The Philippines opted to keep a low profile. While Duterte himself emphasized his "affirmation and respect" for the award, he also chose to "set aside" and not to impose it on China. During his October 2016 visit to China, leaders from both countries agreed to handle sea-related disputes in an appropriate manner and address their territorial and jurisdictional disputes by peaceful means through friendly consultations and negotiations. When asked to bring the award to the April 2017 ASEAN summit, he openly aired his belief that pressuring China with the arbitral award is "all dreams" and "looking for trouble" and that talks with China are the only option for the Philippines.
The Benham Rise incident is another challenge. In mid-March this year, the Philippine Defense Secretary told the media that Chinese survey ships had conducted oceanographic research at Benham Rise in the Pacific from July to December 2016. While he recommended lodging diplomatic actions to question Beijing's activities, the House national defense panel vice chair raised the option that the Philippines bring China to the UN. Suspicion regarding China's intentions ran high in the Philippine security sector and pressure was on Duterte to counter China. But he dismissed the charge against China by clarifying that they had been advised in advance to be there and saying that China had the same right of passage as the United States. A Chinese foreign ministry spokesperson responded that "China respect Philippines' sovereign rights over Benham Rise" and a friendly exchange of views was carried out in April 2017 to address the issue.
Scarborough Shoal (Huangyan Dao) is also a sensitive topic in China-Philippine South China Sea relations, particularly after the bilateral standoff in 2012. China exercises effective control of the shoal and its surrounding area. In August 2016, Duterte's special envoy Ramos conveyed to China the concern of the Filipino fishermen's return to fishing activities in that area and Duterte, during his talk with Chinese ambassador in the same month, asked China to "treat us as your brothers" and "take note of the plight of our citizens". The Chinese Foreign Ministry later confirmed that after Duterte's first official visit to China, China made some arrangement for the Filipino fishermen's fishing in "the relevant part of waters of Huangyan Dao", which, as Yasay commented, demonstrates "the effectiveness of the pragmatic approach that we have adopted in dealing with China concerning this highly contentious issue". A March 2017 report by the Associated Press on a Sansha local government's plan to install an environmental monitoring station at Scarborough Shoal raised debate and concern within the Philippines. A Supreme Court senior associate justice connected it with the radar station and assumed its link with possible imposition by China of an air defense identification zone (ADIZ) in the South China Sea and the Philippines' justice secretary was reported to have said that "the Philippines is preparing to file a strong protest". The Philippines' Department of Foreign Affairs approached its Chinese counterpart regarding the issue and the Chinese Foreign Ministry soon clarified, "There is no such a thing after checking with relevant authorities".
Triggered by opposing domestic voices regarding his SCS policy towards China, Duterte in early April 2017 ordered its military to raise the standard of construction in the nine islets occupied by the Philippines and pronounced that he would visit Thitu Island (Zhongye Dao) and raise a flag there on Independence Day. After China conveyed its concern, Duterte canceled his plan because of, as he said, "Our friendship with China" and "we value the friendship". On April 21, the defense secretary and military chief of staff visited the island.
Yasay has explained that the Philippines' current pragmatic approach is to work on other aspects of the bilateral relations with China such as confidence-building measures until such time that both sides are ready to discuss the South China Sea issue with greater flexibility and openness in finding a final resolution of the dispute.
China's interaction with the Philippines on confidence building
It takes two to tango. China has taken an active pragmatic approach in its interaction with the Philippines over the South China Sea issues. That approach was shown not only in promoting quiet diplomacy in easing contentious issues but also in taking active measures in pushing ahead confidence-building measures to increase mutual trust and confidence.
As noted above, several incidents have occurred that could have led to bilateral tension, but they have been managed by both sides. As Chinese foreign ministry spokespersons repeatedly emphasized, communication channels between both countries are effective and close. Efforts of quiet diplomacy through these different communication channels have proved to be efficient in helping each other to better understand the position of the other side and to take responsive measures.
Confidence-building efforts have been carried out at different levels. Interaction among top leaders gave direction on overall bilateral relations. During Duterte's milestone visit to China last October, three top Chinese leaders held talks with Duterte. Both sides affirmed that contentious issues are not the sum total of the Philippines-China bilateral relationship and agreed to continue discussions on confidence-building measures to increase mutual trust and confidence. In May before Duterte's participation in the "Belt and Road Forum for International Cooperation", President Xi spoke with Duterte by telephone and pointed out that both sides "are continuously deepening political mutual trust and comprehensively carrying out cooperation in various fields" and "should adhere to the general direction of bilateral good-neighborly and friendly cooperation and promote practical cooperation in various fields with all strength." Both leaders met again in Beijing during the Belt and Road forum and discussed issues of mutual concern.
To implement the agreements listed in the October 2016 Joint Statement, exchanges of visits followed between different ministries from both countries. The Philippine Finance Minister headed a delegation to China in January 2017 and then his Chinese counterpart visited the Philippines in March. Vice Premier Wang Yang visited the Philippines in March to attend the opening ceremony of the China-ASEAN Tourist Cooperation Year.
Regarding confidence-building over SCS issues, the 20th Philippines-China Foreign Ministry Consultations was held in Manila on January 18. Both sides reaffirmed their commitment to uphold peace and stability in the SCS and agreed to establish a bilateral consultation mechanism on the South China Sea, which will discuss current and other issues of concern to either side. After the meeting, the head of the Chinese delegation, Vice Foreign Minister Liu Zhenmin, met President Duterte and reaffirmed China's willingness to implement the consensus reached by the leaders of both countries.
One concrete cooperation project is between coast guards of both countries. In October 2016, a memorandum of understanding (MOU) was signed on the establishment of a joint coast guard committee on maritime cooperation, which signified that bilateral cooperation on maritime affairs was underway. On 15-16 December, the first organizational meeting was held in Manila to discuss the formation of a Joint Coast Guard Committee on Maritime Cooperation. From February 20 to 22, the Second Organizational Meeting and Inaugural Meeting of the Joint Coast Guard Committee took place in Subic Bay. The JCGC adopted the Implementing Guidelines of the MOU and the Terms of Reference of the Working Groups established to assist in the work of the committee. Both sides agreed to cooperate in the sectors of preventing and combating drug trafficking and other transnational crimes, search and rescue, environment protection and emergency response through, among other modalities, information exchange and pragmatic empowerment activities unique for coast guards and enforcement agencies. In May, 20 officers from the Philippine Coast Guard participated in a training course organized by China Maritime Police Academy in Ningbo, China; the purpose was capacity-building and promotion of understanding between the law enforcement forces of the two countries.
Another confidence-building arrangement was the docking of two Chinese warships and a support vessel at Sasa Wharf in Davao City on May 1. Duterte boarded a Chinese naval ship during its stay. It was the first visit by Chinese warships to the Philippines in the past seven years, and the first time a Philippine president boarded a Chinese naval ship. Both sent a very positive signal to the outside world about China-Philippine relations at sea.
Crucial step, but more efforts are needed
The establishment of the Bilateral Consultation Mechanism on the South China Sea is a crucial step for China and the Philippines to formalize their management of these issues. It also provides a venue for sea-related government departments to explore potential areas of concrete co-operation. The mechanism can only succeed if there is strong political will from both sides, coupled with proper ways of handling contentious issues either through quiet diplomacy and proper management adjustment from either side, taking into consideration each other's concern. So far, pragmatism is leading to flexibility in China-Philippines management of their maritime dispute.
However, the formation of a mechanism is just the first step. To make the management sustainable, further efforts are needed under the newly agreed Terms of Reference to move ahead to create opportunities for concrete practical maritime co-operation. Different working groups to be formed under the mechanism will take the charge.