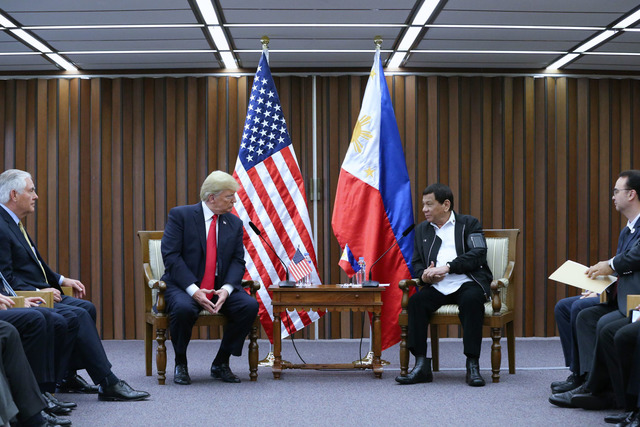 HUMAN RIGHTS? Philippine President Rodrigo Duterte and US President Donald Trump hold a bilateral meeting at the Philippine International Convention Center in Pasay City on November 13, 2017. (Malacañang photo)
President Trump's attendance at the recently concluded ASEAN Related Summits held in Manila suggests continued U.S. interest in a region touted as among the key engines of global economic growth and development. This is crucial as ASEAN celebrates its golden anniversary amidst fast changing regional dynamics, notably China's resurgence and America's reluctance to absorb what it deems as disproportionate costs to keep longstanding global economic and security order. Knowing his penchant for transactionalism and bilateralism, it was interesting to see Trump's presence in a multilateral venue known for promoting certain norms and values. Whether Trump was prevailed over by his senior cabinet officials to attend the important annual meet to reinforce the U.S.' enduring regional commitments or he simply saw the event as an opportunity to cut deals during sideline meetings, Trump's participation gave some reassurance to a region trying to read Washington's signals. Although Trump has yet to come up with a coherent Asia strategy beyond the seeming fixation with dismantling the DPRK's nuclear weapons program and correcting the trade deficit with China, the visit to Danang and Manila surely brought relief for Southeast Asian leaders hoping to keep the U.S. engaged.
Trump's Manila visit can be seen as a triumph for the host Philippines in keeping all major powers onboard, despite Duterte's rough rhetoric against the country's longtime ally, the U.S. (especially during the Obama presidency), and burgeoning ties with non-traditional partners China and Russia. The visit allowed both sides to reset relations frayed by what Duterte saw as U.S. interference in the domestic affairs of other sovereign states (e.g. criticism over human rights abuses in the conduct of his anti-illegal drug campaign) and doubts about U.S. commitment in defending allies. More than the symbolism and the optics, the meeting of the two leaders, both known for their brash language and unconventional leadership style, delivered gains for both sides.
Continued support and better appreciation
Apart from being reassured of the U.S.' alliance commitment, the Philippines got continued U.S. support in the field of counter-terrorism and the post-conflict rehabilitation of Marawi, national defense capacity-building, and an acknowledgement of the serious problem posed by illegal drugs. PH-U.S. security relations continue at full swing, although greater emphasis was put on non-combat civil-military operations like search and rescue, humanitarian assistance and disaster relief. The just concluded battle to retake Marawi could open doors for greater cooperation in tackling terrorism and extremism, through information-sharing and collaboration in busting terror financing networks. The theaters of joint exercises also migrated far from sensitive and contested areas: an effort by the Philippines to intimate to its neighbors that such regular exercises are not directed at any third party.
The Philippines remains the weakest link in America's Asia-Pacific regional security alliance, thus engendering dependence instead of robust partnership anchored on fairer security burden-sharing. Duterte's tirades challenge America's longstanding privileged and complacent status in Philippine defense; it will be interesting to know whether this controversial approach will enable the former colony and loyal ally to get more from a relationship long considered skewed in the U.S.' favor. Furthermore, obtaining U.S. commitment to support the development of Philippine maritime security and domain awareness and rapid humanitarian assistance capabilities are also critical given increasing maritime and disaster challenges. Reorienting cooperation towards filling important gaps in local capacity and preparedness, without estranging relations with neighbors, seems to guide Duterte's security ties with the U.S. How long this can be sustained remains to be seen. Canceling peace talks with the Communist Party of the Philippines-National Democratic Front and declaring its armed wing, the New People's Army, as terrorists, as well as the extension of martial law in Mindanao, suggests a refocus on internal security, which can setback momentum for territorial defense. This renewed security emphasis could open avenues for cooperation with the U.S.
Furthermore, it appears that Duterte was able to impress on Trump how grave the threat posed by the proliferation of illegal drugs is, not only to public order and safety, but also to the country's future. It appears that Duterte was able to sway Trump's view on the urgency and justification of his strong anti-narcotics crackdown, although the U.S. did raise the issue of human rights. Both sides agreed to share best practices in their respective crusade against prohibited drugs. While it may not be a vindication of Duterte's approach on drugs, it definitely enhanced and gave some sense of legitimacy to one of the Philippine President's flagship campaigns. Whether that recognition was a prerequisite for greater cooperation in other fields or a tradeoff to get other concessions is arguable.
Old shared principles and new confluences
The U.S. was able to get Philippine support for its emerging focus on denuclearization of the Korean Peninsula, and its longstanding interests (e.g. freedom of navigation in South China Sea and human rights.) Both sides reiterated their commitment to shared principles such as navigational freedoms, exercise of self-restraint, confidence-building and peaceful resolution of disputes in the South China Sea. An oblique reference to China's artificial island building was also made in the two countries' Joint Statement issued after the meeting. Although some quarters are already questioning the deterrent effect of U.S. military presence, U.S. programs to support allies remain valuable in Philippines' continuing effort to build a minimum credible defense.
The discussion of a possible bilateral free trade agreement (FTA) also suggested potential economic gains, further discussions of which will take place within the Philippines-U.S. Trade and Investment Framework Agreement. China has now become the Philippines' largest trading partner and is increasingly becoming an active investor, especially in the infrastructure space. It remains to be seen how U.S. efforts to renegotiate trade agreements with key regional allies Japan and Korea will contribute to a larger U.S. regional economic policy and offset the damage generated by the withdrawal from the Trans-Pacific Partnership. Manila will attempt to diversify its external trade portfolio and avoid dependence on any single major partner to ensure autonomy. To the extent that such a PH-U.S. FTA would contribute towards this end, it would be welcomed.
In sum, the Duterte-Trump meeting provided an opportunity for both leaders to reshape their countries' bilateral relations amidst fast changing geopolitical shifts and changing local dynamics. Despite the donation/transfer of Chinese and Russian hardware, increasing security exchanges, and openings for possible exercises, the U.S. remains the Philippines' most important defense partner. Competition from Beijing and Moscow, however, makes it imperative for Washington to upgrade its security ties with Manila. Local security issues present opportunities for sustained bilateral cooperation, but the U.S. has to exert efforts beyond security. The proposed bilateral FTA may enable the U.S. to remain in contest with China in a game America is losing alarmingly fast – trade and investment. China's amoral and apolitical foreign policy and avowed non-interference in domestic affairs enable regional leaders to weather Western pressure over human rights by threatening to upend ties with the West and turn to China. This recognition may have prompted Trump's silence on rights issues during his meeting with Duterte. Whether this heralds a new American approach in dealing with delicate issues with allies remains to be seen.