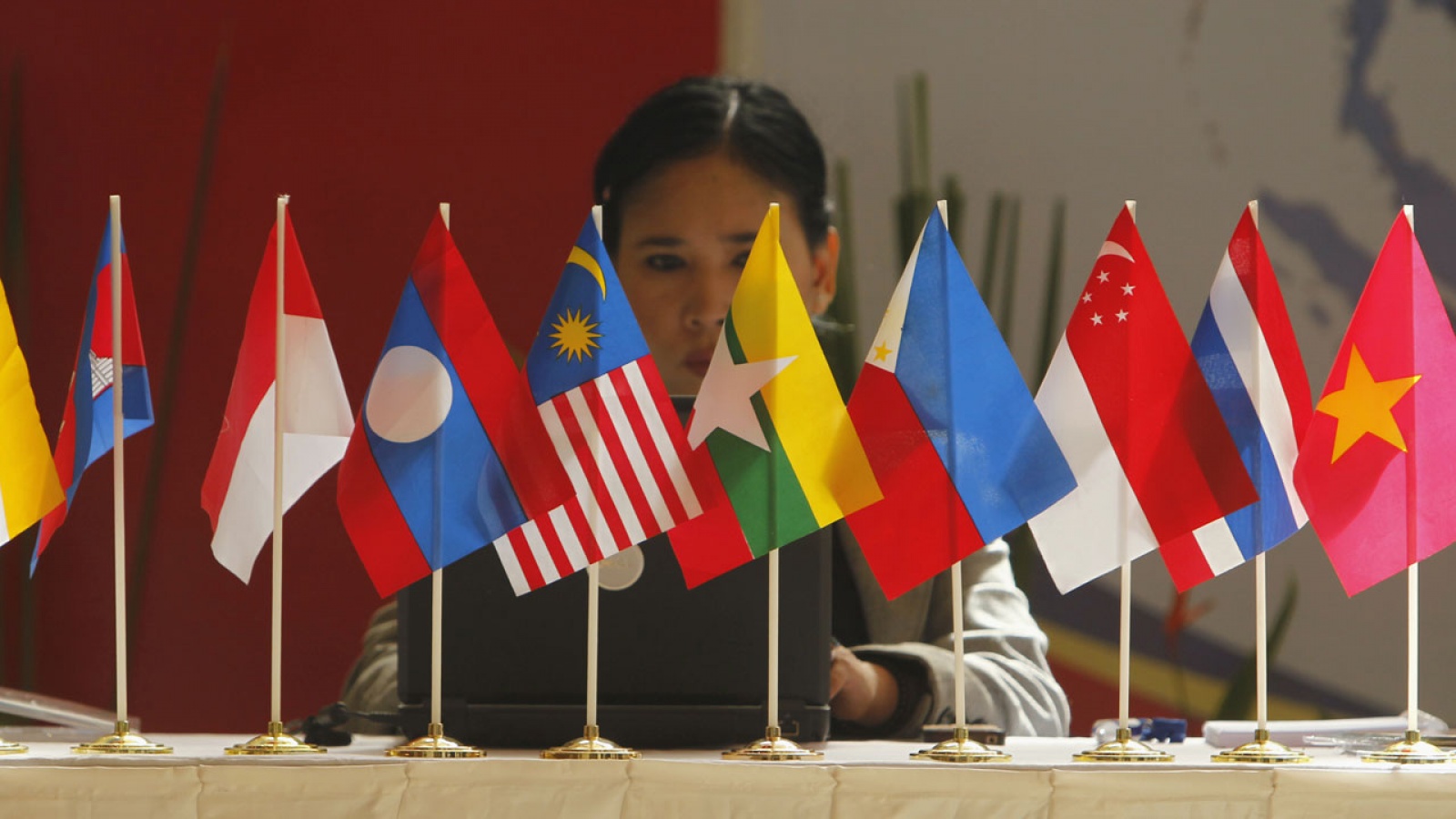 A woman sits in front of flags of ASEAN members in Bali, Indonesia, November 16, 2011. (Reuters)
This November, President Donald Trump is expected to attend the U.S.-ASEAN summit and the East Asia summit in the Philippines, as well as the APEC summit in Vietnam. He will also probably visit China. Despite this, no comprehensive Asia-Pacific strategy is in sight.
Trump's erratic approach to decision-making has undermined U.S. credibility amongst its allies. America's credibility in the region has been hurt by Trump's decision to withdraw from the Trans-Pacific Partnership trade agreement, and his unwillingness to contribute to multinational efforts to combat climate change.
The president's rhetoric on Asian allies triggered anxieties that he might abandon long-held principles or established multilateral institutions. Trump's transactional foreign policy is not reassuring because it's guided by ad hoc impulses instead of principles.
On July 27, Susan Thornton, Acting Assistant Secretary of Bureau of East Asian and Pacific Affairs at the Department of State, outlined four key priorities in Asia: addressing the DPRK threat, maintaining leadership and influence in the region, defeating ISIS and combatting transnational crime, and creating jobs and economic opportunities for Americans.
Despite listing these four policy priorities, the Trump administration, with its myopic focus on the DPRK, lacks a coherent vision for the region. In contrast, under President Barack Obama, the U.S. had many different aspects to its Asian strategy: strengthening regional institutions and integration, advancing economic prosperity, strengthening and modernizing U.S. alliances, deepening partnerships with emerging powers, and pursuing a stable and constructive relationship with China. Trump's narrow focus on just a few issues, without an overarching strategy, is a departure from the traditional approach.
One of the reasons Trump still lacks a comprehensive regional strategy or sees the region through the lens of "America First" is that he has no room to maneuver or think twice on foreign policy. President Trump was confident enough at the very beginning of his term to push forward his domestic agenda, including tax reform, infrastructure projects, and repealing Obamacare. However, with the mission to repeal Obamacare devolving into a tug of war in Congress, everything has been delayed and the political polarization has given him a headache.
Trump is keen to deliver his campaign promises before the mid-term elections. He has been far too preoccupied with domestic issues to formulate a coherent Asia-Pacific strategy. "America First," therefore, has taken the place of a foreign policy, and characterizes his approach towards the Asia-Pacific.
Another reason is that most top jobs in cabinet or cabinet-level agencies are still vacant, or still filled by Obama-era officials, especially in the Departments of State and Defense. This significantly hamstrings the administration's ability to frame a comprehensive regional strategy.
The slow pace of appointments to key positions at important agencies related to the Asia-Pacific region is obvious. Eight months into the Trump administration, over 60% of senior officials in the State Department are still not formally nominated. Additionally, the positions of U.S. ambassador to Australia, Singapore and South Korea are still vacant.
Moreover, the chaos within the administration impedes the formulation of a balanced regional strategy. It seems that Secretary of State Tillerson's influence on U.S. foreign policy-making is yet to go up and the inner circle members, dominated by former and current military generals like John Kelly, James Mattis and H.R. McMaster, might become preponderant on the process.
Without a comprehensive and balanced strategy, U.S. policy is incoherent and unprincipled. Trump's UN speech last month was a prime example of this, with the president stressing the importance of sovereignty and then vowing to intervene against Iran and the DPRK.
If the U.S. has no clear strategy or maintains strategic ambiguity towards the region with inconsistent policies in the name of "principled realism," it will confuse other countries and impede the resolution of problems in the Asia-Pacific.