Philippine President Rodrigo Duterte's four-day state visit to China carried immense symbolic and strategic implications. It was the first time that any modern Filipino leader decided to visit the Zhongnanhai ahead of the White House. In fact, reports suggest that the firebrand Filipino leader postponed an earlier scheduled visit to Japan, another key ally, in favor of China. In a dramatic turn of events, the Philippines has gone from China's most vociferous regional critic to a potential ally in just a matter of months.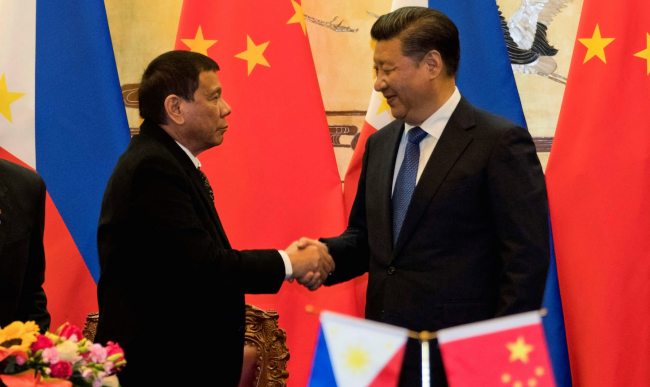 Chinese President Xi Jinping (R) and Philippine President Rodrigo Duterte shake hands after a signing ceremony held in Beijing, China, October 20, 2016.
Duterte's choice for his first major state visit in itself says a lot about which country stands atop the pecking order of his strategic priorities. During his visit, Duterte sought to ameliorate territorial tensions with China, revive bilateral investment relations, and explore a mutually-satisfactory modus vivendi in the disputed waters. At the conclusion of his visit, Chinese Vice Foreign Minister Liu Zhenmin triumphantly
declared
, "Bilateral relations have fully recovered and the two countries will return to the track of dialogue and consultation to address maritime issues."
A cursory look at the outcome of the visit, however, suggests that commercial considerations dominated the agenda. The Filipino president
secured $24 billion
in investment pledges and soft loans from his Chinese hosts, who promised to aid the Philippines' economic development and upgrade its decrepit infrastructure. To Duterte's delight, China also
offered support
to his
controversial campaign
against illegal drugs, which has elicited global uproar, particularly in Washington and Brussels, but is
broadly popular
at home.
Duterte once again grabbed global headlines when, during one of his key speeches in Beijing, he
announced his "separation"
from America, and declared his alliance with China and Russia "against the world". This came against the backdrop of his weeks-long tirades against America, which has rattled traditional allies and dismayed
senior
Duterte administration supporters.
But far from signaling an end to seven-decades-old Philippine-U.S. alliance, Duterte's pronouncements reflect his quest for more diversified Philippine foreign relations, which, in his assessment, has been too American-centric. Moving forward, Duterte's strategic recalibration could mean downgrade in some aspects of bilateral military cooperation with Washington in exchange for improved diplomatic and economic relations with China.
While Duterte's emerging "equi-balancing strategy" is sensible in a nutshell, its execution has been replete with unnecessary
rhetorical outbursts
, which risk
irreversibly damaging
the credibility of Manila's strategic signaling. Not to mention, there is a high risk that the Philippine-China rapprochement may further embolden Beijing's territorial ambitions in adjacent waters to the detriment of smaller claimant states and American interests in the region.
Charting a New Path
Duterte's emerging foreign policy is a cocktail of reckless rhetoric and shrewd strategic calculus. First and foremost, it reflects his long-held antipathy towards the West, particularly the United States. Quite simply, the Philippines has never had any leader like him.
Coming of age during the Vietnam War era and educated by leading leftist-progressive leaders such as
Joma Sison
, the founder of the Philippine Communist movement, Duterte has been exposed to and steeped in anti-imperialist ideology – a far cry from all of his predecessors, who enjoyed strong ties with Washington.
As the longest-serving mayor of Davao, the biggest city in the conflict-ridden island of Mindanao, Duterte constantly grappled with American military interventions in his own backyard. Various
incidents
, including
the rejection of his visa
application to the United States, only crystalized Duterte's misgivings towards the Philippines' oldest ally. As the
self-described 'socialist'
leader
put it
bluntly, "I am not a fan of the Americans."
For him,
Americans are
overbearing, "loud, sometimes rowdy" and "not adjusted to civility."
During his stint as city mayor,
he refused to grant
Americans access to the Davao airbase for drone operations. In 2007, he managed to block a proposed annual joint U.S.-Philippine exercise in Davao. Quite legitimately, he has
also raised concerns
over the
ambiguities
of American military commitment and
relatively limited
assistance to the Philippines.
No wonder then, shortly after securing a landslide election victory, Duterte
made it crystal clear that
he seeks an 'independent' foreign policy, where the Philippines relies "on its own and will not be dependent on the United States." A month into office, however, the Filipino president sought to maintain functional relations with America, which is
viewed highly favorably
by the majority of Filipinos and the Philippine security establishment.
All hell broke loose
though when
no less than
U.S. President Barack Obama began to more openly criticize Duterte's war on drugs, his signature policy and main campaign promise. In response, the firebrand Filipino leader
threatened
to expel American Special Forces based in Mindanao, suspend all joint patrols and military exercises with America, and, if necessary, abrogate existing bilateral security agreements.
Duterte's open confrontation with the Philippines' top ally, however, was also a calculated maneuver. Duterte signaled his independence (from America) as he sought to explore improved relations with China, which heavily resents Washington's growing military footprint in the region.
In exchange for Chinese concession, namely
joint development agreements
in contested waters as well as improved bilateral investment deals, Duterte showed his readiness to tinker with the parameters of U.S.-Philippine military cooperation. By playing the two giants against each other, he hopes to extract maximum concessions from both sides.
Uncertainties Ahead
The Filipino president's visit to China went a long way in breaking the ice in frosty bilateral relations. To his credit, Duterte was able to dramatically reduce bilateral tensions in the South China Sea, secure huge economic dividends for his country, and diversify his foreign policy options by reviving communication channels with Asia's most powerful nation.
At the same time, Duterte has made it clear that
he is not severing ties
with America altogether, acknowledging that it is in "the best interest of my country that we maintain that relationship." His flip-flopping statements and often-incendiary rhetoric, however,
has exasperated allies
at home and abroad,
putting immense strain
on existing relations with America and
rattling
some in the Philippine military.
Nonetheless, China relishes Duterte's
refusal to raise
the Philippines'
landmark arbitration case
at The Hague in either bilateral or multilateral fora. If anything, Duterte has sought to downplay the territorial disputes in order to facilitate deeper economic engagement.
As a result, it has become increasingly difficult for Washington to mobilize multilateral diplomatic pressure on China in order to preserve freedom of navigation and overflight in the South China Sea. In fact, there is growing fear that other claimant states, from Vietnam to Malaysia, will also drop any robust resistance to Chinese maritime assertiveness in exchange for economic carrots. And there is no assurance that China, who claims '
inherent and indisputable'
sovereignty over adjacent waters, will ever respect the Philippines' sovereign rights and claims in the South China Sea.
For now, however, the Duterte administration has made it clear that bilateral relations with America are no longer as special as before. It is simply interested in having beneficial relations with all superpowers without any preferential treatment. This is now the new normal in America's relations with its oldest ally in Asia.