China and the US have just conducted their eighth round of Strategic and Economic Dialogue (S&ED) and the 7th round of High-Level Consultation on People-to-People Exchange (CPE). These dialogue mechanisms have been initiated under the Obama administration, and have become a major avenue for the two countries to have institutional exchanges on security, economic and cultural areas on an annual basis.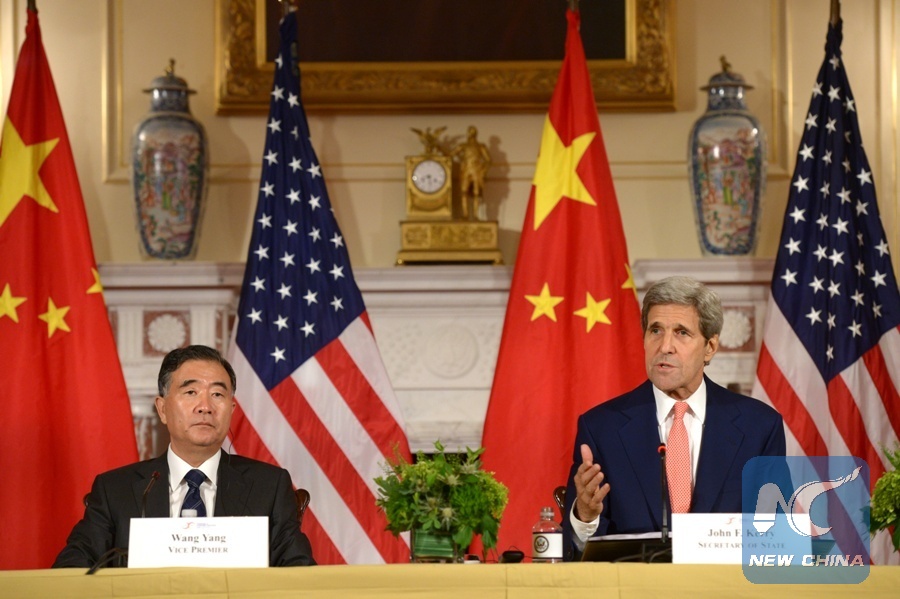 The S&ED was based on the previous China-US SD (Senior Dialogue, but translated as Strategic Dialogue by Chinese side), as well as SED (Strategic Economic Dialogue), of the Bush administration. From the English linguistic perspective, neither SD nor SED directly carries the meaning of "strategic dialogue". After all, an SED is still an economic dialogue, though at a strategic level.
With Obama commanding the White House, he and the then Chinese President Hu Jintao concurred to combine SD and SED and entitle the combined edition as "strategic". That is how S&ED has been coined. In this way, Beijing and Washington have continued their top-level institutional dialogues and lifted them to strategic height. Obviously, such talks help address various important issues between China and the US, and have often been effective in limiting negative developments. For instance, the past S&EDs have successfully nurtured, to various degrees, bilateral cooperation on cybersecurity and climate change.
So far, these heightened talks have dealt with various issues of cooperation and competition. Categorically, they have yielded all sorts of outcomes, such as positive cooperation and improved collaboration. However, dialogues are not a cure-all. Thus far, no dialogue could resolve fundamental differences on the Taiwan issue and South China Sea issue.
On the positive front, the ever-longer list of collaboration from each dialogue indicates the span of their extensive and deepening cooperation covering almost all areas, ranging from energy, environment, economy, trade, investment, finance, non-traditional security, nonproliferation, and various regional hotspots etc., not to mention all kinds of creative people-to-people exchanges. Such massive mutual engagement has benefited both countries and spilled out to the Asia Pacific and the world. This partnership has thus differentiated itself from the old US-Soviet relationship, which was rich in ideological confrontation but lacked economic and people-based cooperation.
China-US strategic and economic dialogue has been a vehicle to advance bilateral collaboration on some challenging issues, especially on cybersecurity and climate change. Given the perennial headache of cyberattack that each had claimed to face, the S&ED established its Working Group on Cybersecurity in 2013. Though the two countries worked seriously under this framework, the US Department of Justice announced indictments of Chinese officers in 2014, which frustrated cooperation. With the summit in 2015, both countries lifted their partnership to a High-Level Joint Dialogue against Cybercrime. So far the new mechanism has worked smoothly, under the stewardship of the S&ED. No one can guarantee that there will be no hacking in cyberspace in the future, but both parties have committed themselves not to knowingly allow cybercrime to occur. Also, they have agreed to respond to other's calls for help far more efficiently. All these would boost the confidence of each in the other.
Lately, the Chinese side has always published a list of committed cooperation from each dialogue, while the US tends to play down the significance of such achievements. Indeed even without S&ED, there are still an immense amount of cooperation between the two countries every day in all areas, so to attribute all cooperation to this dialogue diminishes the real significance of the talk. In my view, the essence of the S&ED does not lie in its ability to generate so many collaborations, but in its institutional strength to address strategic issues, in both security and economic areas, that would either promote or hinder mutual trust. Therefore, the China-US Strategic Security Dialogue, as a subset of dialogue derived from S&ED, has carried its unique importance for the two countries.
The US government, however, is keen to address the South China Sea issue, the DPRK nuclear issue, and some regional hotspot such as Iraq and Syria crisis. Exactly in these most important areas that could alleviate each's strategic concerns, the S&ED has not been able to reconcile their divergent perspectives. The 8th edition of the S&ED doesn't seem to narrow the vast gulf existing between Beijing and Washington. The Chinese list of cooperation made no reference to the South China Sea at all. The Chinese official media has reported Chinese officials' view on this issue but made no reference of American officials' views.
Apparently, the US has taken Chinese move s in the South China Sea as destabilizing, which warrants Washington to launch its "rebalancing" in the region. The US is furthering its program of "freedom of navigation" in the name of international law to probe and shape China's response. In fact, despite the S&ED, China-US mutual suspicion is deepening rather than decreasing over the past three years. This is not due to the fault of the dialogue itself, but due to the deteriorating strategic trust that even the S&ED has been unable to fix.
After all S&ED is a means to help stabilize and improve partnership. However, when each's strategic interests differ or even collide, a dialogue will not be able to resolve the problem. The best the dialogue could do is to assure that each side will take sensible decisions, ideally through mutual concession. This is what the S&ED of the Obama era has been about.