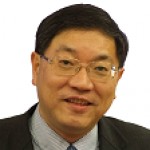 Shen Dingli
Professor, Institute of International Studies, Fudan University
Dr. Shen Dingli is a professor at the Institute of International Studies, Fudan University.
May 31, 2022

There was nothing new revealed in the U.S. president's visit, other than launching Indo-Pacific Economic Framework. Roping in Japan and South Korea and declaring that the U.S. would "intervene" in a Taiwan conflict, all amounted to old news.

Mar 24, 2021

The negativity of China-U.S. talks in Alaska risks a further downward spiral and an unhealthy new normal. But it's an improvement over the Trump era. If the parties keep expectations low and maintain mutual respect, they should be able to replace their free-falling relationship with a more stable one.

May 25, 2020

American politicians are trying to blame China for the nation's suffering, but the fact is that it's suffering because of the incompetence of its leaders. All paths of blame lead directly to President Donald Trump.

Apr 29, 2020

America's credibility is undermined when its chief diplomat makes harsh claims without evidence. He should either disclose his sources or wait for the UN investigation.

Jun 13, 2017

With the US now unwilling to pay the price of global leadership, other countries will seize both the opportunities and the responsibility to make the Paris accord work.

May 16, 2017

Against a background of global economic gloominess, China's Belt and Road Initiative injects a fresh spirit of multilateral cooperation and truly win-win opportunities. There is reason to expect a more vibrant regional and global economic recovery to be stimulated by this partnership initiated and led by Beijing.

Apr 10, 2017

Chinese President Xi Jinping has just finished his 24-hour visit to the US, meeting with his American counterpart Donald Trump at the "Winter White House", Mar-a-Lago at the Palm Beach. On the one hand, President Trump openly admitted that he has "got nothing" out of the summit. On the other, however, his staff has briefed that this is not all the case.

Mar 27, 2017

While many issues are on the table, China hopes to work with America to assure the DPRK's legitimate security while persuading Pyongyang to come down from the nuclear ladder. The upcoming summit meeting holds promise for a workable new type of great-power partnership.

Feb 16, 2017

The US President Donald Trump talked to Chinese President Xi Jinping last week. In the White House press readout, the call was termed as "lengthy" and "cordial". At Trump's press conference with Japanese Prime Minister Shinzo Abe a day later, he described his conversation with Chinese counterpart on the phone as "very warm".

Jan 20, 2017

While the incoming Trump administration has stirred fears that it will direct the US in an inward direction, there is plenty of reason to think that the new president is pro-trade in ways that will re-shape but not destroy the global playing field.