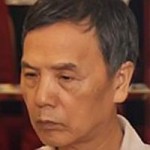 Wu Zurong
Research Fellow, China Foundation for Int'l Studies
Wu Zurong is a research fellow at the China Foundation for International Studies.
Feb 24, 2021

In the shadow of the most aggressively anti-China president in recent memory, there is much work to be done to repair the relationship between not just China-U.S. leaders, but between the citizens they've turned against each other in their respective countries.

Jan 29, 2021

The United States is at a turning point. It can heal the wounds inflicted by Donald Trump on China-U.S. relations if it's willing to reverse its containment strategy and return to civilized principles.

Nov 30, 2020

It is possible to move forward if a framework is agreed up for solving matters where competition is inevitable. The incoming Biden administration in the United States has an opportunity.

Oct 21, 2020

Regardless who becomes the next president of the United States, a friendly and cooperative China policy should be his only choice. Confrontation produces no winners.

Aug 15, 2020

The respective responses of China and the United States to the outbreak produced widely different outcomes. The mode of attack is ultimately tied to the expectations of ordinary people about their systems of government.

Jul 21, 2020

The U.S. strategy of military expansion is as misplaced as it is costly. It siphons resources from other areas of national concern that need to be addressed if the country is going to maintain its superpower status. Not everything boils down to a country's ability to make war.

Jun 27, 2020

There are many reasons to conclude that the downturn in relations between China and the United States is a temporary phenomenon.

Nov 20, 2019

A large-scale U.S. decoupling from China cannot succeed because the global landscape of trade is complex and unable to respond to sudden shock. Relations are destined to get better, despite temporary setbacks.

Oct 11, 2019

Facts are being distorted for political purposes at high levels in the American government. While relations are better today than they were before Nixon, the road ahead may be fraught.

Sep 03, 2019

President Trump's aggressive and unpredictable China policy is hurting rather than helping the United States and further harming the global economic situation. Trump's desire to establish his own legacy rather than serve the American people's best interests, and in so doing radically change the course of 47 years of China-U.S. relations, is a serious strategic mistake.