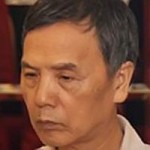 Wu Zurong
Research Fellow, China Foundation for Int'l Studies
Wu Zurong is a research fellow at the China Foundation for International Studies.
Oct 15 , 2018

The US is unfairly targeting China.

Jul 26 , 2018

In spite of Chinese patience, repeated American aggression has led both countries into a trade war neither can win.

Mar 22 , 2018

Everything China is doing in the US, including the help given to the Confucius Institutes, is designed to help deepen mutual understanding and friendship between our two peoples.