Secretary of State Rex Tillerson has just had a successful visit to China. He met State Councilor Yang Jiechi, Foreign Minister Wang Yi and President Xi Jinping. The two sides reportedly had in-depth communication and exchanges. Significantly, the visit reduced uncertainty about US policy towards China and China-US relations, both of which are in a sensitive transitional period. It also launched preparation for a meeting between the two heads of state, and it enabled both parties to resume handling substantive issues in bilateral relations.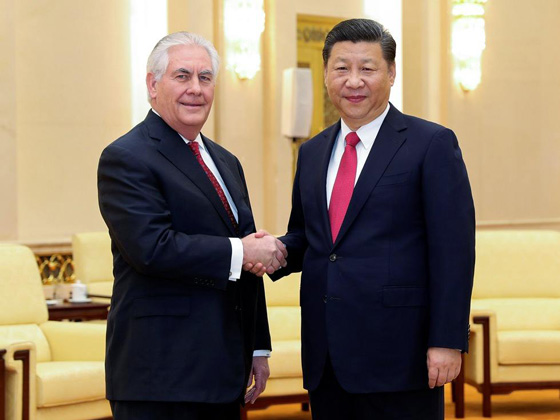 When American scholars discuss the Trump administration, the first word often used is 'uncertainty'. Trump made many unconventional statements in the campaign and has already issued many administrative orders that change policies of his predecessor. However, the administration has been quite cautious, with few statements and even fewer actions regarding China and China-US relations. Meanwhile, in the past few weeks, the two heads of state have exchanged phone calls and letters; State Councilor Yang Jiechi visited the US, met senior government officials and met President Trump; and Foreign Minister Wang Yi met State Secretary Tillerson on the side of the G20 Foreign Ministers' meeting. During his visit to China, Tillerson had face-to-face exchanges with senior Chinese officials and Chinese leaders. Both sides explained their respective ideas and beliefs of China-US relations and expressed their respective concerns and expectations.
It was noteworthy that Tillerson said on multiple occasions that the bilateral relationship in the past four decades and more had been guided by the principles of non-conflict, non-confrontation, mutual respect and win-win cooperation — and that the US stood ready to explore in the same spirit more areas of cooperation and set the direction for China-US relations in the coming 50 years. Tillerson restated the three points made by President Xi Jinping at Sunnylands in 2013 on a new model of major country relations, expressed the Trump administration's identification with the China-proposed guiding principles for the development of China-US relations and willingness to expand new cooperation areas and joint advance the bilateral relationship. Tillerson did not make the statement just on the spur of the moment: He repeated it on multiple occasions as a result of careful consideration.
The Obama administration had some reservations on mutual respect. Now Tillerson was forthright on this point, which must be regarded as progress. This will make China-US relations predictable, plannable and deployable. As such, the relationship may achieve a smooth transition at an earlier date.
The significance of top-level design for China-US relationship is self-evident. Since the beginning of this century in particular, leaders' meetings have played an irreplaceable role in this relationship. Besides formal state visits, leaders of the two countries met three or four times a year on the margins of international conferences. When the bilateral relationship was in a rough sea, it was a meeting of the leaders that provided both driving force and direction.
In the past years some very tough issues were resolved, managed or controlled at meetings between the two heads of state. For example, the two countries' differences on cyber issues was addressed and managed during Xi's visit to the US in September 2015. Trump has just taken office and faces a multitude of challenges. But the new administration is well aware of the significance of China-US relations for the US. Meanwhile the Chinese side also hopes to see a rapid and smooth transition of bilateral ties. Both sides, therefore, share a desire to have their leaders meet as soon as possible. Tillerson's visit this time has created a sound atmosphere for the meeting. Now, the two sides will make intense preparations for the smooth conduct of a summit, and China-US relations will advance.
The China-US relationship is neither vague nor general. It is specific and realistic. The two countries cooperate in numerous fields at bilateral, regional and global levels, covering security, economy, trade and traditional and non-traditional challenges. Yet, the relationship needs direction and a big framework, which we will expect from the upcoming meeting between the two heads of state scheduled in early April.
No one expects all problems to be resolved in just one visit or meeting. The China-US relationship has never been roses all the way, rather it has experienced many ups and downs. But on the whole it has been moving forward. When meeting Tillerson, President Xi said that the two sides should grasp the general direction for the development of China-U.S. relations in an attitude responsible to history and future generations. It was a statement of both confidence and responsibility. We believe the two countries will seize this important opportunity to take their relations to a new high.