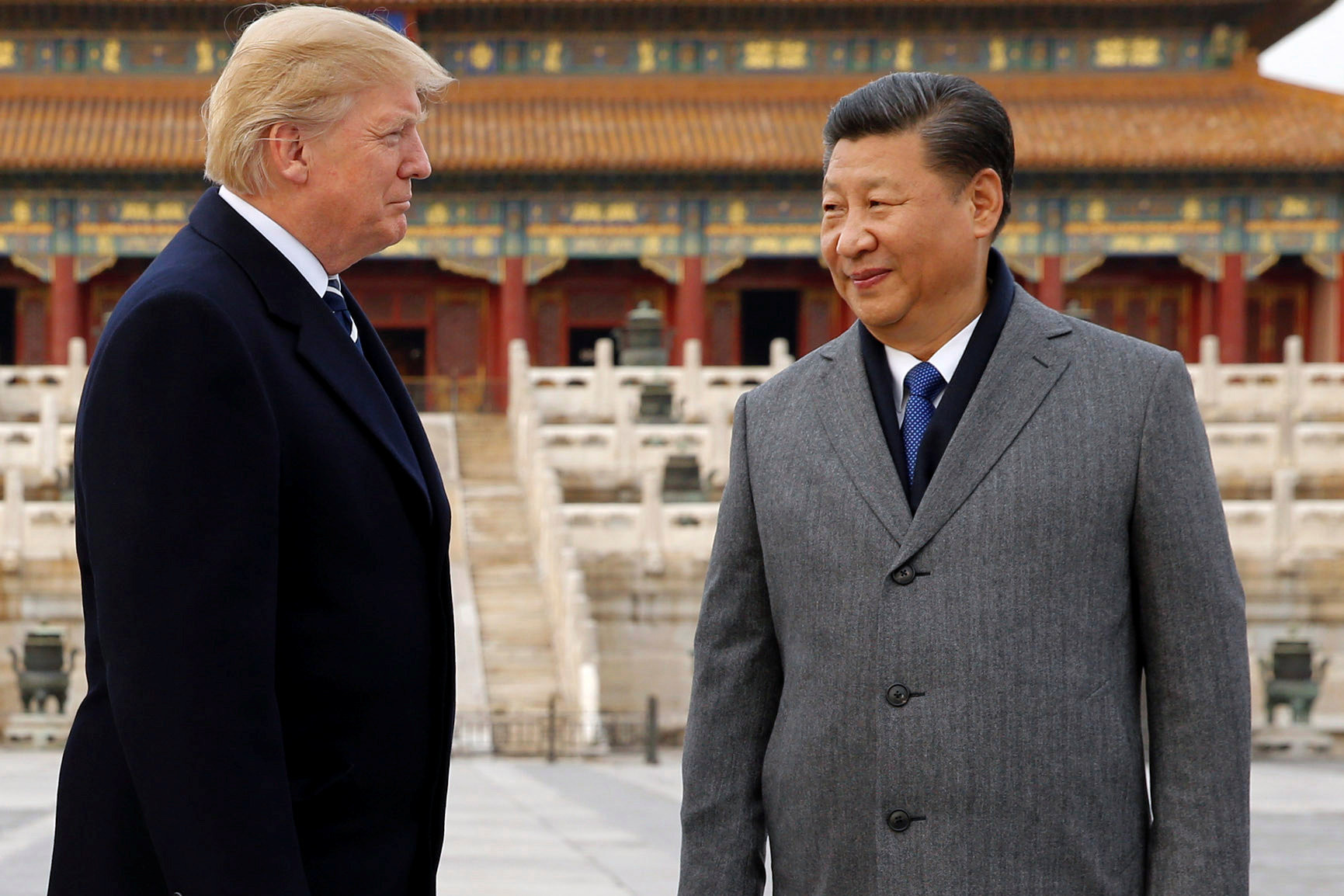 (Reuters)
The Trump administration labeled China a strategic competitor, military adversary, and an economic aggressor in its National Security Strategy and National Defense Strategy. It seems the US would like to implement a tougher policy towards China without completely giving up its engagement and hedging strategy of the past three decades.
Why does Trump administration regard China so negatively? From President Donald Trump's perspective, the world is full of danger and competition, with globalization and the rise of China at the expense of the US economy and US workers. Furthermore, it's natural that such military and trade hawks as defense secretary James Mattis, national security adviser H.R. McMaster, and Director of the White House National Trade Council Peter Navarro had a bigger voice in drafting the reports, while some moderate senior officials in the State Department were marginalized. Most importantly, China's rapid rise made US elites, both Republicans and Democrats, feel American leadership and national interest were being eroded.
Where you sit determines what you say. US elites speak for themselves, but it's fair to say that US policy makers and strategist have political bias and wishful thinking with regard to China.
The NSS said that US policy in the past two decades was based on the assumption that engagement with rivals and their inclusion in international institutions and global commerce would turn them into benign actors and trustworthy partners. For the most part, this premise turned out to be false. From the Opium War to the establishment of the PRC, China explored the development model, a political and social system suitable for herself. Based on the positive and negative historical experiences, China chose Socialism with Chinese Characteristics, just as US chose liberal democracy. Although China refused to blindly copy the Western-style system, China accepted the US-led international order and became a responsible stakeholder, while pursuing its peaceful development. After the end of the Cold war, China has done its best, overcoming domestic obstacles, to cooperate with the US and the international community in maintaining peace, promoting the world economy, preventing WMD proliferation, fighting climate change, protecting cyber security, and maintaining open seas and free trade.
The NSS said the US will not tolerate economic aggression or unfair trading practices, and regards China as a main target. The US cannot change the economic realities by resorting to populism and nationalist rhetoric. Technological advancement and higher wages in America contributed more to the US' economic problems. In fact American companies have made huge profits by investing in China and cooperating with Chinese companies. The benefits from cooperation far surpass the disadvantages from competition for both sides. Even healthy competition between the US and China is good for both countries. When China accepted free markets and free trade, Chinese workers with much lower wages may be more competitive than US workers. What the US government should do is to improve the workers' skills, enhance infrastructure construction, and narrow the gap between the rich and poor, instead of blaming China for its domestic economic problems.
The NDS lays out a world where great-power competition, rather than counterterrorism, will drive the Defense Department's decision-making and force structure. China's military modernization has given it a greater ability to protect its sovereignty. But China's policy is defensive in nature, not aggressive. This is different from regional hegemony, where a dominant power intervenes in the internal affairs of other countries and implements a coercive diplomacy. What China did in the dispute in the East China and South China Seas was to implement a defense strategy of settlement through peaceful negotiations between parties directly concerned and it will attack only after being attacked.
How will US strategy guide its military deployment and economics? Will Congress approve the Defense Appropriation Act? How will US allies and partners respond? In any case, it's likely that US policy towards China will become more competitive and less cooperative.
It's too early to say what the Implications of the US strategy will and how China will respond to it. China's strategy is pursuing economic and social development domestically while maintaining peace and prosperity for the world. And its top priority now is to deepen its reforms and continue its opening-up policy, to prevent any major financial risks, intensify efforts in targeted poverty reduction, and better results in pollution control. But the US policy may change China's strategic environment and force it to adjust its priorities. For example, If US strengthens political and security relations with Taiwan, or turns the "Quad" (comprising the US, Japan, Australia, India) to establish an "Asian NATO", China will surely strengthen its strategic posture and improve its combat readiness. Furthermore, China will definitely deepen the comprehensive strategic partnership of coordination with other countries, including Russia, who was also stigmatized by the NSS and DSS. All of this will make a new Cold War a possibility.
China will continue to make efforts to improve relations with US on the condition of upholding its sovereignty and territorial integrity. At the 19th CPC National Congress, Xi Jinping said China will adopt policies to promote high-standard liberalization and facilitation of trade and investment, grant more power to pilot free trade zones to conduct reforms, and explore the opening of more free trade ports. Importing more oil, gas, agriculture commodities, and consumer goods will not only help balance the trade relations between the two countries, but also in some degree placate US strategic anxieties towards China. In any case, a trade war should be the last option.
There should not be competition of political systems between the two sides. China will sustain socialist democracy to safeguard the fundamental interests of the people. China will not just mechanically copy the political systems of other countries, nor will it export its development models to others. The NSS said the US understands that the American way of life cannot be imposed upon others. Bilateral relations will be relatively smooth if each side respects the other's choice. And one will become sensitive, angry and hostile if the other side tries to incite revolutions in the other's society.
In sum, the NSS and DSS cast a shadow on bilateral relations. The security and political interactions between China and US may have much influence on economic relations. Both countries have been neither allies nor enemies in the past three decades, but they certainly can cooperate well. Professor Joseph Nye once said, "If you treat China as an enemy, then you will guarantee to have an enemy in the future." If the Trump administration regards China as a competitor, then China will become a competitor for US. Since President Richard Nixon visited China in 1972, eight US presidents, five national leaders of China, and innumerable individuals have worked hard to develop relations. It's a huge challenge and a great responsibility for policy makers and strategists on both sides to continue their predecessors' efforts and halt any deterioration in this most important and consequential relationship in the world today.