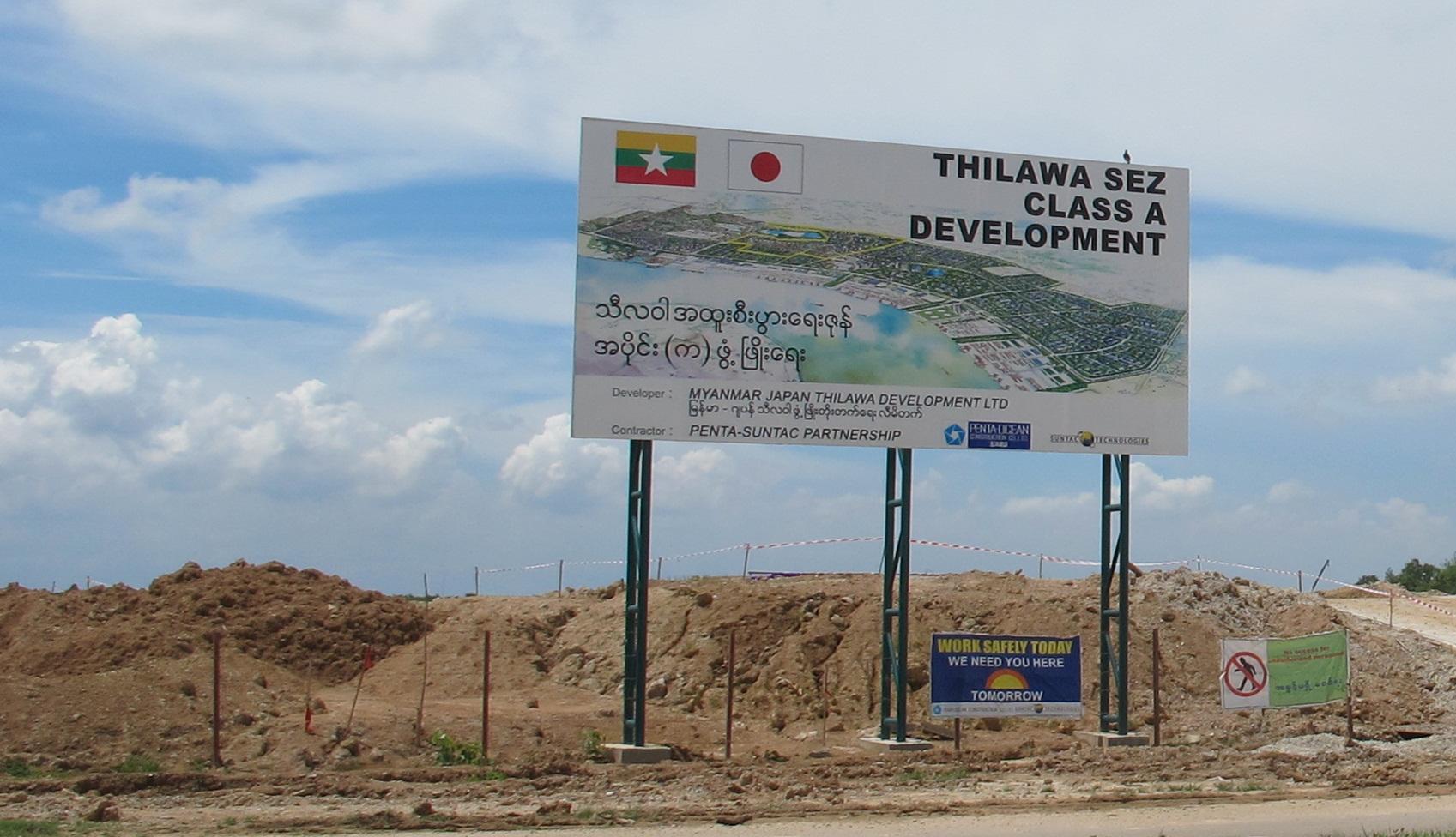 In Southeast Asia's final frontier, the two ports of Kyaukphyu and Thilawa have emerged with two contrasting trajectories of development. The former is narrative of unrelenting Chinese aspirations embedded in a visionary blueprint of connectivity; the latter demonstrates Japan's renowned industrial and entrepreneurial spirit. The tale of these two ports in Myanmar do not only chronicle the varying differences in Chinese and Japanese approaches to foreign developments but also reflect a regional rivalry for clout.
Located on the Bay of Bengal in Rakhine state, the Kyaukphyu port holds the distinction of being China's cornerstone investment in Myanmar, representing both private and government interests. A consortium led by Beijing-based conglomerate CITIC Group is developing the site into a special economic zone; the port also serves as an entry point to deliver Mideast crude through a 770 kilometer pipeline between Kyaukphyu and China's Yunnan province. The US$10 billion port industrial zone and accompanying pipeline underscores Myanmar's vital role in China's Belt and Road Initiative (BRI) as Beijing attempts to forge infrastructural links throughout Asia. Beginning operations in April 2017, the pipeline will be solely operated by China National Petroleum and will provide an additional energy supply route for energy-hungry China.
In spite of Chinese pledges that the port project would be rooted in "win-win cooperation", Kyaukphyu represents the risks associated with Chinese assistance, especially pertaining to BRI endeavors. A litany of issues has emerged since construction began in 2009. Rakhine locals have denounced the destructive impact of the project including environmental degradation and irrigation interference while workers have complained about extortion and meager compensations. Villagers along the pipeline route that transverses across the country have echoed similar sentiments. Local protests have fallen on mostly deaf ears as China's building frenzy continues even when an estimated 20,000 villagers have been relocated for Kyaukphyu-related projects.
Additionally, CITIC Group has recently attempted to increase its stake in Kyaukphyu from the original proposal of an equal split in the joint venture between Myanmar. Instead, the consortium has been pursuing preferential access and for an 85 percent stake in the port. The infrastructure project embodies the potential liabilities of Chinese investments and how BRI activities might prioritize Chinese interests while considering the benefits of participating nations as secondary. Chinese partnership in such undertakings appear conditional and ultimately might result in empty promises: initial CITIC claims that the project would generate 100,000 jobs have proven to be largely grandiose and unfulfilled.
If Kyaukphyu serves as a cautionary tale for embracing Chinese financing, the Thilawa special economic zone on the coast of the Andaman Sea reveals an alternative path for foreign partnership. The $1 billion industrial park is a joint venture involving the Japan International Cooperation Agency (JICA) and leading Japanese conglomerates Mitsubishi, Marubeni, and Sumitomo which collectively hold a 49 percent stake. The Myanmar government and a consortium of local companies jointly hold the remaining stake. JICA is also supporting the development of a deep water port adjacent to the special economic zone. Located just 25 kilometers south of Yangon, the Thilawa's strategic port aims to help relieve trade congestion in a country plagued with poor infrastructure and inefficient supply chains.
The establishment of Thilawa signals the arrival of Japan Inc. in Myanmar. The zone hosts a diverse array of businesses from automobile manufacturer Suzuki Motor to beverage producer Yakult. Nippon Express, which already has a logistics warehouse in the zone, has also planned to expand a cargo terminal at Thilawa port. Yet, Thilawa does not only remain a bastion for Japanese enterprises. The zone's 98 percent occupancy rate is attributed to 78 companies from 16 different countries; companies from Japan only account for less than half of the total.
Although construction in Thilawa has also sparked local ire and has been accused of environmental neglect, complaints have registered on a substantially smaller scale than in Kyaukphyu. In the business sphere, Japan has seemingly adopted a more solicitous stance while maintaining an amenable position towards foreign collaboration. Japan's concession of a majority stake in the project is also a symbolic gesture of equality and friendship. Such an approach is in stark contrast to that of China in Kyaukphyu, where investors remain staunchly opposed to relinquishing control. Rather, they have employed exploitive tactics to accrue power and to accelerate construction at the expense of local villagers.
The diverging approaches are perhaps best elucidated by each port's respective intended purpose. As an entry point for energy and an essential component of the overarching BRI, Kyaukphyu is an installation with inherently more geopolitical value. Kyaukphyu's significance to Chinese energy security is evident in its ability to deliver oil via an alternative route while allowing China to circumvent the shipping chokepoint that is the Malacca Straits. The port outweighs Thilawa in ambition and financial value, acquiring a sensitive status that necessitates further political consideration. At variance with Kyaukphyu's fundamental intentions is Thilawa's industrial orientation. Thilawa was conceived with logistical intentions with the aim of eliminating trade bottlenecks and facilitating manufacturing. While a practical objective, it does not carry the same geopolitical urgency as Kyaukphyu nor does it appear to play a discernible role in a greater connectivity strategy such as the BRI.
In addition to highlighting the contrasting approaches China and Japan have employed, the two ports also allude to the wider Sino-Japanese rivalry for influence in Southeast Asia. Across the region, China and Japan are engaged in a multi-pronged tussle that involves infrastructural pacts, economic aid, and diplomatic overtures. The ports of Thilawa and Kyaukphyu are emblematic of this rivalry. Similar to Kyaukphyu, other Chinese investments in the region are often driven by BRI motives and invariably feature operations dictated by Chinese terms. In search of lucrative commercial opportunities, Japan has also been aggressively targeting Southeast Asia. Warehouse developments in Thailand and JICA-led feasibility studies for infrastructure overhauls in the Philippines are reminiscent of Japanese initiatives in Thilawa.
The developments in the ports of Kyaukphyu and Thilawa have unfortunately disrupted the lives of villagers and produced environmental concerns to varying degrees. No matter the victor in this Sino-Japanese rivalry, Myanmar is set to benefit both in regards to infrastructure and economy. However, advancements in Myanmar need not be at the cost of the public. China's BRI intentions and Japan's industrial pursuits are not incompatible with sustainable growth in Myanmar and instead should culminate in complementary developments.