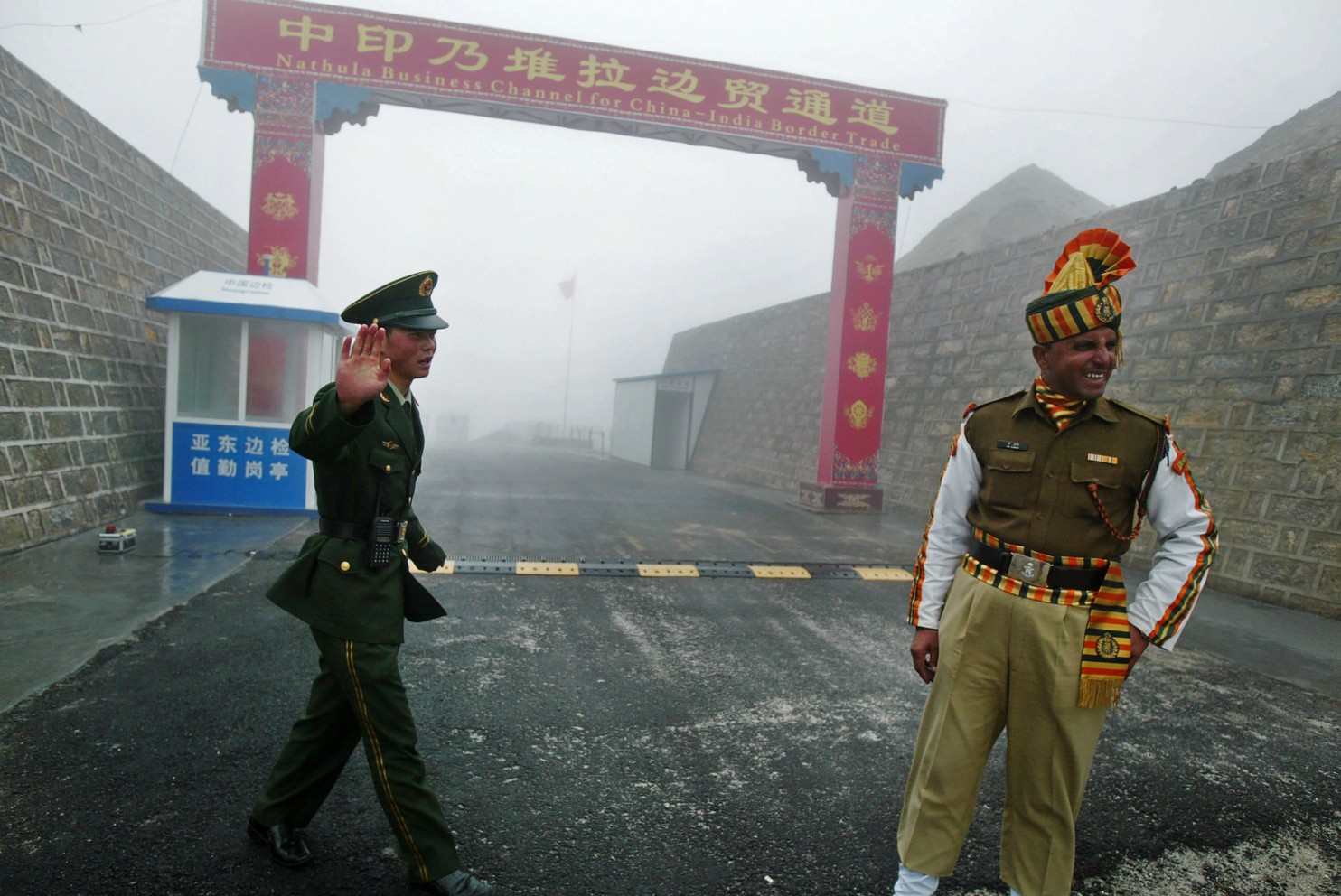 This photo from 2008 shows a Chinese soldier, left, next to an Indian soldier at the Nathu La border crossing between India and China. (Diptendu Dutta/Agence France-Presse via Getty Images)
Bhutan, one of the world's smallest nations, has protested that the Asian colossus, China, is chipping away at its territory by building a strategic highway near the Tibet-India-Bhutan tri-junction in the Himalayas. Bhutan has security arrangements with India, and the construction has triggered a tense standoff between Chinese and Indian troops at the tri-junction, with the Chinese state media warning of the possibility of war.
Bhutan argues in a press release that China's "construction of the road inside Bhutanese territory is a direct violation of the agreements" with Beijing. China, however, has sought to obscure its aggression by blaming India for the confrontation by not respecting the tri-junction points and the boundary between Tibet and the Indian state of Sikkim, which is also contiguous to Bhutan.
In the way an increasingly muscular China — without firing a single shot — has waged stealth wars to change the status quo in the South and East China seas, it has been making furtive encroachments across its Himalayan frontiers with the intent to expand its control meter by meter, mile by mile. It has targeted strategic areas.
If its land grab is challenged, China tends to play victim, including accusing the other side of making a dangerous provocation. And to mask the real issue involved, it chooses to wage a furious propaganda war. Both of these elements have vividly been on display in the current troop standoff at the edge of the Chumbi Valley, a Chinese-controlled zone that forms a wedge between Bhutan and Sikkim and juts out as a dagger against a thin strip of Indian territory known as the Chicken Neck, which connects India's northeast to the rest of the country.
In recent years, China has been upgrading its military infrastructure and deployments in this highly strategic region so that, in the event of a war, its military blitzkrieg could cut off India from its northeast. Such an invasion would also leave Bhutan completely surrounded and at China's mercy.
Bhutan, with a population of only 750,000, shares some of its national defense responsibilities with India under a friendship treaty. Indian troops, for example, assist the undersized Royal Bhutan Army in guarding the vulnerable portions of Bhutan's border with China.
The 2007 Bhutan-India friendship treaty states that the two neighbors "shall cooperate closely with each other on issues relating to their national interests." The 2007 pact — signed after the Himalayan kingdom introduced major political reforms to emerge as the world's newest democracy — replaced their 1949 treaty under which Bhutan was an Indian protectorate, with one of the clauses stipulating that it would be "guided by" India in its foreign policy.
Recently, after days of rising Sino-Indian tensions at the tri-junction, the People's Liberation Army on June 16 brought in heavy earthmoving equipment and began building a road through Bhutan's Doklam Plateau, a region claimed by China who then Sinicized its name as Donglong. Indian troops intervened, leading to scuffles with PLA soldiers, with the still-continuing standoff effectively halting work at the 3,000-meter-high construction site.
Significantly, the standoff did not become public until June 26 when China released a complaint against India, just as Indian Prime Minister Narendra Modi was about to begin discussions with U.S. President Donald Trump at the White House. The statement — timed to cast a shadow over the Modi-Trump discussions and to remind Modi of the costs Beijing could impose on India for his pro-U.S. tilt — presented China as the victim by alleging that Indian troops had "intruded" into "China's Donglong region" and halted a legitimate construction activity. It demanded India withdraw its troops or face retaliation.
This was followed by a frenzied Chinese public relations blitzkrieg against India designed to obfuscate the real issue — the PLA's encroachment on Bhutanese territory. Chinese officials and state media fulminated against India over the troop standoff but shied away from even mentioning Bhutan.
It was only after Bhutan's ambassador to India publicly revealed on June 28 that his country had protested the PLA's violation of its territorial sovereignty and demanded a return to status quo ante that Beijing finally acknowledged the involvement of a third party in the dispute. The fact that an insecure and apprehensive Bhutan (which has no diplomatic relations with China) took eight days to make public its protest to Beijing played directly into China's hands.
The Chinese attacks on India for halting the road construction, meanwhile, are continuing. For example, the Chinese defense ministry spokesperson, alluding to India's defeat in the 1962 war with China, asked the Indian army on June 29 to "learn from historical lessons" and to stop "clamoring for war." The Indian defense minister, in response, said the India of today was different from the one in 1962.
The same tri-junction was the scene of heavy Sino-Indian military clashes in 1967, barely five years after China's 1962 trans-Himalayan invasion led to major Indian reverses. But unlike in 1962, the Chinese side suffered far heavier casualties in the 1967 clashes, concentrated at Nathu-la and Cho-la.
Today, to mount pressure on India, China has cut off Indian pilgrims' historical access to a mountain-and-lake duo in Tibet that is sacred to four faiths: Hinduism, Buddhism, Jainism and the indigenous religion of Tibet, Bon. While Manasarovar is the world's highest freshwater lake at 4,557 meters above sea level, Mount Kailash — the world's legendary center — is worshipped by believers as the abode of the planet's father and mother, the gods Shiva and Uma, and as the place where Lord Buddha manifested himself in his super-bliss form. Four important rivers of Asia, including the Indus and the Brahmaputra, originate from around this duo.
By arbitrarily halting the pilgrimages, Beijing is reminding New Delhi to review its Tibet policy. India needs to subtly reopen Tibet as an outstanding issue in order to fend off Chinese pressure. After all, China lays claim to Indian and Bhutanese territories on the basis of alleged Tibetan (not Han Chinese) links to them historically. India must start to question China's purportedly historical claim to Tibet itself.
More broadly, by waging stealth wars to accomplish political and military objectives, China is becoming a principle source of strategic instability in Asia. The stealth wars include constructing a dispute and then setting in motion a jurisdictional creep through a steady increase in the frequency and duration of Chinese incursions — all with the intent of either establishing military control over a coveted area or pressuring the opponent to cut a deal on its terms.
This strategy of territorial creep is based not on chess, which is centered on securing a decisive victory, but on the ancient Chinese game of Go, aimed at steadily making incremental gains by outwitting the opponent through unrelenting attacks on its weak points.
China has long camouflaged offense as defense, keeping with the ancient theorist Sun Tzu's advice that all warfare is "based on deception." Still, the fact that the world's fourth largest country in area, after Russia, Canada and the United States, is seeking to nibble away at the territory of a tiny nation speaks volumes about China's aggressive strategy of expansion.