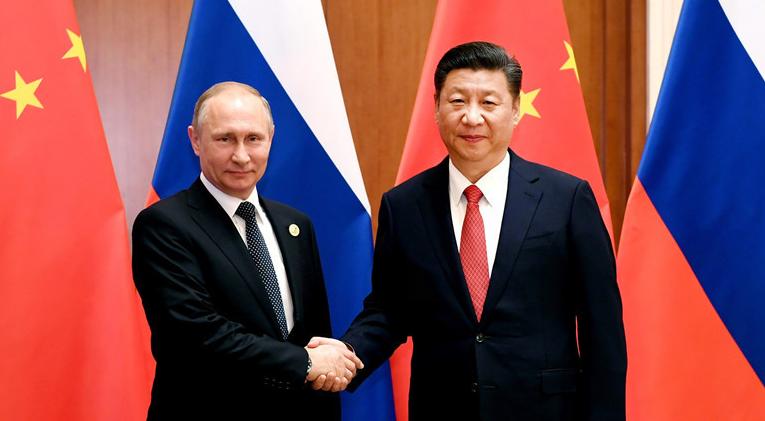 Chinese President Xi Jinping (R) meets with Russian President Vladimir Putin, who is here for the Belt and Road Forum (BRF) for International Cooperation, at the Diaoyutai State Guesthouse in Beijing, capital of China, May 14, 2017. (Xinhua/Rao Aimin)
North Korea commanded global headlines on July 4, the US National Day, by test-launching an intercontinental ballistic missile. Pyongyang's continuous missile tests and its breakthrough in intercontinental ballistic missile technology shows the international community's previous carrot-and-stick approach is close to failure, leaving the world apparently helpless in dealing with North Korea. On the same day, China and Russia put forward a new package of proposals, attempting to resolve the Korea nuclear crisis, which apparently has entered a dead-end.
This test launch was unusual because, according to Israeli missile experts, the missile launched may reach 9,977 kilometers, which means San Francisco may be within its strike range. Such an outcome is a sign that North Korea has made a significant breakthrough in threatening and counter-attacking the US, and the decades-old strategic balance in the Pacific region will be broken again.
US State Secretary Rex Tillerson stated that North Korea's new capacity to strike the US with ballistic missiles has escalated the threat. He said the US will absolutely not accept a nuclear-armed North Korea, and that any country that hires North Korean workers, helps its military to make profits, or does not implement UN resolutions will be encouraging and inciting this threatening regime. Tillerson urged the international community to take further measures to punish Pyongyang's dangerous behavior.
US President Donald Trump tweeted afterward, saying China may make a major move against North Korea to put an end to the farce once and for all. The response from the spokesperson of the Chinese Foreign Ministry, however, was typical and traditional: China opposes North Korea's missile launches in violation of UN resolutions, urges it to restrain from further violations so as to create condition for re-starting negotiations, and calls on all parties to use restraint and put things back on the track of peaceful dialogue as soon as possible.
China and Russia immediately put their heads together, showcasing the significance and priority status of that bilateral strategic partnership. They indicated they will more actively dominate resolution of the Peninsula crisis and preserve their strategic interests.
The same day, Chinese and Russian foreign ministers signed a six-point declaration based on their persistent proposals.
Reading between the lines of the declaration, one can easily see China and Russia's brand-new stance, principle, approach and purpose regarding the resolution of the Korea nuclear crisis.
First, China and Russia attempted to avoid offending North Korea, and displayed goodwill in speaking to the latter. Though they pointed out the dangerous and illicit nature of Pyongyang's actions, they fell short of condemning it. Obviously Beijing and Moscow believe friction and confrontation can only worsen otherwise.
Second, China and Russia no longer advocate escalating or enhancing economic and trade sanctions against North Korea. Rather than reinforcing enmity and poisoning the atmosphere with a confrontational approach, they chose to re-orient their approach from the perspective of an amicable, thorough solution of the crisis. Perhaps they believe reasonable economic and trade sanctions have been exhausted; instead of creating expected outcomes, those tactics have convinced Pyongyang of the need to acquire nuclear weapons and intercontinental ballistic missiles.
Third, China and Russia highlighted such systematic resolutions as "double suspension", "dual -track" and "step-by-step" approaches that are logically clear and mutually contingent. The scheme aims to first cool things down, and then initiate dialogue on mechanisms for permanent peace and denuclearization.
Fourth, they highlighted the need for North Korea to make a "voluntary" political decision. This shows their respect for the latter's full, complete right to diplomatic, security decision-making as a sovereign, independent country.
Fifth, China and Russia support, encourage, and prefer North and South Korea improving their "internal relations", promoting reconciliation and cooperation, and doing their bit in easing and resolving the Peninsula crisis. Their proposal displayed the goodwill to support North and South Korea to end the longstanding military standoff, and finally realize national unification and development through peaceful negotiation and in a mutually acceptable manner. That is also a timely response to South Korean President Moon Jae-in's new approach to the North.
Last, China and Russia explicitly oppose manipulating the Peninsula crisis and escalating military deployment in Northeast Asia with such an excuse, oppose the US, South Korea and Japan's attempt to compromise interests of such third parties as China and Russia in consolidating their own military alliance. In that regard, they urged the US and South Korea to immediately cancel THAAD deployment.
It is yet to be seen whether the China-Russia declaration was the major move the US president referred to. Of course such a proposal would not have been possible had the US not modified its stance. Despite the rhetoric about a military solution, the Trump administration has pledged it would not purse regime change, and is not against peaceful use of nuclear energy in North Korea. With China's help,there had even been a face-to-face dialogue in May between American and North Korean representatives.
On the other hand, North Korea has not conducted its sixth nuclear test, which can be read as restraint from crossing the US-drawn red line, indicating it has no intention to engage in a suicidal fight. Therefore we cannot exclude the possibility of the China-Russia proposal pushing the Korea nuclear crisis out of its dead-end. Yet there is a very long way to go for that to happen, considering the deep-rooted mutual prejudices, suspicions and the extreme lack of strategic trust.