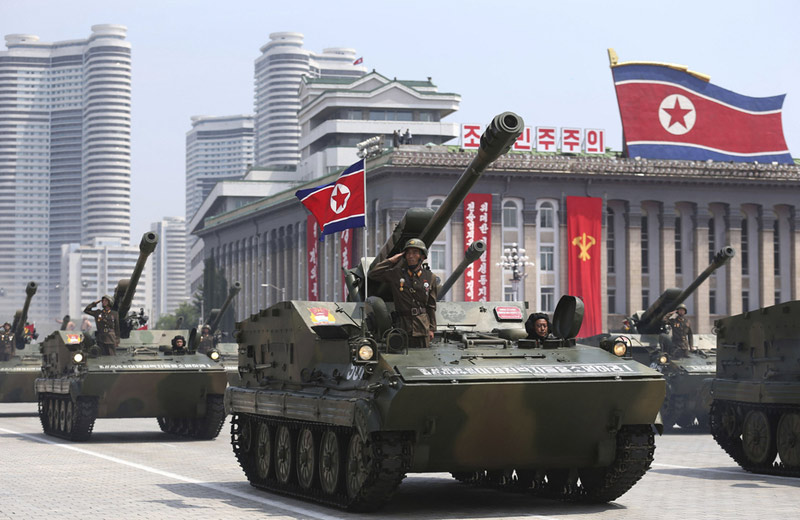 Just as the world was mourning the tragic death of the 22-year-old university student Otto Warmbier, who returned from North Korea to the US, President Donald Trump tweeted on June 21, "While I greatly appreciate the efforts of President Xi and China to help with North Korea, it has not worked out. At least I know China tried!"
This is a drastic change of tone from the US president who tweeted just two months ago, on April 21, "China is very much the economic lifeline to North Korea so, while nothing is easy, if they want to solve the North Korean problem, they will."
Presumably, the change of tones signals that Trump has come to understand the true complexity of the North Korean issue. It was not clear the US participants in last week's inaugural China-US Diplomatic and Security Dialogue got the message: China is not in a position to solve the North Korean problem, especially its nuclear issue, not least by itself alone.
On June 21, US Secretary of State Rex Tillerson and Defense Secretary James Mattis held talks with China's State Councilor Yang Jiechi and the PLA's Chief of Joint Staff, General Fang Fenghui, in Washington. Afterward, the US once again pressed China for a solution to the thorny North Korean issue.
"We reiterated to China that they have diplomatic responsibility to exert much greater economic and diplomatic pressure on the [North Korean] regime if they want to prevent further escalation in the region," Tillerson told reporters at a joint press conference.
However, things are not as simple as these US officials seemed to think.
Even back in September 2016, during the US presidential debate, when Trump said that China was totally powerful regarding North Korea and China should go into North Korea to solve the problem, China's Foreign Ministry spokesman said firmly and explicitly that "it is not China that caused the Korean nuclear issue in the first place, and it is not China that holds the key to the settlement of this issue."
Over the past two decades, North Korea's nuclear program has had a profound impact on all the stakeholders in Northeast Asia. Its impact on China has been more obvious, severe and undesirable.
In a white paper entitled "China's Policies on Asia-Pacific Security Cooperation," issued on January 11, 2017, the Chinese government stated: "China's position on the Korean Peninsula nuclear issue is consistent and clear-cut. China is committed to the denuclearization of the peninsula, its peace and stability, and settlement of the issue through dialogue and consultation."
Obviously, "denuclearization of the Korean Peninsula" has become a top policy priority for China. However, when Pyongyang announced its refusal to participate in any dialogue that aims to persuade it to give up its nuclear program, the door to the "settlement of the issue through dialogue and consultation" seemed closed. And China's two critical interests on the peninsula – denuclearization as well as peace and stability – were at stake.
China has been forced into a dilemma, confronted with the double threat to both its military security and environment security as North Korea has repeatedly conducted nuclear tests less than a few hundreds kilometers from the China-North Korea border.
In terms of foreign relations, both US and South Korea criticized China for not having brought North Korea to heel. On the other hand, North Korea has been enormously dissatisfied with China's lawful and rightful actions at the UN Security Council. It is justifiable to say China has become the biggest victim when the goal of denuclearizing the Korean Peninsula is compromised
On the surface, China-North Korea relations remained solid throughout the 1990s, when China's state media had often described the bilateral ties as "militant friendship sealed in blood" and "as close as lips to teeth." But it was during that period that the bilateral relations began to deteriorate.
Currently, China's leverage over North Korea, if any, results mainly from three major factors: 1. The Treaty of Friendship, Cooperation and Mutual Assistance between the two countries signed in 1961; 2. China's huge and often timely economic assistance to North Korea; and 3. China's unique support and endorsement of North Korea's regime survival.
However, there has been no summit yet between Kim Jung-un and any top Chinese leaders since Kim came to power in April 2012. This demonstrates one thing only: North Korea's new and young leader does not regard China to be as important to his country as his father and grandfather did.
At this moment, bilateral ties have turned from cold to icy. Since China began to strictly follow the UN Security Council resolutions 2270 and 2321 on North Korea to the letter, Pyongyang has launched several rounds of harsh verbal attacks on Beijing. On April 21, a commentary run by the Korean Central News Agency (KCNA), targeting "a country around the DPRK," threatened that "if the country keeps applying economic sanctions on the DPRK while dancing to the tune of someone after misjudging the will of the DPRK, it may be applauded by the enemies of the DPRK but it should get itself ready to face the catastrophic consequences in the relations with the DPRK." On May 3, KCNA explicitly named China – for the first time in recent memory – in a bylined editorial that warned "China should no longer try to test the limits of patience of the DPRK but make proper strategic option, facing up to the situation."
However, with the 1961 security pact still in force, China has treaty obligations to help North Korea in case of war, so China will have to do its utmost to avoid a future war that engages North Korea. Terminating or threatening to terminate the treaty may help restrain or discipline North Korea to an extent, but that would incur unpredictable and, most likely, undesirable results. With the North Korean nuclear game on its way to a possible climax, some Chinese scholars have begun to challenge the justification and validity of the treaty.
In terms of economic assistance, it is true that for political and geographical reasons, China could be the "economic lifeline of North Korea," and such economic aid is necessary to maintain the stability of North Korea.
Immediate and harsher economic sanctions by China against North Korea, including totally cutting off supply of oil and food, may win applause from the West, but would not slow down Pyongyang's steps toward fulfilling its nuclear ambition.
Following North Korea's fourth and fifth nuclear tests, China actively participated in international sanctions against North Korea, but behind-the-door deals reached within the Security Council also showed China's great concerns for the ordinary people in North Korea. International efforts meant to try to slow down, freeze or even eliminate Pyongyang's nuclear development should not aim at a regime change or even a regime collapse.
As far as China is concerned, a North Korean regime collapse would probably incur, among other things: 1. S large-scale refugee crisis; 2. Uncontrollable proliferation of conventional weapons and/or even nuclear materials; and 3. China's huge political and economc loss in that country.
Contrary to Western overestimation, China's leverage over North Korea is limited, and is most probably one-off rather than sustainable.
Unfortunately some Western critics have turned a blind eye to the great efforts made by the Chinese government in cooperating with the international community to solve the North Korea nuclear issue – notably the Six-Party Talks and the UNSC resolutions sanctioning North Korea. China's efforts in the past decades should have been recognized with due respect.
It should now be clear to all the stakeholders in Northeast Asia that China alone cannot solve the North Korean nuclear issue because it has never been a Beijing-Pyongyang issue. It was created by Pyongyang and Washington in the first place and now it is the US that holds the key to a final solution. For one thing, after the 1950-53 Korean War, the Chinese People's Volunteers finished their withdrawal from the northern half of the peninsula in 1958, but the US armed forces remain in the southern part even today. The US army in Korea and the South Korean army conduct large-scale joint military drills every year, targeting the regime across the Demilitarized Zone. It is understandable that Pyongyang has great concerns over its national security vis-à-vis these signs of hostility.
The Chinese government has proposed a dual-track negotiation approach, which includes simultaneous talks on denuclearization of the peninsula and a peace treaty to replace the 1953 armistice agreement. Earlier this year, China made a "suspension for suspension" proposal, namely, as a first step, North Korea suspends its missile and nuclear activities in exchange for a halt of the large-scale US-ROK military exercises. This suspension-for-suspension approach would help ease the looming tension on the Korean Peninsula and pave the way for future consultations.
As an encouraging sign, North Korea's ambassador to India recently said his country is "willing to talk" with the US about freezing its nuclear and missile tests "under certain circumstances."
He also said that North Korea first wants to see the US "completely stop" large-scale joint military exercises with South Korea, temporarily or permanently.
It is high time that the US recognizes North Korea's national security concerns and makes a fresh move. The US has to first reduce the military pressure that Pyongyang says it has felt in the past decades, replace the volatile 1953 truce with a lasting peace treaty, lift decades-old economic sanctions, and establish diplomatic relations with North Korea.
If all the options are on the table, the US should sit down face-to-face with North Korea to seriously talk about denuclearization and other key issues. Only when tolerance, patience and sincerity are shown by the US side can we see a positive move by Pyongyang.