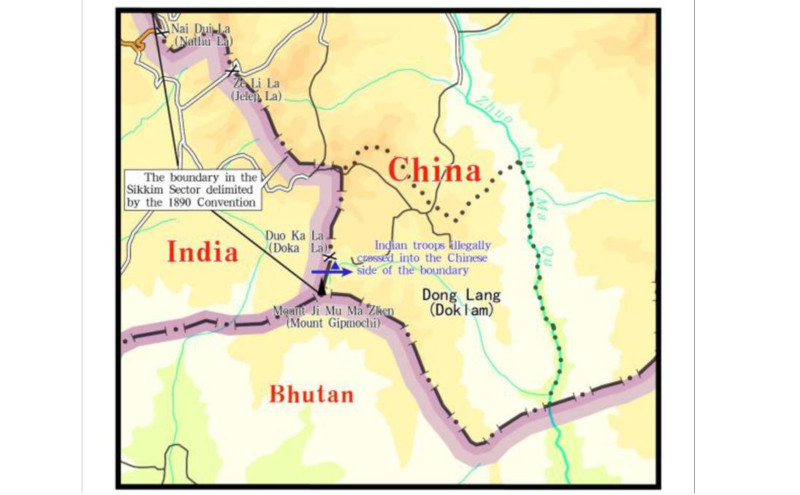 Donglang is an area lying in the Southeast of Yadong County and the West of Khanbumachhu, about 10 kilometers from east to west and 15 kilometers from south to north. Called Doklam by Bhutan and Doka La by India, it is the tri-junction of China, Bhutan, and India where Chinese and Indian border troops have remained in a standoff since June 16, 2017. On June 26, China called on India to withdraw its troops immediately. However, Indian troops refused to leave, declaring that Donglang is Bhutan's territory, not China's. Does Donglang belong to Bhutan? Facts speak louder than words.
Most sides in the dispute are relying upon the 1890 Sikkim-Tibet Convention, which directly describes the borders of Donglang. Article I of the Convention states, "The boundary of Sikkim and Tibet shall be the crest of the mountain range separating the waters flowing into the Sikkim Teesta and its affluents from the waters flowing into the Tibetan Mochu and northwards into other rivers of Tibet. The line commences at Mount Gipmochi on the Bhutan frontier, and follows the above-mentioned water-parting to the point where it meets Nepal territory." These words distinctly show that the boundary of Sikkim and Tibet starts at Mount Gipmochi, not at Batanga La as India suggests, which lies further to the north. Therefore, there is no doubt that Donglang belongs to China, not Bhutan, essentially invalidating India's argument.
Furthermore, illegal movements by Indian troops into China's territory took place in the defined Sikkim section, about two kilometers away from Mount Gipmochi, which leaves little room for India to deny its interference with China's territorial integrity and sovereignty.
Second, official Indian documents also provide evidence that India has previously affirmed the borders defined by the Convention of 1890. In his letter to Premier Zhou Enlai, dated September 26, 1959, Prime Minister Jawaharlal Nehru wrote "This Convention of 1890 also defined the boundary between Sikkim and Tibet; and the boundary was later, in 1895, demarcated. There is thus no dispute regarding the boundary of Sikkim with the Tibet region."[1] In addition, in a separate note sent by the Indian Embassy in China to the Chinese Ministry of Foreign Affairs on February 12, 1960, Indian officials said, "The Government of India welcomes the explanation given in the Chinese note relating to the boundary with Sikkim and Bhutan on the one side and Tibet on the other. The note states that the boundary between Sikkim and Tibet of China has long been formally delimited, and that there is neither any discrepancy on the maps nor dispute in practice. The Government of India would like to add that this boundary has also been demarcated on the ground".[2] These words written by past Indian leaders are hard to deny.
Beyond official agreements and government letters, taxes paid by Donglong herders demonstrate a respect of Chinese dominion over the area. Due to the relatively flat terrain, the Donglang area is dotted with a dozen small lakes and more than thirty partitions of grazing land. Each year, Tibetan and Bhutanese herdsmen bring their sheep and cattle to these lands between June and October. Bhutanese herdsmen consistently pay a herding tax to Chinese local governments whenever they utilize these areas—an indication they recognize and respect China's sovereignty over Donglang.
The physical governance of the area also illustrates Chinese control of Donglang. It has been under the effective administration of China, with Chinese border forces patrolling along the border, and Chinese shepherds with their sheep and cattle on the grass lands. Further, China has built numerous facilities for living and production in the area such as pillboxes, bunkers, and trenches for troops stationed at the Nathu La pass, and has also established sentry posts at Yadong County's main mountain passes. The construction of these physical features shows China's unopposed investment in the governance of Donglang and both India and Bhutan's willingness to cede administration of the area to China.
Speaking of Bhutan, its border negotiations with China demonstrate that Donglang belongs to China. Although Bhutan has no formal diplomatic relations with China and is closely allied to India, the nation participated in border negotiations with China during the 1980 and 1990s. China and Bhutan conducted 24 rounds of negotiations and signed the "Agreement on the Maintenance of Peace and Tranquility in the Bhutan-China Border areas" in 1998. China and Bhutan have achieved an acknowledged understanding about the physical conditions and territorial line in Donglang, despite the fact that the border-line has not been formally demarcated. Regardless of its close connections with India, Bhutan is a sovereign state; a fact that empowers it to take diplomatic actions separate from its alliances. In the case of Donglang, India should respect Bhutan's independence and sovereignty.
It is never too late to mend fractures between neighbors. India should abide by international laws, honor its own words, and respect China's sovereignty by removing its troops from China's territory as soon as possible so that peace, stability, and tranquility along China-India border can be maintained.
------------------------------
[1] Prime Minister Nehru's Letter to Premier Chou Enlai, New Delhi, September 26, 1959.
[2] http://www.fmprc.gov.cn/mfa_eng/xwfw_665399/s2510_665401/2511_665403/t1475680.shtml