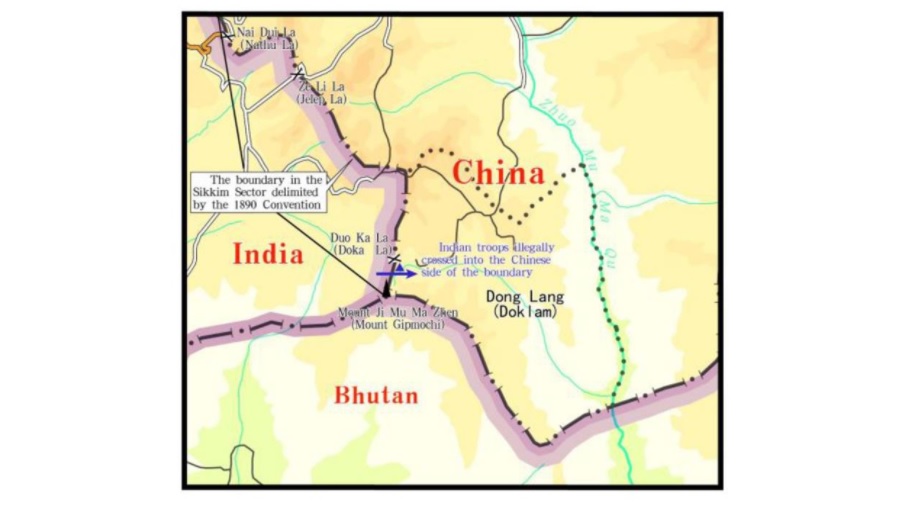 The standoff at Donglang has lasted more than two months and India has showed no signs of withdrawing even after China published its Position Concerning Indian Border Troops' Crossing of the China-India Boundary in the Sikkim Sector. China has outlined the facts and the reasons for its position, and urged India to respect its territorial sovereignty and withdraw its trespassing border troops. However, India has turned a deaf ear to China's demands and its troops remain on the Chinese side of the boundary. Will India withdraw from Donglang voluntarily without further pressure? It seems unlikely.
India's trespass is a carefully orchestrated event
China notified the Indian side of its trespass out of goodwill, but it didn't reply. A month later over 270 Indian border troops, carrying weapons and driving two bulldozers, crossed the boundary in the Sikkim Sector at the Duo Ka La (Doka La) pass and advanced more than 100 meters into Chinese territory to obstruct China's road building. What were the Indian decision-makers thinking?
The Indian decision-makers might have thought China was too busy with its other challenges - Taiwan, North Korea, the South and East China Seas, systematic military and economic reform - to respond strongly if something happened at the China-India border. Internally, India was facing a variety of conflicts and difficulties like ethnic and religious conflict, unemployment, and tax reform, and wanted to divert its people's attention to an external event. Furthermore, Indian Prime Minister Narendra Modi planned to visit the United States in late June, and India, the US and Japan planned to hold combined maritime military exercises in Malabar in early July, which might strengthen India's position in a conflict with China. Therefore the Indian decision-makers might have concluded it was a good time to send border troops to obstruct China's road building.
After the standoff took place at Duo Ka La, Indian Defense Minister Arun Jaitley challenged China by saying that "the India of 2017 is different from the India of 1962". Indian Army Chief General Bipin Rawat remarked that "India is ready to fight a two-and-a-half-front war". Vice Chief of Army Staff Lieutenant General Sarath Chand warned that "China will continue to remain a threat to the country in future". The remarks delivered successively by high Indian officials suggest that the standoff at Dou Ka La is by no means accidental, but a carefully-planned event.
The Indian military has been positioned to confront China
For more than half a century India has prepared to avenge the defeat in its 1962 war with China. India has gradually deployed eight of its ten mountain divisions along the China-India border. It has been building 73 strategic roads along the border, 27 of which are currently operational. Each of these roads is capable of conveying 155 mm howitzers and multi-barrel rocket launchers such as the 300 mm Smerch and the 220 mm Pinaka. India has constructed 31 airfields (9 in the western and 22 in the eastern sector) close to the Line of Actual Control and activated 7 advanced landing grounds in Southern Tibet (besides three in Ladakh). India has also positioned about 15,300 border troops along the China-India border. Compared with the Chinese forces deployed along the border the Indian military possesses enormous numerical advantages.
Hope for the best and prepare for the worst
As a UN member state and co-sponsor state of the Five Principles of Peaceful Coexistence, India should know that it is a grave violation of these principles, along with other basic norms and principles of international law to cross the delimited boundary and enter China's territory. Since India is a member state of the Shanghai Cooperation Organization, China has exercised great restraint by trying to deescalate the crisis and seeking to solve the incident through diplomatic means. However, India took China's goodwill as cowardice and refused to pull back its illegally trespassing troops.
In addition to strong protests, condemnations, and demands, China should take further measures to force India to pull back its troops as soon as possible. China should make the illegality of India's illegal trespass known to all, reveal India's strategic attempt to encroach on China's territory and demonstrate the real and potential harms of India's illegal trespass to regional and global peace and stability. China should establish formal diplomatic relations with Bhutan as soon as possible so China can help Bhutan get rid of India's control and become a genuine sovereign state.
Meanwhile, China should reinforce its military forces along the China-India Border so as to control, manage, and resolve the standoff at Donglang if India refuses to withdraw. China should also set a deadline for the Indian troops to withdraw. In short, China should display its iron resolve to defend its territorial sovereignty and prepare to teach India another lesson if it dares to escalate the standoff into an armed conflict.
As India is on the wrong side, the sooner it withdraws, the less it will suffer. To maintain the friendship and cooperation between China and India, I advise the latter to pull back its illegal trespassing troops voluntarily before it is too late.