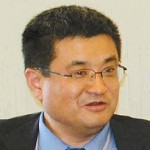 Zha Daojiong
Professor, Peking University
Zha Daojiong is Professor of International Political Economy at School of International Studies, Peking University.
Aug 24, 2021

The withdrawal of the United States from Afghanistan is not as much of a game-changer for China as some may think. The Afghan people ferociously defend their sovereignty against foreign incursions, and future complications cannot be ruled out.

Oct 13, 2020

China and the United States have long seen technology as both a sign of hope and a reason to worry. The impact of recent U.S. escalations against China remain to be seen.

Apr 21, 2020

The world still has networks of science and health interests that do not necessarily require political or diplomatic blessing by a sovereign state. These may provide a surer path to a less worrisome future.

Apr 03, 2018

Extensive official news reporting about the trip says very little about anything resembling mutual commitment.

Jan 20, 2017

Americans should understand that a harmonious, prosperous, powerful yet responsible United States constitutes part of the favorable external environment that China wishes to have. That understanding is also best for the well-being of both countries.

Oct 28, 2015

Since the first China-Asean official dialogue in July 1991, when then foreign minister Qian Qichen attended the 24th Asean Post-Ministerial Conference as a consultative partner, the relationship between China and the Association of Southeast Asian Nations has grown into a multilayered web of ties.

Aug 10, 2015

Those who seek refuge in the US have been a thorn in Sino-American relations, and progress on a treaty replacing the case-by-case handling of such issues would be a welcome breakthrough when the leaders of the two countries meet next month. A current case linked to the corruption probe of a family member, however, shows how complicated the issue can be, and transparent handling would help set bilateral ties on a more predictable path.

Jul 06, 2015

The past two years witnessed the Chinese leadership enunciating a "Chinese Dream" visions for the nation and offering to share the prospects of prosperity and stability with the entire Asia Pacific region and beyond.

Mar 31, 2015

Singapore's record of rising from the ashes serves as a source of inspiration to China. The similarity of governance between Singapore and modern China has received mixed commentary, including some critical, but Lee Kuan Yew and his successors stood ground and, arguably, have prevailed.

May 04, 2012

Of the more than 60 dialogue mechanisms between Beijing and Washington, the annual China-US Strategic and Economic Dialogue tops in terms of the rank of participating officials, the involvement of government departments, and the coverage of topics for discussion.