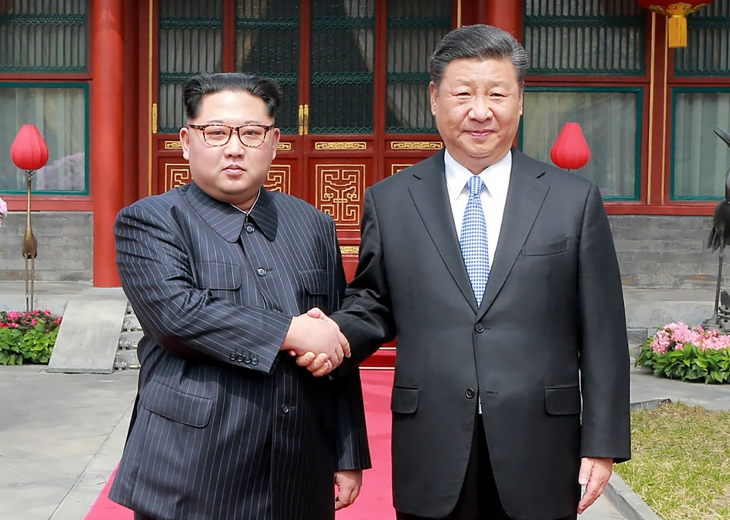 The March 25-28 trip by North Korean leader Kim Jong Un to Beijing, where he met Chinese President Xi Jinping, was a dramatic development on the Korean Peninsula issue. More summits are forthcoming, between North Korea and South Korea, Russia, the United States, and quite possibly Japan as well, but it remains unclear what they will result in.
In many ways, Beijing was an unlikely destination for Kim's first publicized trip abroad as leader of his country, especially in light of rising tensions centered around his country's nuclear program. Under Kim Jong Un, North Korea routinely ignored calls from other governments, including China, to refrain from provocations and went on to conduct nuclear and missile tests as it saw fit. To make matters worse, the timing of a good number of those tests coincided with China hosting its own major diplomatic events. Many observers in China were left wondering if North Korea was dispelling the widely held perception about the level of Chinese 'influence' over its behavior. Then, when China voted with the United States and other member states of the United Nations to apply economic sanctions against the North, arguably, it was the end of Chinese patience with the North.
The icy relationship between the two countries was on full display last November, when a visiting Chinese envoy failed to secure an audience with the North Korean leader.
The snub was widely interpreted to be a sign of North Korean displeasure with China and its determination to pursue its own course regardless of sentiments in Beijing.
Then, quite conceivably, what motivated Kim to ask for the trip to Beijing was his assessment of sentiment in Washington DC. The month of March saw the firing of a U.S. Secretary of State who favored negotiations, and his replacement with a former Congressman and CIA director who is on record a hawk towards North Korea. As if that hardening attitude needed any reinforcement, John Bolton was appointed as Trump's National Security Advisor. Throughout his career in and out of government, Bolton has been unambiguous about his preferred solution to nuclear impasse on the Korean peninsula: regime change, Iraq style.
No matter how conspicuous the timing of Kim's trip to Beijing, it is useful to take note of developments away from Beijing. First, the drama began weeks prior when United States President Donald Trump agreed to meet the North Korean leader face-to-face, which was a total reversal of attitude. Second, Trump, his habit of tweeting personal thoughts around the clock notwithstanding, has kept his goals for the meeting totally ambiguous. Third, probably for the first time in history, a foreign – in this case South Korean – diplomat was allowed to make an announcement about an American act of diplomacy on the White House compound but without American officials accompanying. These things, understandably, leave Beijing bewildered. In a sense, receiving Kim is one way to get an update about developments on the peninsular.
Extensive official news reporting about the trip says very little about anything resembling mutual commitment. As a matter of fact, if one compares Chinese reporting of such visits by Kim's predecessors, especially his late father, there is a high degree of repetition. Indeed, Kim Jong Un was likewise shown exhibits of China's achievements in science and technology, also on the western side of Beijing.
With regard to the thorny matter over what to do with North Korea's nuclear weapons program, Kim expressed to his Chinese host his "consistent stand [on] denuclearization on the peninsula". Now, reference to the peninsula is where the complication begins. There are two security actors in the southern part of the Korean peninsula: South Korea and the United States. Is North Korea expecting the US to issue a statement about what its military will do in the future? For example, what if the United States stations nuclear submarines at the ports in the south? If Trump's take-no-prisoners approach on trade is any indicator, what appears as ambiguity at the start can fast turn into unyielding demands for total compliance with his demands.
Kim Jong Un's Beijing trip has come and gone. Around the time of the 2018 Winter Olympics, the two Koreas succeeded in scheduling a series of summits. As said before, the Beijing summit may in reality be an anomaly.
In the wake of Kim Jong Un's trip, China dispatched a high ranking diplomat to South Korea to brief the latter about the meeting. Given the recent spat between China and South Korea over the deployment of the U.S.' Terminal High Altitude Area Defense (THAAD), a missile system that many experts believe go far beyond the stated purpose of defending the South from incoming missiles from the North, it is a relief to see the two Koreas share an attempt at diplomacy.
Looking into the future, beginning with the upcoming summits, there is neither an obvious path forward nor any clear signal of a quid pro quo. This lack of clarity is a major risk factor. The key drivers on the Korean peninsula continue to be Pyongyang, Seoul, and Washington.